NAY PYI TAW September 7
Chairman of State Administration Council Prime Minister Senior General Min Aung Hlaingtook part in the Plenary Session of the 7th Eastern Economic Forum-2022 held at Far Eastern Federal University (FEFU) in Vladivostok, Russian Federation,this evening.
Present were President of Russian Federation Mr. Vladimir Putin, Prime Minister of Armenian Mr. Nikol Pashinyan,Prime Minister of Mongolia Mr.Luvsannamsrain Oyun-Erdene,Speaker of National People's Congress of People's Republic of China Mr. Li Zhanshu and their delegations. The Senior General was accompanied by SAC Joint Secretary Lt-Gen Ye Win Oo, Union ministers U Win Shein, Dr Kan Zaw, U Hla Moe, U Khin Maung Yi, U Thaung Han, Dr Myo Thein Kyaw, Dr Thet Khaing Win, Governor of Central Bank of Myanmar Daw Than Than Swe, Myanmar Ambassador to Russia U Lwin Oo, and economic representatives of over 90 countries including Myanmar.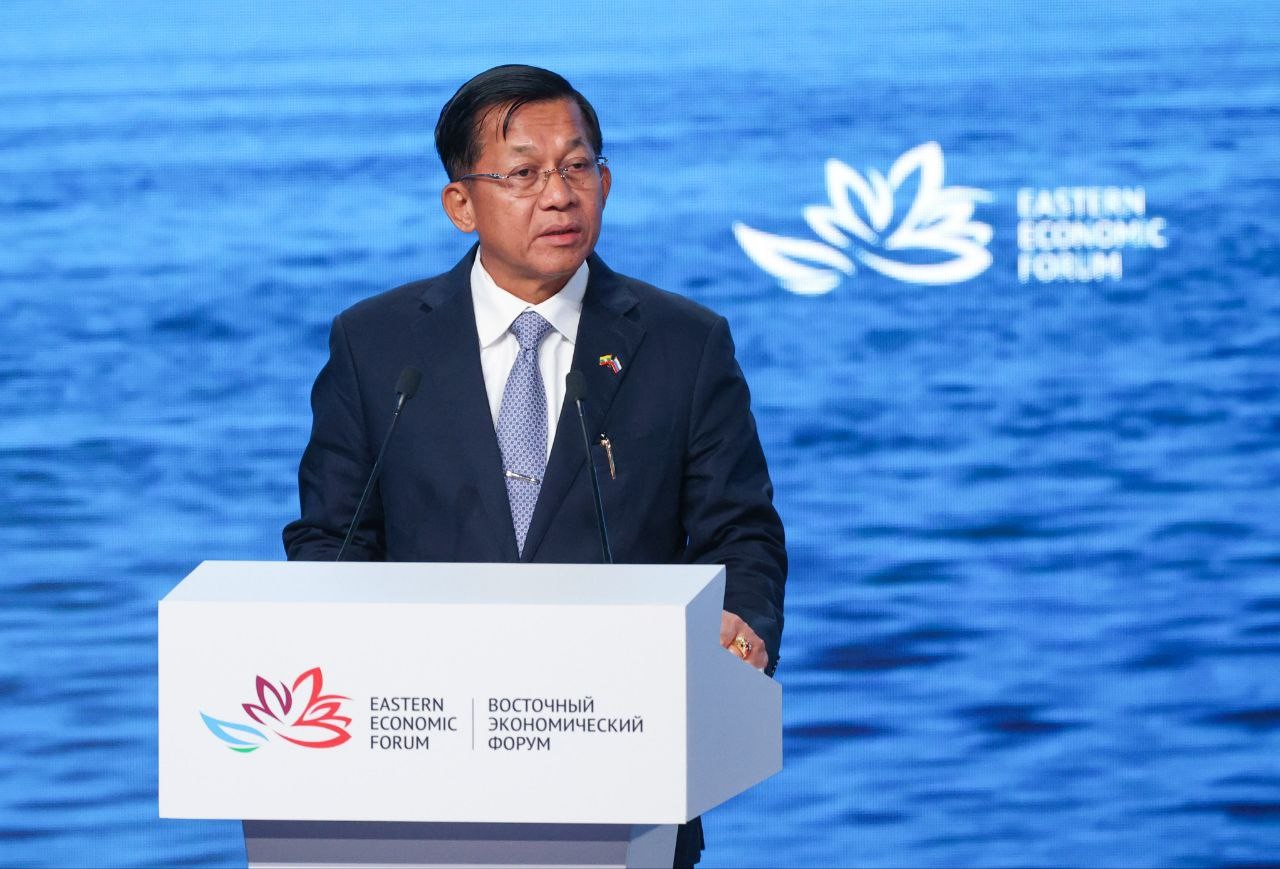 At the forum, President Putin discussed current progress of the Russian Fareast, programs for encouraging investments through stronger competition, special economic zone projects to facilitate the participation and cooperation of investors from Asia and Pacific Region, a major port that enables cargo shipsto sail to other ports by applying modern communication means, and the emergence of a northern maritime route that will link Asia and Europe.
In his discussions under the heading "Myanmar's Crucial Role in Food Security and Better Opportunities for Investment", Chairman of State Administration Council of the Republic of Union of Myanmar Prime Minister Senior General Min Aung Hlaing said food security is the most basic requirement for mankind of the world as food provides energy for their survival.
Till many decades ago, food security means an adequate food supply for the existence of life in a country. Nowadays, its definition has changed alongside the developing trade industry and the high competition in country-wise food production.
Global countries are importing food items they cannot produce locally. Hence, Financial Security has more and more influence over Food Security.
In the business of buying inputs including fuel, chemical fertilizers for agriculture which is important for food security, some countries are using financial security and dollar as a weapon.
As a consequence, small countries are facing bullying with the use of the said weapon. The small country cannot go against the will of certain powers in political, economic affairs. Countries like Myanmar can use other currencies such as ruble, yuan and rupee or barter system in trade business. In this way, small countries can overcome the said bullying technique. Friendly big countries are requested to provide collective assistance.
Normally, adequate food supply to ensure the food security and availability of an abundant supply of healthy food at fair prices, are the characteristics of a country that has the food security. The challenges of a country's food security are rapid population growth, high demand for food, sudden changes in food prices, rarity or vanishing of plant species, climate change, shortage of land and water for crops, food losses and wastages under certain reasons.
Due to the population growth in the previous years and the improvement in life expectancy,the global population will hit the eight billion mark in thecoming November. Researchers and experts estimated that the global population would reach 8.5 billion in 2030, 9.73 billion in 2050 and 10.4 billion in 2100.
As food is a daily need for everyone, it is important. Clothing and shelter are not daily needs.
Therefore, food issues must be mainly tackled. With the increase in population, the demand for food will grow proportionately.
The demand for food especially for basic food items such as rice, wheat, edible oil and oil crops, meat and meat products, milk and dairy products and crops will increase dramatically.
As Southeast Asia, where Myanmar is situated, is geographically located in a strategic region that bridges two oceans, it plays an important role in the Indo-Pacific region. It can be seen that member countries of the ASEAN are important for regional stability and have many opportunities for economic growth.
The 10-member ASEAN has a population of more than 660 million. In 2020, the region produced main food items including more than 191 million metric tons of rice, over 45 million metric tons of corn, over 144 million metric tons of sugarcane and over 79 million metric tons of tapioca. As ASEAN countries produce and export basic food items in large quantities, it can be seen that they play a major role in food security. In the trade sector, the trade value of ASEAN countries hit US$-2.6 trillion in 2020. As trade among ASEAN countries amounted to US$-550 billion, it can be seen that trade with countries outside the ASEAN made up more than US$-2 trillion and a significant portion.
The ASEAN region has 139 million hectares of agricultural land and member countries that mainly grow rice paddy including Myanmar, Thailand and Vietnam have 23 million hectares of paddy. Measures must be taken to grow paddy on such vast land in any season.
Myanmar is a country which boasts favourable resources for the agriculture and livestock sector such as agricultural land, natural forest areas, natural rivers, creeks and lakes and coastal areas. Myanmar has 13 million hectares of agricultural land and mainly exports rice, pulses and beans and corn. As the country possesses a large number of water resources, it mainly grows paddy, pulses and beans and corn as well as sesame and cotton. To produce food for food security, quality varieties, fertilizers, agricultural water and techniques are essential.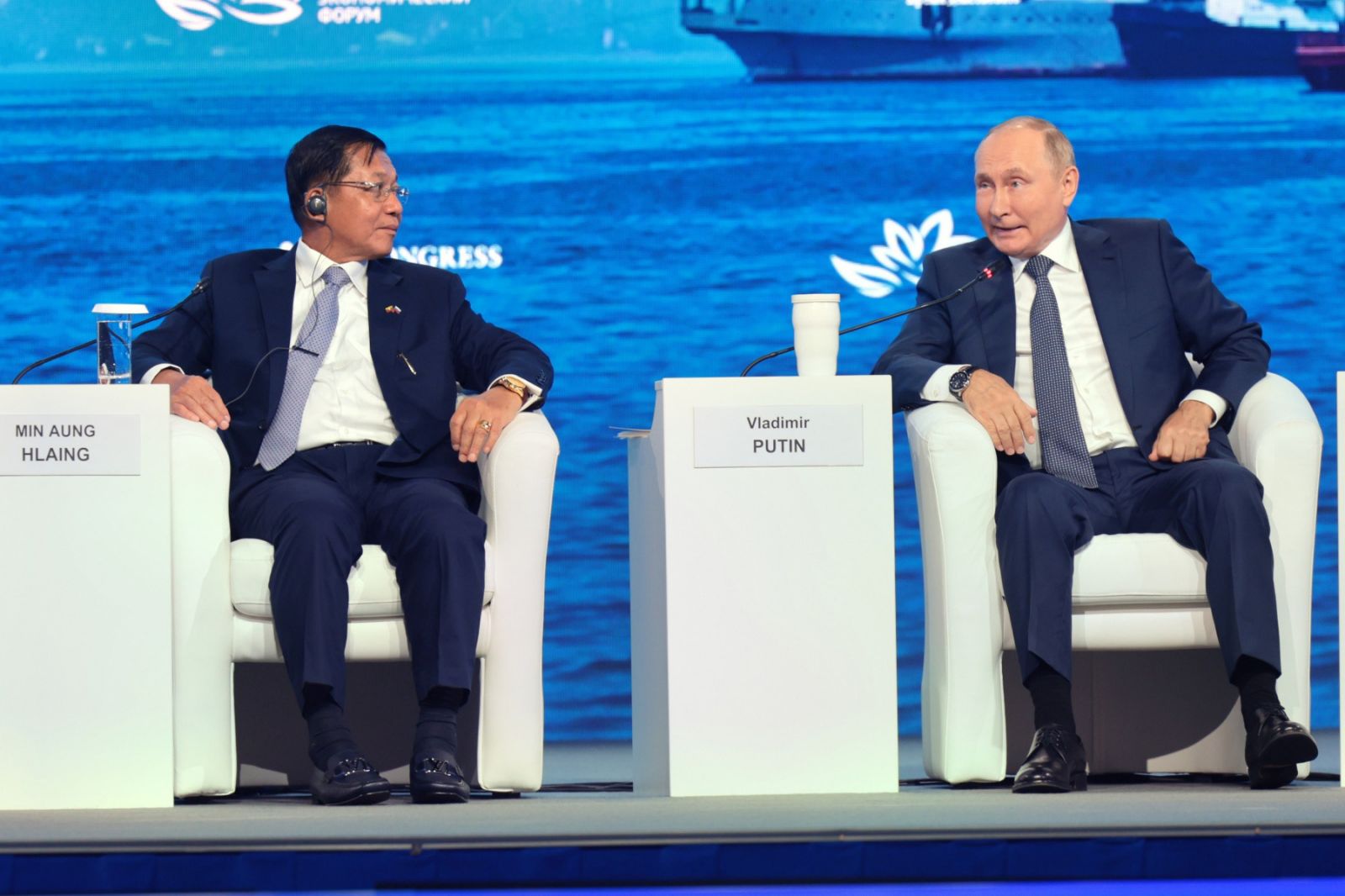 Fertilizers for plants and diesel for ploughing and cultivation are especially important.
If friendly countries can offer help, agricultural production can be doubled, contributing a lot to food security. Myanmar can produce enough basic food items in successive periods and exports agricultural and livestock products to neighbouring and world countries. I would like to take the opportunity to highlight that Myanmar is a country that boasts fine traditions of being a major food-producing country and measures are being taken to retain the traditions.
In the oil and gas sector, Myanmar has 51 offshore oil blocks and gas from 8 natural gas blocks is distributed for domestic consumption and exports. At present, a gas reserve of two trillion cubic feet has been discovered in the Bay of Bengal and plans are underway to exploit gas on a commercial scale soon.
Similarly, a potential greater gas reserve has also been explored.
Therefore, as industries that are based on natural gas will thrive in Myanmar within the next three years, I would like to invite anyone who is interested in investing in Myanmar. Moreover, there are many undiscovered oil and gas reserves in Myanmar.
Similarly, Myanmar has many mining sites that export many metals including copper, iron, tin to the world market.
Myanmar exports agricultural and fishery products and measures are being taken to import fertilizers, fuel and other petroleum products from Russia. If cooperation can be enhanced in these sectors, it will be beneficial for the two countries. I would like to invite participating entrepreneurs in the forum to invest in the oil and gas sector, mining sector, agriculture and livestock sector, value-added foodstuff sector, energy sector, tourism sector, oil terminal and other infrastructure development sector, rubber-based industry sector, renewable energy sector, science and technology sector, information technology and communication sector, health sector, financial sector and garment sector of Myanmar, which is ready to provide various opportunities for foreign trade.
Cooperation programmes like the present Eastern Economic Forum-2022 are facilitating the relations among the partner countries in the Eurasia region. Making trade and investment partner countries in the region will create mechanisms for bilateral contacts and help the Eastern region prevent the influence of the Western countries over the international relations arena. Being able to build good and strong relations among the Asian countries can shape International North South Transport Corridor-INSTC, thereby contributing to better trade and investment and geopolitical stability of the Asia-Pacific region. I believe that the establishment of strong relations between China, India,ASEAN and BIMSTEC between Russia will also support the development of the countries in Asia including Myanmar.
As the Asia-Pacific region develops sustainably at present, it is found to be a very suitable region to make investments in.
Being a strategic location in the Asia-Pacific region, ASEAN is in a position to lead meetings on regional diplomatic relations and economic matters. Moreover, ASEAN is a rivalry with the powerful global countries and plays a pivotal role in political,military and economic sectors.
As international trade routes pass through the Southeast Asian region, we can vividly see ASEAN Centrality.
What I notice is that a communication route is essential connecting a nearest road to central Russia and the ASEAN region by passing through South Asia, the Gulf and Central Asia. And it can forge links with China's Belt and Road Initiative (BRI). Myanmar, an ASEAN country, is geographically located in carrying out trade activities with Southeast Asian and South Asian countries and having links between Western Europe countries and East Asian countries. We are making sure facilitation and convenience for foreign investments by enacting necessary laws. As such, if international businesses invest in Myanmar, they will be able to have easy and quick access to various world countries in selling their products and get lots of benefits. As it will also contribute much towards global food security, I hereby invite investments in Myanmar.
Next, the master of ceremonies asked some questions and the Senior General made a discussion in response. The Russian President also made a discussion.
Then, Armenian Prime Minister Mr. Nikol Pashinyan, Mongolian Prime Minister Mr. Luvsannamsrain Oyun-Erdene and Chairman of the Standing Committee of the National People's Congress of the People's Republic of China Mr. Li Zhanshu made their discussions under their respective titles and explained the development of Far Eastern Region and cooperation with Asia-Pacific region.
The master of ceremonies and the Russian President expressed their views. Indian Prime Minister H.E. Narendra Modi, Malaysian Prime Minister H.E. Ismail Sabri Yaakob and Vietnamese Prime Minister H.E. Pham Minh Chinh made their discussions by sending video messages.
The master of ceremonies asked about Russia's standing over the current global changes and developments and the Russian President gave answers in different subjects.
Later, the Russian President, Senior General Min Aung Hlaing, Armenian Prime Minister Mr. Nikol Pashinyan, Mongolian Prime Minister Mr. Luvsannamsrain Oyun-Erdene and Chairman of the Standing Committee of the National People's Congress of the People's Republic of China Mr. Li Zhanshu cordially greeted each other and the ceremony came to a close.
Russian President Mr. Vladimir Putin said it was the 7th Eastern Economic Forum and it had been held yearly since 2015 with the aim of improving the economy in the far east of Russia and strengthening cooperation with Asia-Pacific region. The far eastern region of Russia is the easternmost of Eurasia countries and a centre for connecting Asian and Asia-Pacific countries.
It is also a global economic strategy having the aim of forging global economic community through a regional economic community. As the forum was held during the COVID-19 pandemic, the participants from various global contries had to undergo health checks to ensure
health safety when they arrived in Russia, at the venue of the forum and at the places of other important meetings. The forum was held in line with the COVID-19 rules and guidelines adopted by the WHO. It was attended by delegates, diplomats, businesspeople and mediafrom over 90 countries.