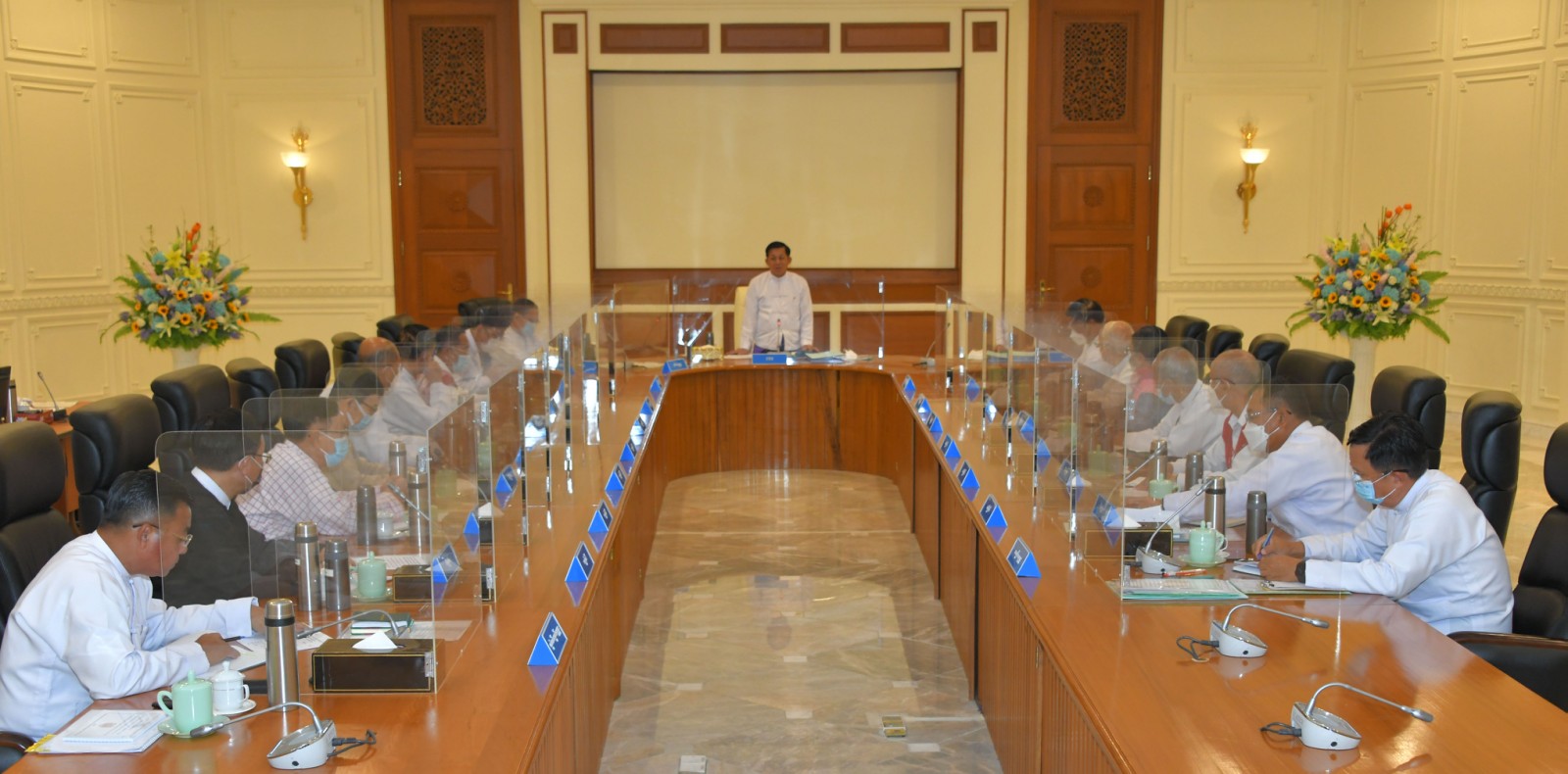 NAY PYI TAW September 27
State Administration Council held meeting 8/2022 at the meeting room of SAC Chairman's Office here this afternoon, addressed by SAC Chairman Prime Minister Senior General Min Aung Hlaing.
Also present were SAC Vice Chairman Deputy Prime Minister Vice-Senior General Soe Win, SAC member General Mya Tun Oo, Admiral Tin Aung San, Mahn Nyein Maung, U Thein Nyunt, U Khin Maung Swe, Daw Aye Nu Sein, Jeng Phang Naw Taung, U Moung Har, U Sai Lon Hsai, Saw Daniel, Dr Banya Aung Moe, U Shwe Kyein and Lt-Gen Soe Htut, Secretary Lt-Gen Aung Lin Dway, and Joint Secretaty Lt-Gen Ye Win Oo.
Discussions on bilateral cooperation during visit to Russia In his discussions on the goodwill trip to Russia, the Senior General recounted the invitation to and participation in the Eastern Economic Forum in Russian Federation, talks with Russian President Vladimir Putin on Myanmar's potentials as a trustful long-term friend, bilateral cooperation in multisectors, Russian assistance for Myanmar, investment promotion between the two countries, economic cooperation and favourable results, visits to areas in Russia where bilateral economic cooperation can be set up, sustainable and cordial Russian-Myanmar diplomatic relations that will reach the 75th anniversary soon, sending scholars to Russia, Russia's role as a trustful and stable friend in the defence cooperation, a study of rail transport system and continued cooperation in trade, investment, health and education sectors.
Promotion and encouragement of agriculture for nation economic progress As for the national economic development, he said government is disbursing loans from the national economic development funds for ensuring greater success in summer paddy and green bean. The two crops are prioritized as they promise a quick win. Farmers will be provided with inputs such as chemical fertilizers, fuel and seeds rather than cash assistance.
Farmers, on their part, should provide land and labour. The Ministry of Agriculture, Livestock and Irrigation is transforming the crops fields into the ones suitable for mechanized farming.
As green bean has high global demand, extension of the crop will be much beneficial. Systematic increase in paddy yield will ensure a rise in profits. Profits will be used in extending sown acreage and providing assistance to summer paddy, monsoon paddy and bean cultivation in 2024. Farmers will also get their shares from the profits. Hence, they will be able to pay back the outstanding loans to the State. Arrangements are underway to provide assistance for cotton cultivation.
As for less developed areas, Kayah State, Chin State, Rakhine State, Shan State, Mon State, Kayin State, Kachin State and Taninthayi Region, long-term cash assistance will be provided as capital for development undertakings under the Myaseinyaung project. The project is providing a lot of benefits for area development. The project also provided such assistance to self-administered areas for area-wise development.
Area-wise MSME development for economic growth As regards the development of MSMEs, the Senior General said,"The other day I met SME businesspersons and organized a committee meeting of SME development. The scope of SMEs exceeds 90 percent in the country's economy. SMEs must rely on the locally or domestically produced raw materials.
Raw materials play the pivotal role in business, as marketable finished goods are based on them. The government has asked all the regions and states to set up industrial zones. But Chin State has no industrial zone or even an industrial quarter. So, guidance was given to develop industrial zones in Chin State based on coffee, elephant foot yam tuber and mythun. The plan will be realized with funds for Chin State.
Other regions and states have their own industrial zones. The State will provide loans for SMEs with the lest interest rate to recover the economy that faced a downturn due to COVID-19. SMEs are a must for all states and regions. The number of migrant workers can be reduced if every area has its own industries. But it cannot be reduced to zero level. We will have to reduce the number of migrant workers by generating local job opportunities in the country. If there are operating businesses there will be an increase in the local budget.
Hence, states and regions will see a budget expansion. So, we started this plan for them to run on their own budget. The financial assistance I have mentioned earlier is to set up a fund. The government has provided Ks-10 billion or Ks-8 billion or Ks-5 billion to each of them.
In fact, we have provided them with the federal powers.
As the government is encouraging SMEs and business enterprises have emerged in respective regions. The government has proved that success can be achieved if one works really hard. The responsibility of a government is not to work just for show or to be reported in news and television broadcasts but to shed light on what can be achieved. Actually, it must exert efforts for the development of the country and regions.
So, our government must work for the development of the country. Regional governments must work for the development of their respective regions. This is pragmatic politics. This is the politics that is pragmatic.
It is not entering politics. It is serving the interests of the country. We gave initial capitals to them to work in the interests of the country. Let them work to the best of their abilities. If a region is capable, it will be prosperous. When it is prosperous, the region will earn higher revenues. When they earn higher revenues, the budgets of states and regions will be more than sufficient. The budgets allocated by the central government will also contribute to their spendings to a certain extent.
However, by doing what they can with their own funds, they will be able to make a lot of progress.
I urged all chief ministers from states and regions to prove that they were capable of doing business. I told them that this was the objective of implementing the SME program.
In the past, small businesses were referred to as SME but at present, they are referred to as MSME or micro, small and medium enterprises. We use the term MSME. I would like to inform council members of such measures we have taken.
Tourism is a sector that contributes to economy through various ways and means The Senior General continued to say that it is the tourism sector that contributes to the economy of the country through various ways and means. Business activities and transport operations in a region thanks to domestic and foreign tourists can accelerate money circulation and foreign tourist arrivals can increase foreign exchange earnings. Therefore, the government is taking measures to enable foreign tourists to visit Myanmar. If domestic and foreign tourism can be promoted, economic development can be achieved significantly.
Efforts are being made to maintain political and security stability For the development of tourism, it is necessary to maintain political and security stability.
As for political stability, political parties have been allowed to carry out their administrative tasks including inner party meetings except political instigation.
By holding talks with political parties, amendments of the Election Law and other political issues are discussed.
There are some proposals from political parties to amend the constitution. Similarly, the Tatmadaw is holding peace talks with EAOs as an effort to maintain political stability.
The agreements reached with political parties and EAOs will be discussed during the upcoming Hluttaw. If this can be done, the peace process will gain greater momentum.
In connection with security, utmost restraint is being exercised to avoid armed conflicts with EAOs. The Tatmadaw is exercising utmost restraint to prevent loss of lives and property of the people. The Tatmadaw is strong institution for national defence. On the ground, the PDFs and EAOs that are linked to them are suffering heavy losses. The regions where armed conflicts took place with them are suffering heavier losses.
If the people, the Tatmadaw and the police are harmed, practical responses will be reciprocated.
The Tatmadaw is taking measures to pave the way for multi-party democracy in the country and building a union based on democracy and federalism. In giving federal rights, those that should be given will be given in the same way as other countries that have adopted federalism.
In connection with the peace process, the second round of talks are being held after the first round of talks concluded.
The 2008 constitution and the NCA cannot be neglected. EAOs have differences due to foreign interference. As demands of EAOs include amendments to the constitution, necessary measures have to be taken. If agreements are reached by compromising between wishes of and what should be done by both sides, constitutional amendments can be carried out in accordance with the law. Amending the constitution by voting at the Hluttaw can reflect the dignity of amending the constitution upholding the respects for the constitution as a democracy. The constitution can be amended not through other ways and means but through the Hluttaw. It must be carried out based on the Pinlong Agreement that reflects the unity of all national races. As Myanmar is a sovereign state, measures must be taken to give equal federal rights to all states and regions in building a union.
Efforts are being made to hold a free and fair election, to reach prior-agreements with EAOs and take possible measures through negotiations.
New schools are being opened to enhance education In making efforts to enhance educational qualifications, measures have been taken to open agricultural, livestock breeding and engineering high schools and 50 agricultural, livestock breeding and engineering high schools will be opened in 50 districts in the upcoming academic year. It is necessary to provide land for the school and to encourage students to study there. As building new schools for educational enhancement requires large sums of funds, the government is promoting tourism and the manufacturing of agricultural and living stock breeding products.
Plans are underway to open Nay Pyi Taw State Academy in November and the academy must have the same status as Yangon and Mandalay universities.
Priority will be given to children of government employees in Nay Pyi Taw and students in the eight townships in the capital. The academy will run at its full capacity within the upcoming four years.
Afterwards, members of the State Administration Council discussed matters on recording SAC Chairman's visit to the Russian Federation that has made much benefit for the State, doing field work in order to ensure success of the tasks being carrying out in regions and states, opening a training school or a university for teachers appointed in regions and states, building a bridge across
Pan Hlaing River in Nyaungdon Township, promoting educational tasks on extensive use of Green Leaf fertilizer in regions and states for an increase in paddy production, building a national theater in Nay Pyi Taw for presenting Myanmar cultural performances, taking action against those destabilizing commodities prices, extending the repayment period for the loan of civil servants, issuing necessary orders and directives to protect thriving of native fish species and fish resources, sending archaeological scholar trainees abroad for identifying cultural heritage and promoting research laboratory academic, enhancing security measures in order that act of sabotage will not occur in Thilawa Special Economic Zone, holding Myanmar traditional sports competitions for students in the period of school holidays, making arrangements in order that officials and staff could take food in comradely association for improvement of family relationships among civil servant families at ministries, focusing on carrying out tasks of compiling statistics on actual production of this year's monsoon paddy and estimating of reserve rice, making cooperative efforts between parents and teachers to ensure no school bullying among students, taking measures to expose and take action against disturbances by CDM civil servants and people related to them over teachers and students, and exposing malpractice act of some civil servants in carrying out tasks on confiscated unused land and take action against them.
Regarding the reports and discussion, the Senior General said arrangements will be made to systematically form field work teams to achieve success in regional development tasks in regions and states. Appointing teachers in regions and states for a role in teaching assistance and languages is to be helpful to preserve literary, culture and languages of ethnic peoples.
Arrangements are being made to train the teachers at education colleges in regions and states, and they will be conferred a diploma. Feasibility survey will be conducted to implement a project to build a bridge across Pan Hlaing River.
The ministry concerned was instructed to extensively use the Green Leaf fertilizer and other chemical fertilizers to be jointly used for better increase in production of paddy. Some foreign countries are being contacted to gain chemical fertilizer.
Arrangements will be made to develop traditional cultural operas using Myanmar International Convention Centre 2 (MICC II) as a national theatre. Suspension of Civil servants' repayment period for loans will be extended. Efforts are being made for economic growth and stabilization of the currency. Measures on protecting and conserving fish resources will be taken. Archeological experts are being sent abroad for scholarship training. Foreign investments are being invited for development of special economic zones including Thilawa SEZ. Traditional sports competitions will be held for students. Directives will be issued to hold friendship dinner parties for civil servants. Measures on exposing acts of CDM staff and people related to them disturbing civil servants discharging duties will be taken andaction will be taken against  them as well.
In his concluding remarks at the meeting, the Senior General said collective efforts are to be made to ensure that our country will become an assured future nation. In studying political parties, it is seen that there are parties based on politics, regions, and ethnic people.
There is no restriction over movement of political parties.
A union state must be built based on the 2008 Constitution and NCA. Tasks to be able to amend the election law and political parties' registration law are to be taken. For this, it is necessary to study those laws systematically. Council members need to carry out tasks with deep thought in order that we could build an assured union state by putting the nation on the right course.