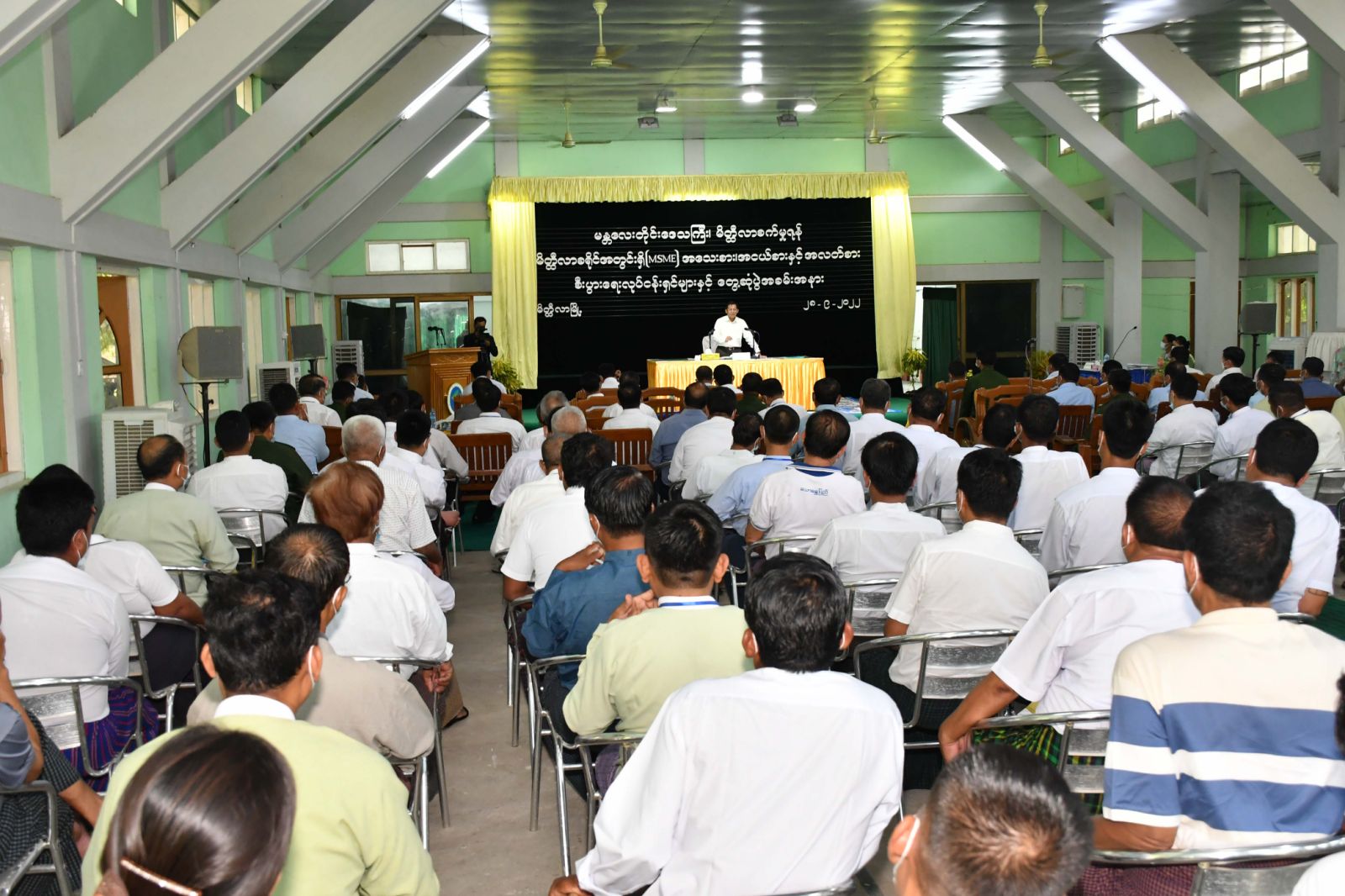 NAY PYI TAW September 28
Chairman of the State Administration Council, Prime Minister Senior General Min Aung Hlaing accompanied by Joint Secretary of SAC Lt-Gen Ye Win Oo, Union ministers U Tin Htut Oo, U Hla Moe and Dr Charlie Than, Mandalay Region Chief Minister U Maung Ko, Chief of the General Staff (Army, Navy and Air) General Maung Maung Aye, senior military officers from the Office of the Commander-in-Chief, Commander of Central Command Maj-Gen Ko Ko Oo and officials, met with MSME businesspersons in Meiktila District at the hall of Meiktila Industrial Zone in Mandalay Region this afternoon.
Discussions on requirements and difficulties Chairman of Meiktila Industrial Zone Management Committee and Cotton Entrepreneurs Association U Zaw Oo, Secretary of Oil Dealers Association U Kyaw Myint, Chairman of Weaving Entrepreneurs Association U Than Htaik, rice dealer U Aung Zin Min Htaik and attendees reported on good sources of industrial zone and successful investment at home and abroad, development of the industrial zone, need to approve the industrial rule, requirements of electricity, operation of industries based on cotton crop, sharing of market for cotton growers, distribution of quality cotton strains by the State, expansion of sown acreage of oil crops, need to production of purified oil, resale of cooking oil at fair prices to the people from the State, operation of weaving industries, difficulties in high prices of devices used at rice mills and needs of the industrial zone.
Responses to relevant sectors With regard to the reports, Union ministers U Tin Htut Oo, U Hla Moe and Dr Charlie Than and Mandalay Region Chief Minister U Maung Ko discussed efforts for collection of cotton strains suitable for Myanmar, efforts of cotton growers and businesspersons to produce quality cotton seeds, arrangements to sell fertilizers at fair price, efforts for increasing oil production by the State, disbursement of loans to oil dealers, sales of inputs at fair prices to rural farmers, plans to set up capital for livestock groups, arrangements of the Ministry of Cooperatives and Rural Development for earning of incomes for rural people anddevelopment of rural regions, measures for MSME industries, issuance of the draft industrial zone rule, the important role of industries transformed from manual works, arrangements for the people to be able to stay away from dangers, and technical assistance for systematic disposal of industrial zones.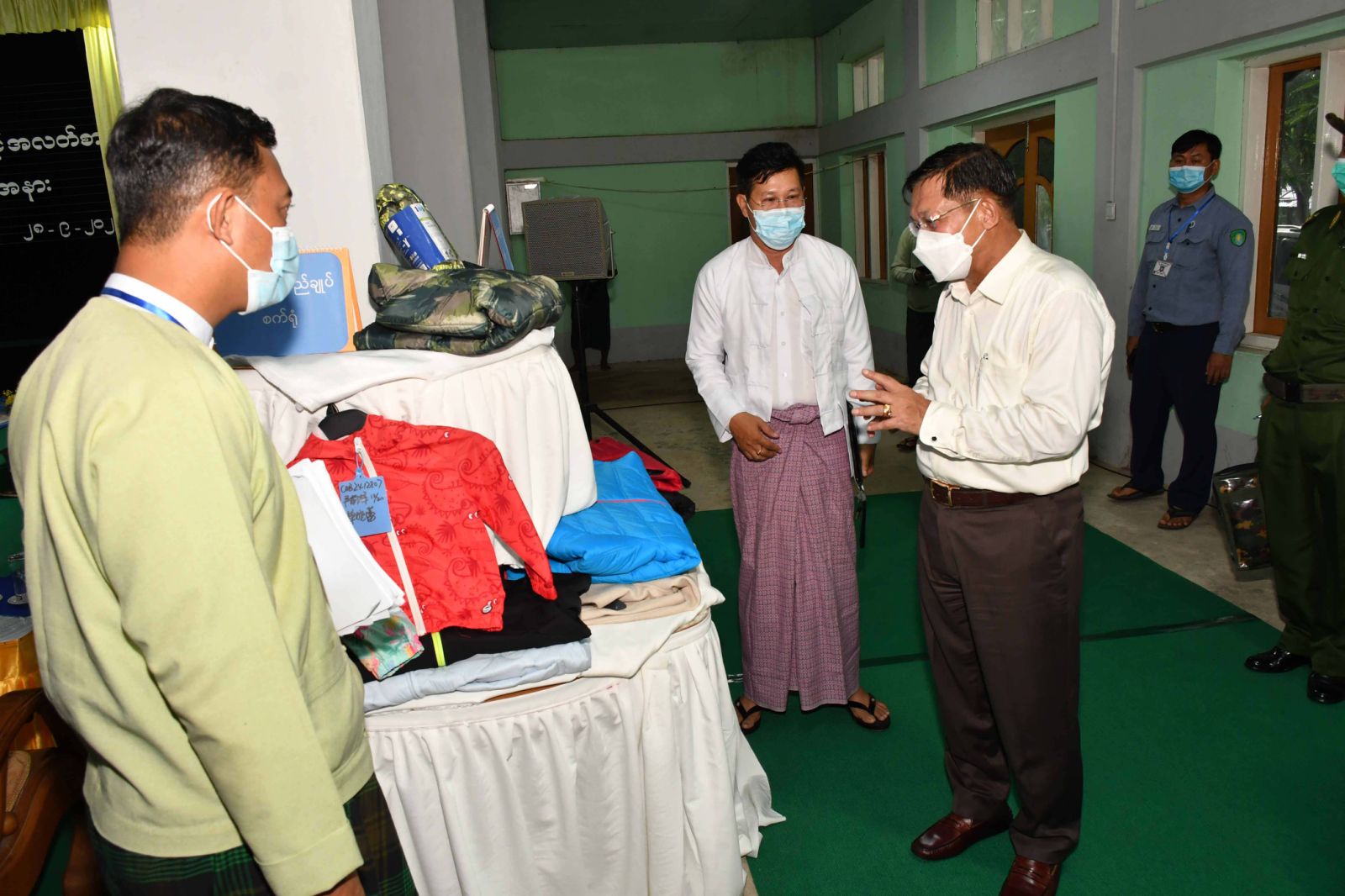 Development of MSMEs With regard to reports of businesspersons and MSME development, the Senior General said that he arrived in Meiktila Industrial Zone for the first time. Industrial ward and zone can be set up in the industrial sector. Industrial ward is set up not only for industries but for public residences. The industrial zone is not for public residences but for industries only.
Industrial zones need to improve themselves to have greater development. At present, MSME businesses are important in Myanmar as well as the international community. The State Administration Council missed the chance to emphasize economic development measures at the time when it assumed the State responsibilities due to conflicts based on politics and impacts of COVID-19.
Efforts necessary to meet local demand of textile With the situation returning to normal and the COVID-19 pandemic being put under certain control, efforts are being made for the growth of national economy. Measures were being made to operate MSMEs for national economic progress.
Funds for State economic development were handed over for agricultural undertakings.
Plans are also underway to hand over the remaining funds for MSMEs as well as for cotton growers. Rather than extending the cultivation acreage, it is better to grow cotton in the fields set for cotton growing where other crops are being cultivated for various reasons.
Despite cotton cultivation in the past, ineffectiveness led to the import of cotton products and more foreign exchange spending. Clothing is a basic requirement and essential for a person from the cradle to the grave. Being able to meet domestic production target will benefit the State a lot. Tatmadaw textile factories are also trying in a way to meet domestic needs.
Strain, soil, water, method Good strains and inputs such as chemical and natural fertilizers are required for cotton growing. It is necessary to reclaim land systematically and cultivate by acreage with the use of farm machinery. Only then, will success be achieved in agricultural undertakings.
The country is rich in natural fertilizers. Livestock breeding is thriving in Meiktila District with over 400,000 heads of cattle.
Systematic livestock breeding will yield bio-fertilizers. Besides, natural fertilizers contribute much to agriculture. Apart from EM Bokashi, sunn hemp can be grown to produce natural fertilizers. While the State is trying to procure chemical fertilizers, local farmers on their part are to try to produce biofertilizers by using waste from livestock breeding. Irrigation water is necessary for agricultural undertakings. The State is trying for water supply. But it is required to use water efficiently without loss and wastage. With correct methods in agricultural and livestock breeding activities, success can be achieved and enough raw materials can be acquired.
Increased yield of cotton and other crops will help improve industries in the region Mandalay Region has over 36,000 acres of cotton plantations with long staple cotton and short staple cotton. Whichever is grown, high yield must be ensured. For that purpose, quality strains, enough inputs and correct cultivation methods are required. With high yield, cotton-related industries will improve as well, so concerted efforts must be made. Likewise, for other oil crops, it is necessary to increase peracre yield rather than increase cultivation acreage. And this will help improve the economy. Meiktila District is urged to make efforts for the production of raw materials.
In running regional industries, ones based on rice, paddy and oil crops as well as beans can be operated.
Collective efforts must be made to develop an industrial zone based on commodity production We are exercising the marketoriented economic system and the multi-party democracy system in politics. It is necessary to promote private businesses as the market-oriented economic system is being exercised, and the State will encourage doing so as much as possible.
Depending on the needs, the State is involved in some businesses. The State disburses loans at a low interest rate to be able to operate private businesses.
As micro, small and medium scale enterprises are important for the State, the State will be disbursing loans to them.
Meiktila District has the potential to be a region where the livestock industry will flourish.
Therefore, raw materials needed for micro, small and medium scale enterprises could be acquired through a thriving livestock industry. Value-added products based on the livestock industry could be exported. In respect of the need of electricity, Meiktila region has Thabyaywa solar power plant. As the plant is beneficial as it uses renewable solar energy. It is necessary to carry out tasks of generating electricity through solar energy to ensure power supply needed for Meiktila Industrial Zone and the State has been carrying out tasks to ensure sufficient power as well.
Officials need to provide supervisory action in order that there is a systematic sewage treatment plan in the industrial zone and people running enterprises in the industrial zone need to cooperate in the tasks of making drains in their areas systematic. All are urged to ensure that all products manufactured from the industry will be industrial products that are beneficial to us.
Regarding the production of cotton items, it is necessary to have quality cotton and good weaving machines. We are making efforts to be able to produce cotton items using the industrial raw material of cotton. Encouragement is being given to micro, small and medium scale enterprises. As such enterprises are of much help to economic development of the nation and regional development, all are urged to specially focus on them.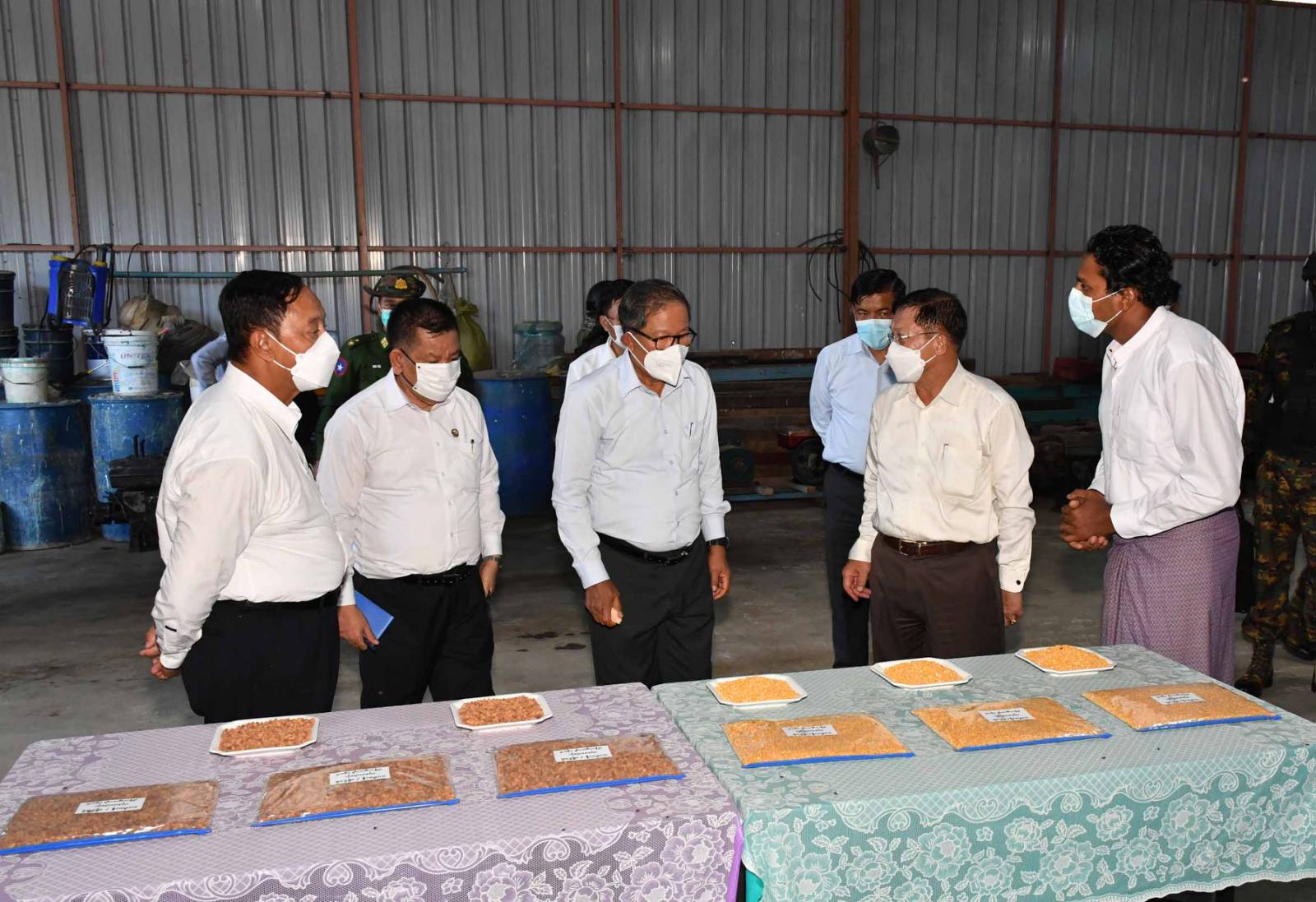 Building an industrial zone is not for the region only. It must be seen and knowledgeable that it is aimed to promote the nation's economy based on commodity production. If all make collective efforts to have an industrial zone that is based on commodity production, it will be fruitful.
After the meeting, the Senior General cordially greeted entrepreneurs of micro, small and medium scale enterprises and viewed cotton and edible oil items manufactured in the industrial zone and others being on display. Officials briefed him on the items.
Later, the Senior General and party took a tour of the industrial zone and arrived at the Theingabar Kyaw Chick Pea Separator and Industry where entrepreneur U Maung Maung briefed on the business. The Senior General had questions about the business.