NAY PYI TAW October 6
The opening ceremony of Myanmar Rice Conference –2022 was held at the Myanmar International Convention Centre -2 here this morning, addressed by Chairman of State Administration Council Prime Minister Senior General Min Aung Hlaing.
The conference was held under the theme "Boosting the national economy through rice" to discuss and realize the task of growing, producing, milling, storing and trading paddy throughout the value chain in line with the national export strategy, modification programs, and work programs of the government and private sector after assessing the procedures required for rice sector development, difficulties and the future direction of the rice sector.
Also present were SAC members, the SAC joint secretary, Union ministers, Union level officials, the Nay Pyi Taw Council chairman, the Nay Pyi Taw Command commander, economic ministers of regions and states, chairpersons, vice chairs and officials of Union of Myanmar Federation of Chambers of Commerce and Industry (UMFCCI), Myanmar Rice Federation, Myanmar Rice Traders Association, Myanmar Rice Growers and Producers Association, private banks and Myanmar Rice Millers Association, local and foreign agricultural experts, permanent secretaries, directors-general and officials.
In his opening address, the Senior General said rice cultivation and production is an ageold traditional family business in Myanmar. The rice sector has experienced many changes and development alongside the different systems and eras. As rice is the staple food, it is the most important crop for socio-economic development.
SAC is prioritizing the export promotion activities for national economic growth. In its export promotion programs to further boost products that are globally marketable and suitable with the country's weather and geographical conditions, rice sector promotion program that promises a Quick Win within a short period is also included.
SAC is also implementing the objective –To enhance production based on agriculture and livestock through modern techniques and strengthen allround development in other sectors of the economy– of the nine objectives.
As Myanmar has land, water and human resources for agriculture and livestock, systematic efforts will reduce poverty and boost national economic growth.
Global food security is facing challenges due to climate change and political instability. Every country is adopting various policies for food security. This global trend produces good opportunities for Myanmar that is producing agro-based food items. Myanmar should grab those opportunities for promoting the rice sector's role in national economic progress.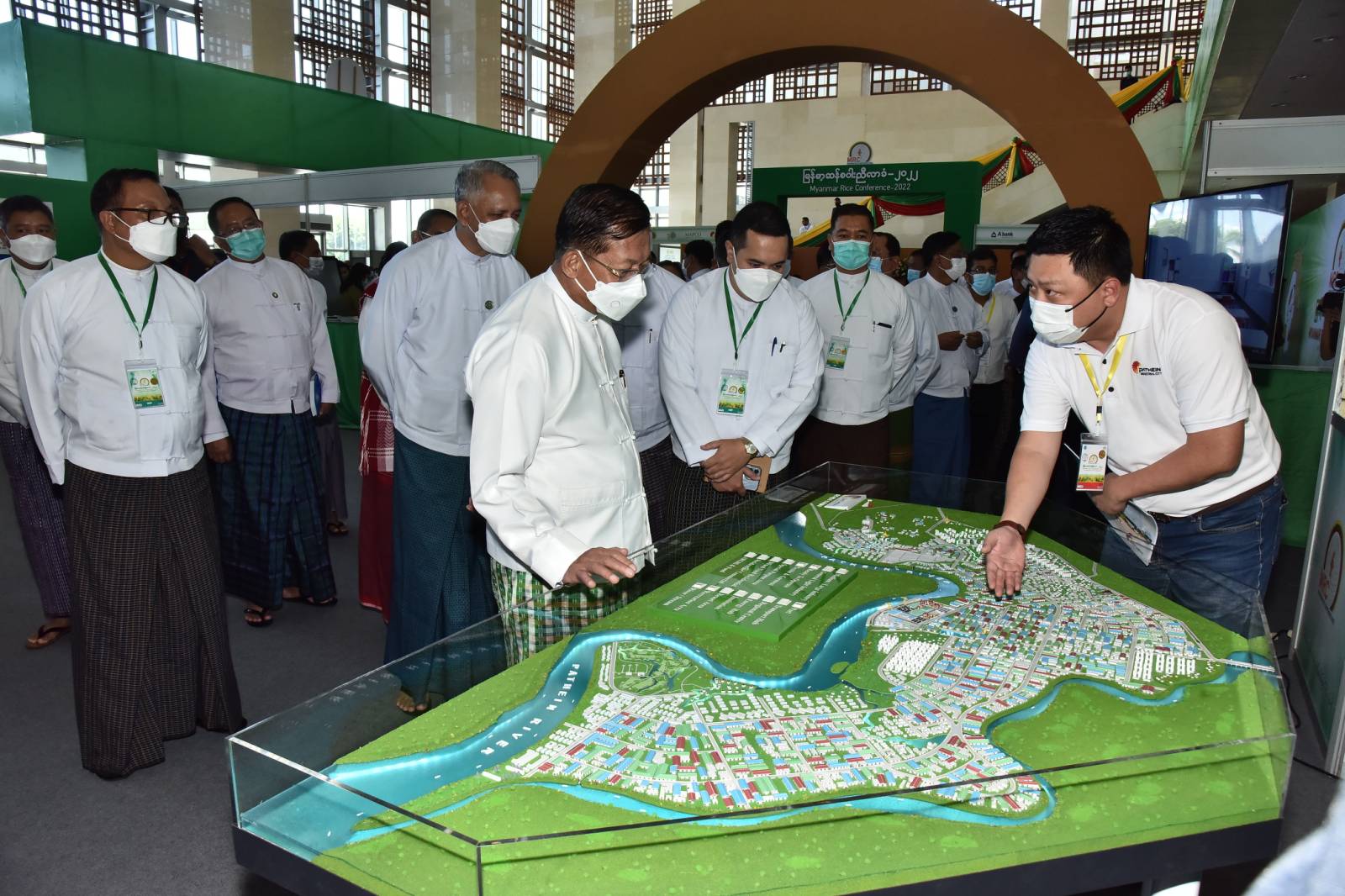 The task of extending the sown acreage of quality and highyield rice for export should be prioritized.
Rice and rice-based productions are included in the prioritized goods of national export strategy for export promotion.
The goal of rice export promotion strategy is "Production and export of high-quality rice that is environmental friendly and ensures sustainable development for rural development and income generation."
The Senior General welcomed the efforts of the Ministry of Commerce and the Myanmar Rice-Federation in jointly organizing the Myanmar Rice Conference under the theme of Rising with Rice on 6 and 7 October 2022 with the aim of increasing the export volume of rice and developing the State economy in accord with the strategic vision.
The Senior General urged all participants of the conference to review appropriate action lines, difficulties and future prospect of the rice sector and discuss process in the chain of value for rice cultivation, production, milling, storage and sale in accord with the national export strategy, reform processes and future plans of the government and the private sectors. As the conference will be held under the public-private dialogue type, stakeholders in the rice and paddy arena of Myanmar need to adopt the same objectives for development of rice and paddy sector.
Today, the government is implementing two national visions for prosperity of the nation and sufficiency of food. Some 70 percent of the population are engaged in agriculture, and the country is striving for development of the State economy based on agriculture and livestock farms. Hence, the government prioritizes the food sufficiency, nutrition and food safety for all citizens. Paddy is a main staple crop cultivated on 34 percent of total sown acreage.
Rice was grown on 17 million acres of land in the 2020-21 financial year, 15 million acres of monsoon paddy and 2.4 million acres of summer paddy, totalling 17.4 million in 2021-2022 FY.
Efforts should be made for production of 100 baskets of paddy per acre. As citizens consume 155 grammes each of rice per year (some 97 Pyis), current paddy production is more sulplus than current consumption of the nation. If paddy can be grown as double and tripple croppings, surplus can be exported. Hence, the paddy after paddy,paddy-bean-paddy, paddy-sunflower-paddy cropping should be implemented on the land of paddy rather than the expansion of sown acreage.
Only when products can be produced will sale products will come out.
In growing paddy,everybody knows the importance of selecting quality paddy strains. More than 90 strains of paddy are grown in Myanmar, and some 50 strains of paddy are favorite at the domestic market and more than 20 strains for the foreign market purpose. Farmers need to choose the paddy strains with resilience of flooding, pests, climatic conditions and marketable quality ones. Local farmers need to change their mindsets to use quality strains of paddy seeds rather than quality paddy saplings. In doing so,it is necessary to enhance the role of seed production companies.
Growers need to consider the use of mixtures for fertilizers, natural fertilziers and biofertilizers in addition to use of quality strains, and practices of ways to jointly operate agriculture and livestock farms.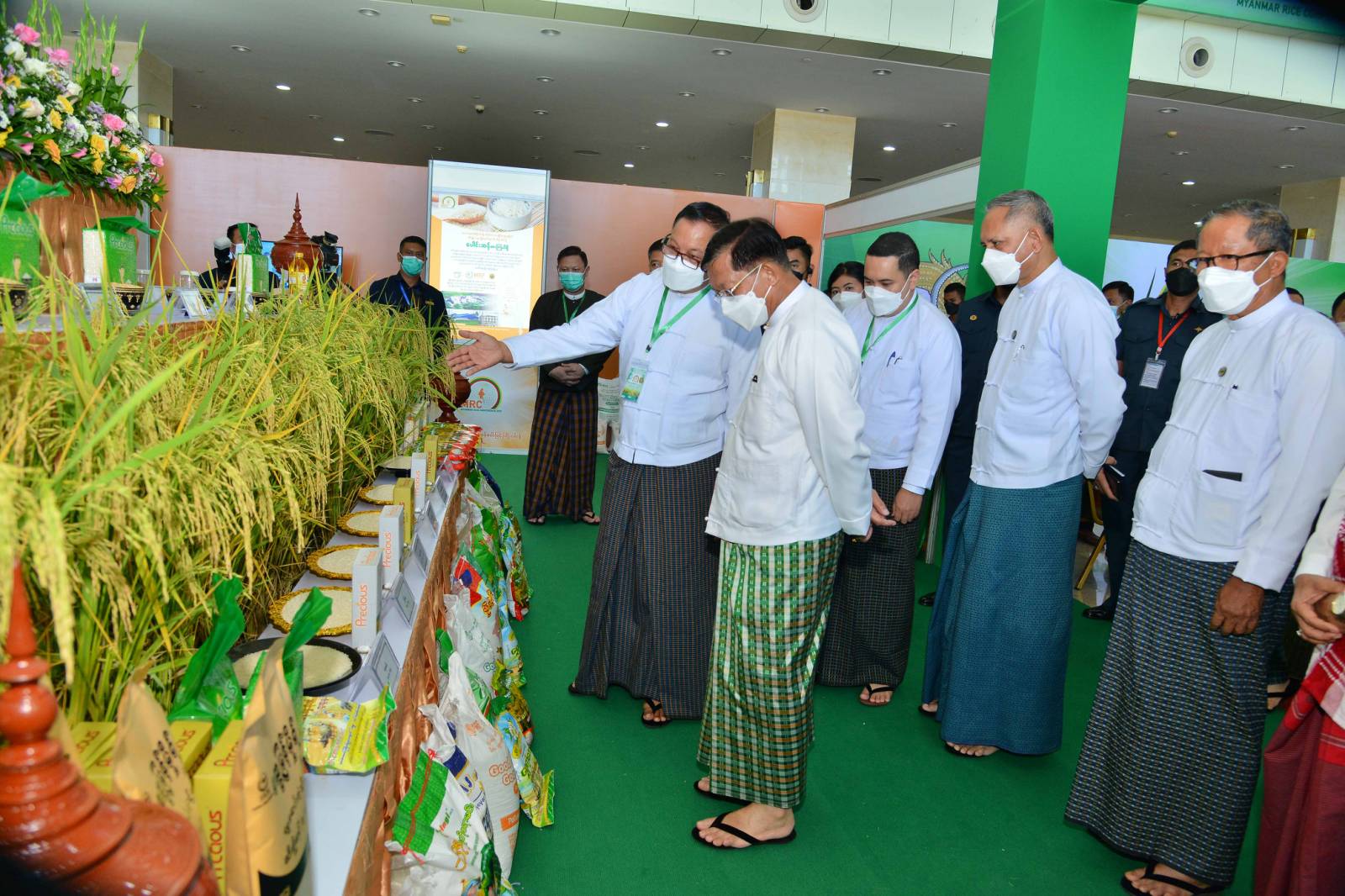 In the coming summer paddy season, the State will disburse Ks-200,000 per acre of summer paddy at a special rate for implementing the contract farming on 0.85 million acre of farmland, totaling Ks-140 billion which should be spent on quality paddy strains and fertilizer. All stakeholders need to systematically cooperate with each other in cultivation.
In cultivating paddy, it is important to grow high quality paddy and to produce fine grains of rice that meets standards in milling. As the international rice market falls into two categories such as the price market and quality market, Myanmar had to mainly export low-price and poor-quality rice due to outdated milling techniques in the past but the country has begun to export higher quality rice recently.
Issues related to the quality of rice such as high contents of red rice, mixed varieties, multiplevarieties, low attractiveness due small grain-size, discoloration and poor quality have enormous impacts on the market. If those who involve in cultivation and milling cooperate with each other to reform what should be changed, market shares of Myanmar rice will significantly improve.
Therefore, while it is the responsibility of the union government to lay down policies and processes under its leadership, state and regional governments are required to place a special emphasis on investment growth in the milling sector.
Before regaining independence, Myanmar stood as a worldleading rice exporter. In the 1930s, Myanmar exported 3.5 million tons of rice and became the biggest rice exporting country.
Export volume of rice fell gradually later. Export volumes of rice have increased since the 2001-2002 fiscal year and in the 2017-2018 fiscal year, the country was able to export 3.6 million tons to 64 countries.
During the six-month period of the 2022-2023 fiscal year, Myanmar exported 860,000 tons of rice including 500,000 tons of rice and 360,000 tons of broken rice to 38 countries and could export more than 200,000 tons of rice compared to the similar period last year.
Quality of rice is important in exporting rice and it was found that parboiled rice exported to some countries fetched as much as from US$-460 to US$-505 per ton. As rice exports during the six-month period of the current fiscal year comprised 5 percent of parboiled rice, 42 percent of broken rice and 53 percent of ordinary rice, participants are required to discuss boosting rice production and higher quality of rice while export potentials are enormous at the conference.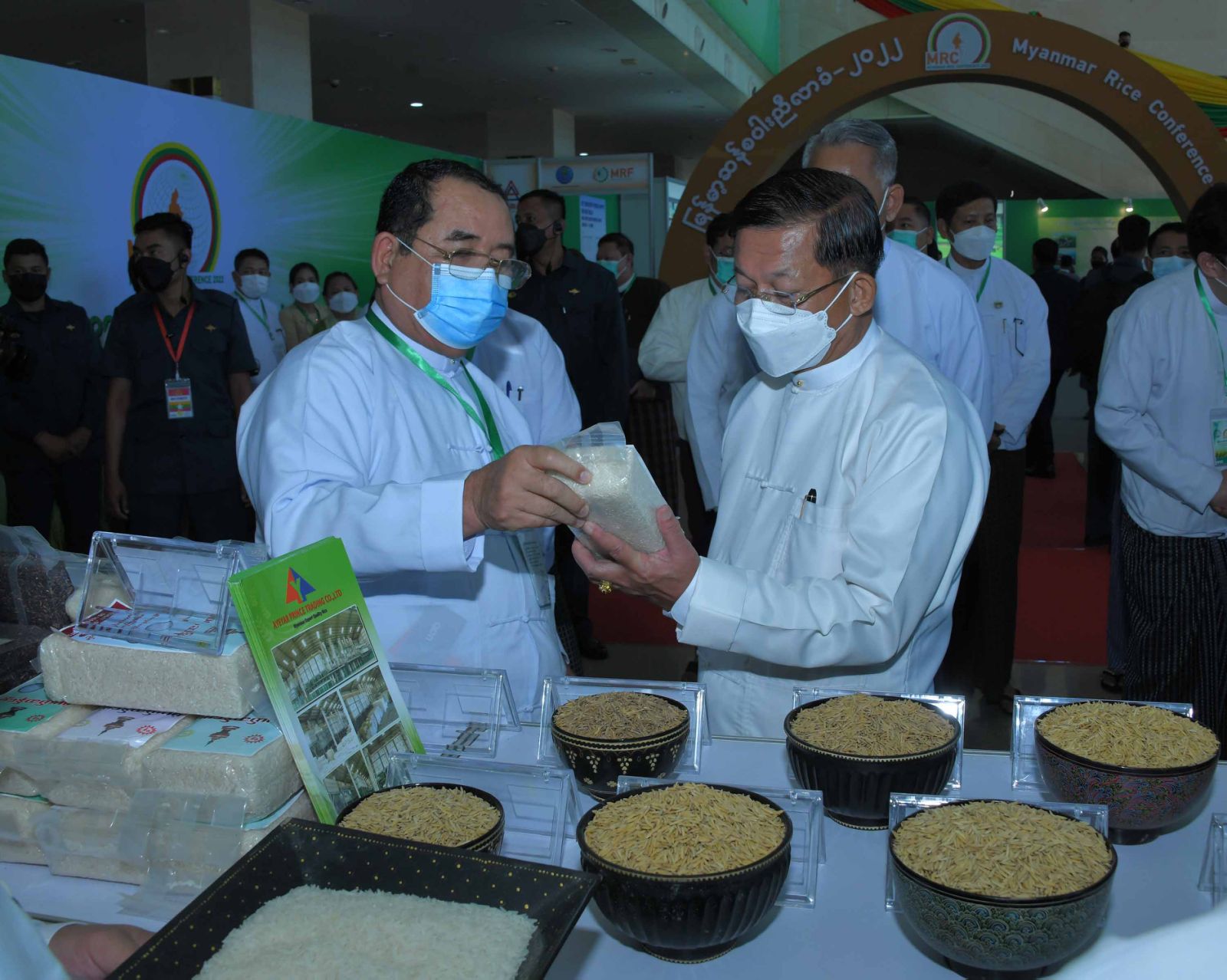 In the past, rice from Myanmar was mainly exported to Africa and European countries but the market has shifted to and expanded in Asia recently.
Therefore, efforts must be exerted to find new markets while maintaining existing ones. The Myanmar Rice Federation and partner organizations and relevant departments are required to reclaim the Africa and South Asia markets, which have dropped from the list of importers of Myanmar rice.
As an effort to boost rice exports, measures are being taken to export 200,000 tons of rice to Bangladesh for the third time and to export high quality rice to Africa as well as the People's Republic of China.
Therefore, all participants are urged to place emphasis on domestic rice sufficiency and exports rice and systematic exports of surplus rice without losing sight of the international rice market. As boosting the yields and exports of quality rice can increase earnings, I would like to urge all to exert efforts.
Measures should also be taken systematically to manufacture value-added products from byproducts and wastes from the rice industry. This can be carried out by strategically thinking not only about boosting exports but also about substitution of imports. If bran, which is currently used for production of animal feeds, can be used as a raw material for production of import-substitute bran oil, which contributes to health, it can help fulfil domestic consumption and reduce imports.
Therefore, all stakeholders including the private sector, the government and organizations are required to discuss building and running bran oil mills from their respective sectors.
Around 80 percent of annual rice production is used for the consumption of the entire people including farmers and the making of food and snacks. Just about 20 percent is exported. Therefore, cooperation is necessary among the government, the private sector and farmers to ensure domestic need and stabilize the rime market. Farmers need to get prices that can cover the costs for their agricultural inputs.
Meanwhile, tripartite, harmonious cooperation is necessary among relevant ministries, region and state governments and all rice paddy-related organizations to make sure the public can buy at fair prices and there are constant exports.
The Senior General than called for the development of the rice industry by making efforts to promptly adopt crops insurance for protecting farmers against climatic conditions and natural disasters in the pre-harvest period, choose to grow paddy strains suitable for regional soils and climate and marketable in fewer number but in large volume, select strains enough for domestic consumption and exports, establish respective regional zones for paddy growing, adopt contract farming system for high per-acre yield and boosting production, and to systematically produce paddy in value chain by establishing
paddy-based companies. He also stressed the need for boosting manufacturing of driers for quality control in the postharvest sector, ensuring more rice mills capable for milling high-value rice, production of quality rice for exports, the need to lengthily discuss use of digital technology in the rice industry and adoption of future work programmes.
He said today's meeting was attended by sector-wise rice experts, those from the private sector in various fields, officials from paddy-related ministries and outside paddy experts. So, it is hoped that effective discussions could be made for production of quality rice and mass production for export purposes. So, all are urged to give suggestions about implementation of shortand long-term projects for Myanmar's rice sector development.
Myanmar was previously recognized as the largest rice exporter in the world. Now, growers, those engaging in storage and milling businesses, merchants, exporter companies, dealers, the Union of Myanmar Federation of Chambers of Commerce and Industry, Myanmar Rice Federation, rice-related associations and related ministries to cooperate in the effort to restore status quo and the State will render necessary assistance.
Then, Union Ministers U Aung Naing Oo, U Tin Htut Oo and U Hla Moe explained the purposes of holding the event.
U Ye Min Aung, president of Myanmar Rice Federation discussed the topic "Rising with Rice."
Upon the reports, the Senior General gave a wide-range instruction on the need to have seeds, land, water and technology in carrying out agricultural tasks, the need to make efforts in private sector while the Government is taking measures for acquiring quality seeds, the need to take tasks for systematic maintenance work of agricultural equipment to be able to use them in agricultural tasks, the need for farmers to use natural fertilizer such as bio-fertilizer made from livestock farming when the Government is endeavoring for acquiring adequate chemical fertilizer, the need to implement tasks of pumping river water for adequate cultivation water, and the need to carry out the tasks to produce quality rice and promote marketing and maintain markets at home and abroad for it and spoke of the support and encouragement by the State to ensure progress in rice production.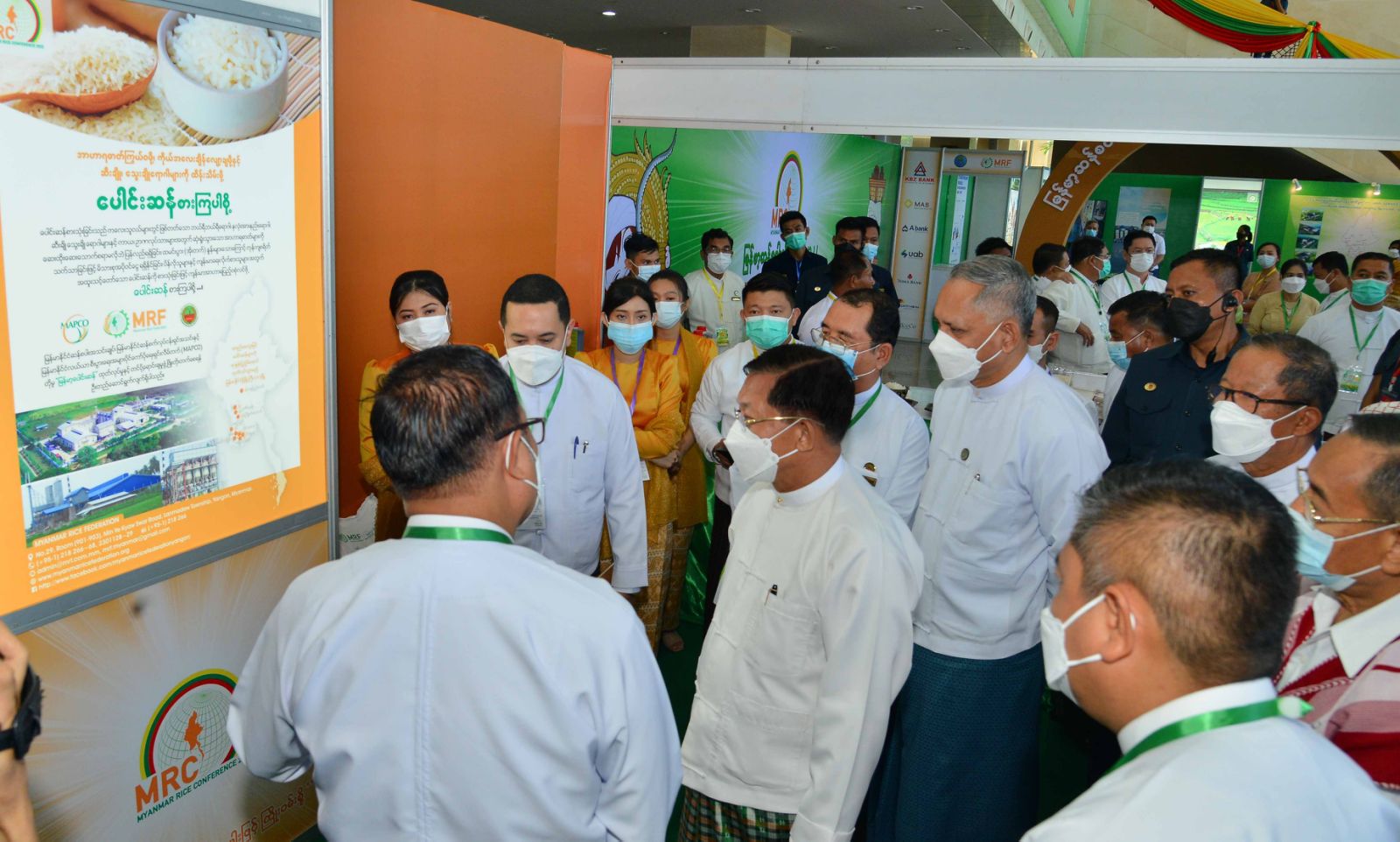 Afterwards, the Senior General and the people who attended the meeting had a record group photo taken.
Later, the Senior General took a tour of exhibits of rice, paddy fertilizer on display at the conference.
The Myanmar Rice Conference-2022 is taking place from October 6 to 7. During the conference, talks on development of paddy cultivation and rice production, enhancement in purchasing, storing, milling, value-adding paddy, trade of rice and promotion of export sector will be held.