NAY PYI TAW November 3
Families of the Office of Co-mmander-in-Chief (Army, Navy and Air) held the 12th communal kathina ceremony at Anawratha Hall of the Office this morning, attended by Chairman of State Administration Council Commander-in-Chief of Defence Services Senior General Min Aung Hlaing and wife Daw Kyu Kyu Hla who donated kathina robes and offertories.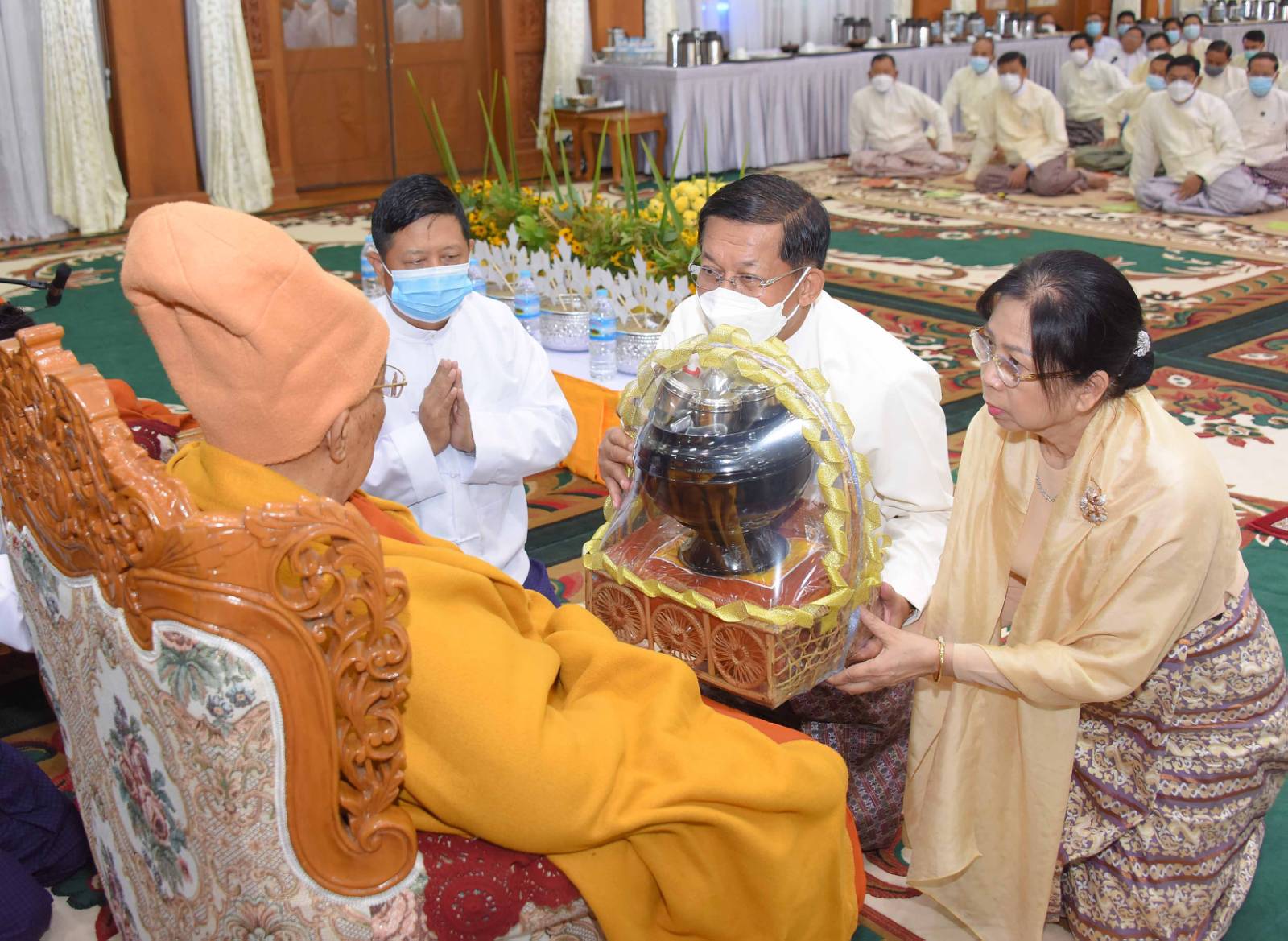 Present were 27 Sayadaws led by Ovadacariya of Uppatasanti Pagoda Patron of Paukmyaing Monastery, Leway, Nay Pyi Taw, Sayadaw Abhidhaja Maha Rattha Guru Bhaddanta Janinda, Patron of Pali Tekka-tho Mingalazayyon Monastery, Pyinmana, Agga Maha Pandita Agga Maha Saddhamma Jo-tikadhaja Bhaddanta Vimala-buddhi. The Senior General and wife were accompanied by SAC Vice Chairman Deputy Commander-in-Chief of Defence Services Commander-in-Chief (Army) Vice-Senior General Soe Win and wife Daw Than Than Nwe, senior military officers from the Office of the Commander-in-Chief and their wives and officials.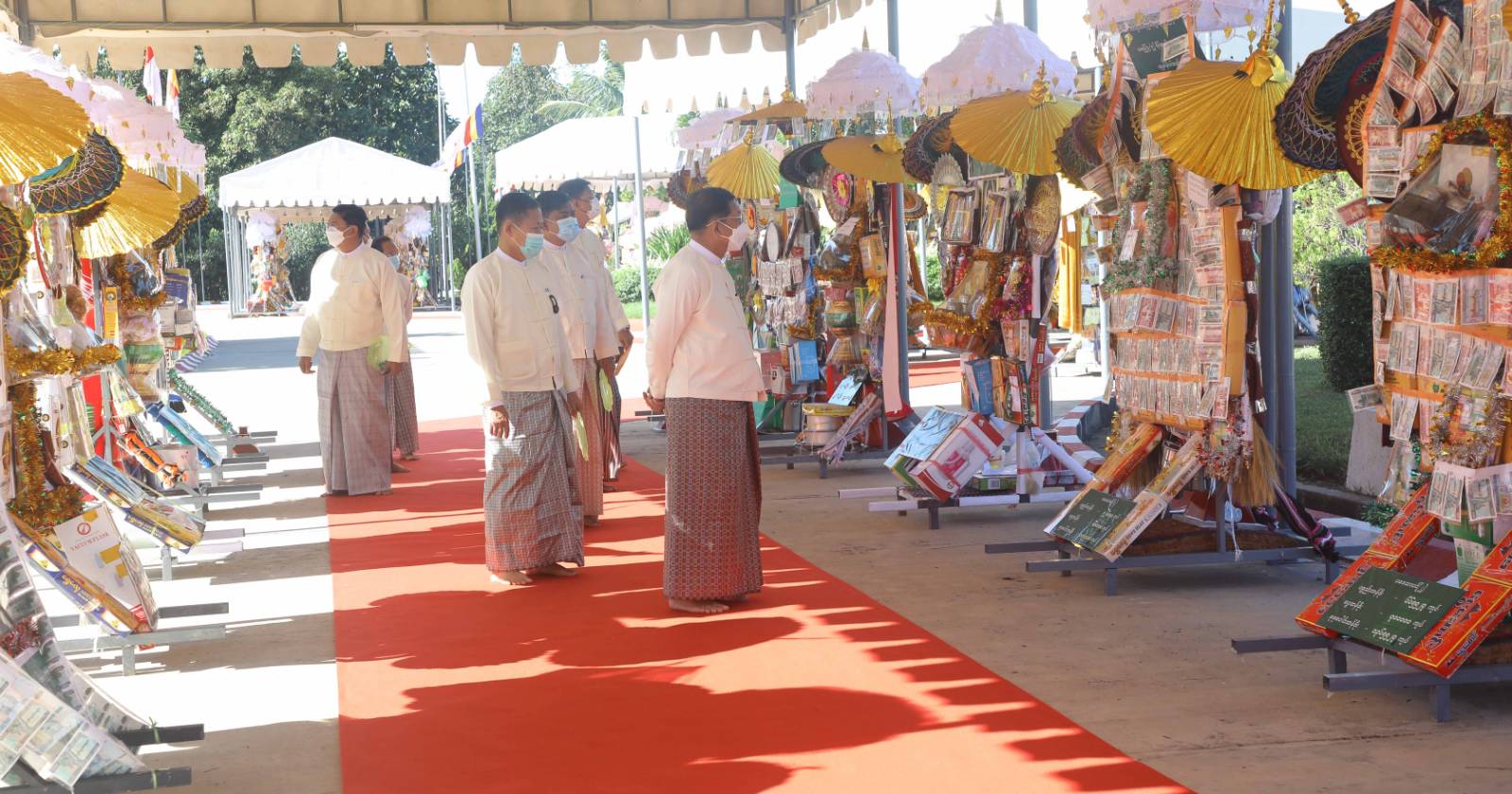 First, the Senior General and wife led the congregation in looking around the displayed kathina robes, offertories and offerings hung on tree-shaped stands to be donated to the respective monasteries. The Senior General and wife paid obeisance to the Buddha Image in the Anawratha Hall and offered meals in the emerald bowl, flowers, water, lights and fruits.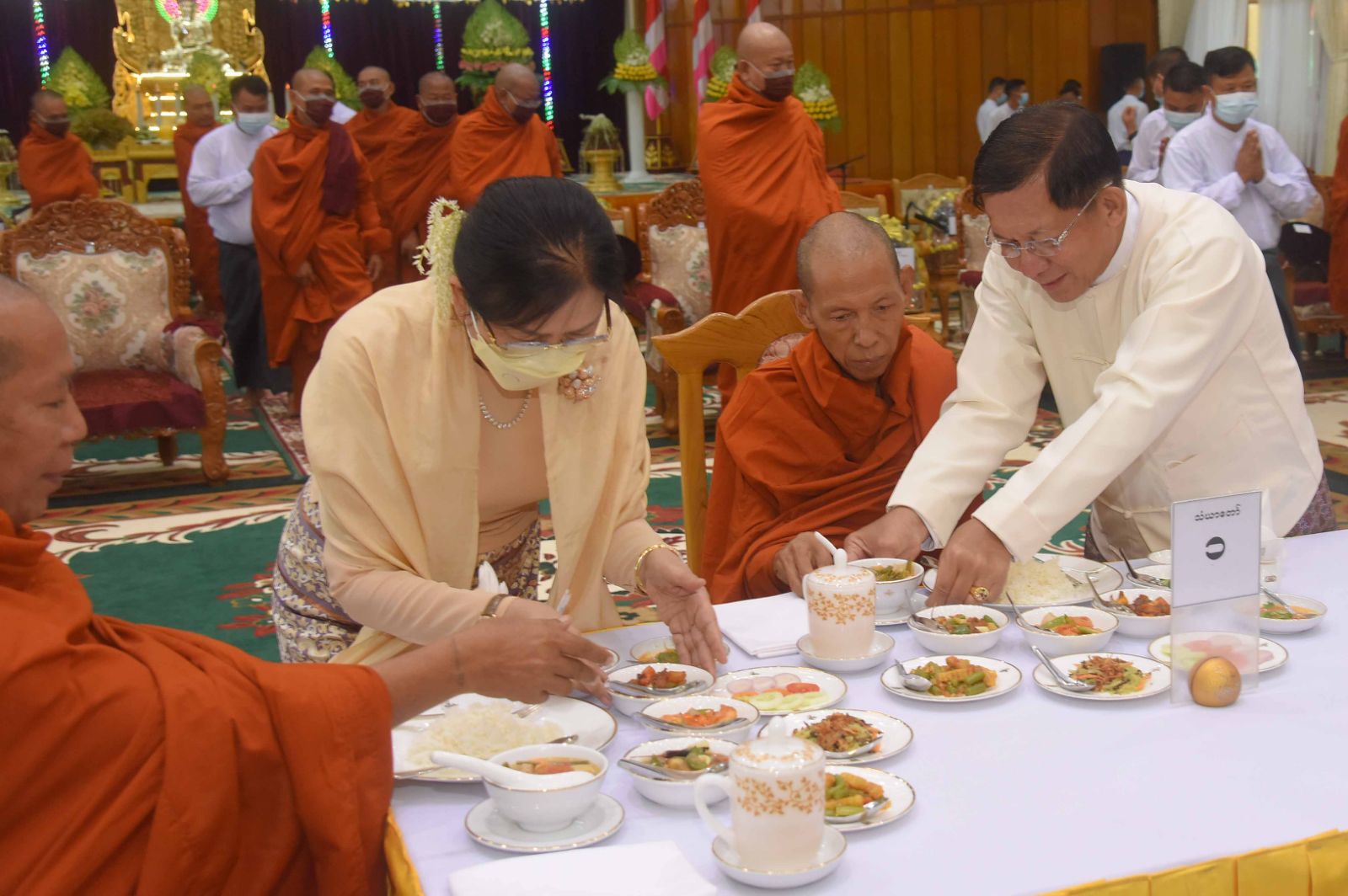 Then,  Namotassa was recited three times to open the ceremony.  The  congregation received  the  Nine  Precepts from Paukmyaing  Monastery Sayadaw.
Sayadaws recited Parittas. The Senior General and wife presented  kathina  robes  to Patron of Yezin Kan U Mona-stery in Zeyathiri Township, Nay Pyi Taw, Sayadaw Agga Maha Gandavacaka Pandita Bhaddanta  Vilasa,  and  kathina  robes  and  offertories  to Paukmyaing  Monastery Saya-daw.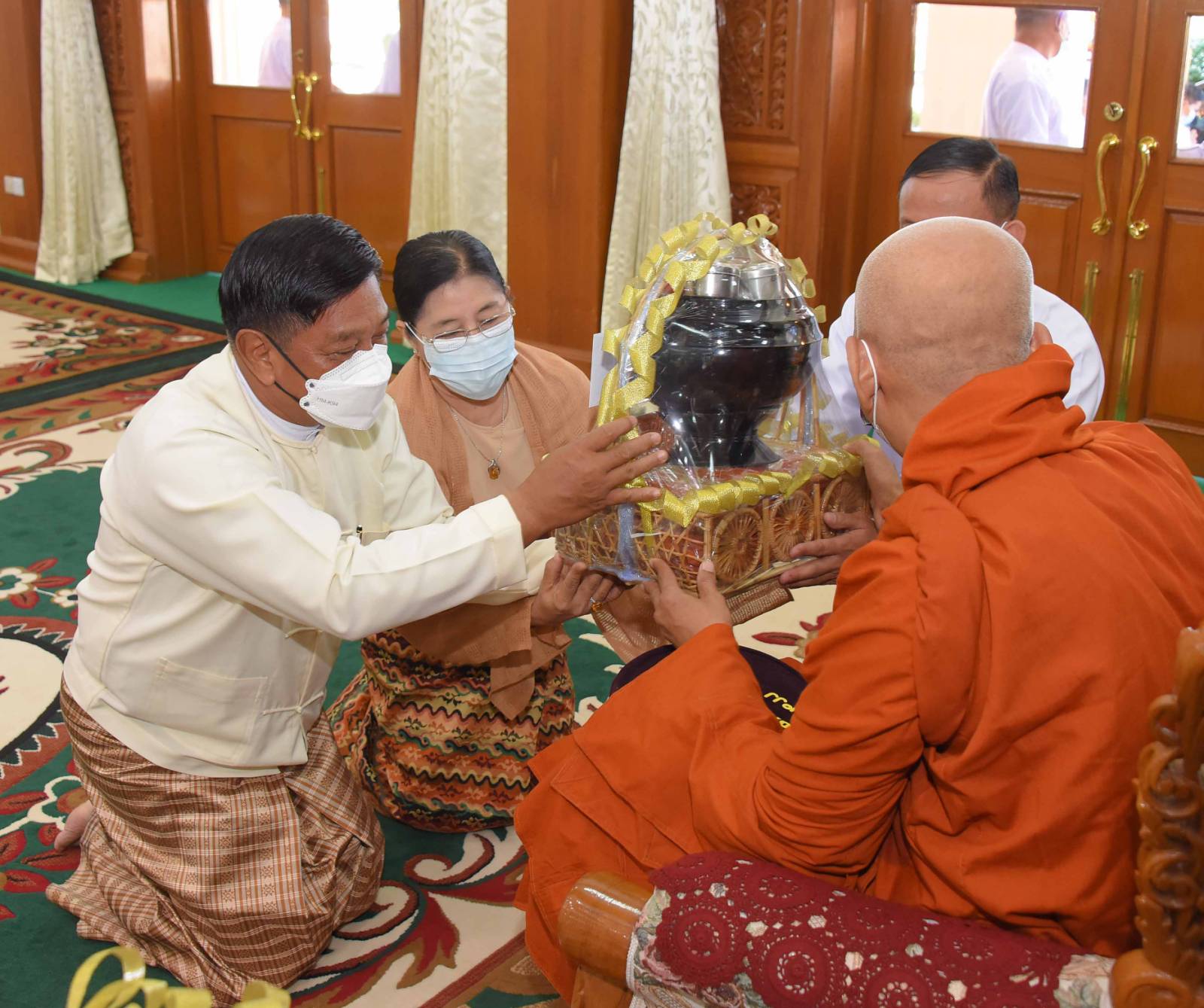 The Vice-Senior General and wife presented kathina robes and offertories to Mingalazayyon Monastery Sayadaw, and senior military officers and their wives, to Sayadaws.
Ashin  Vayama  and  Ashin Javana,  Ganavcaka  lecturer Sayadaws of the Yezin KanU Monastery, conducted a ques-tion-and-answer   session  on  kathina.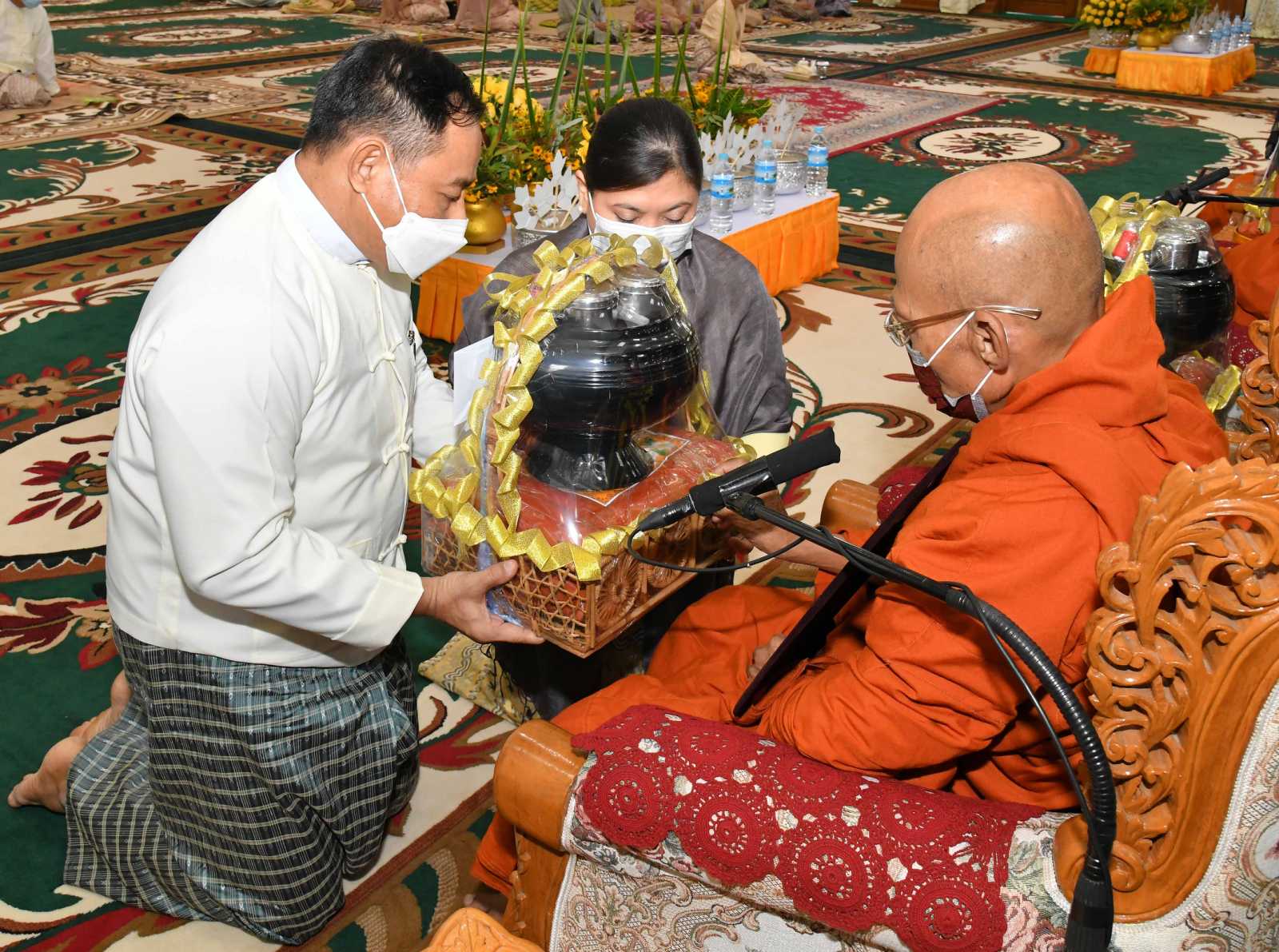 Mingalazayyon Monastery Sayadaw delivered a sermon. The congregation shared the merits gained.
The congregation led by the Senior General and wife recited Buddha sasanamciramtitatu to mark the conclusion of the ceremony in accord with the  religious  tradition  and served day meal for Sayadaws led by Mingalazayyon Mona-stery Sayadaw.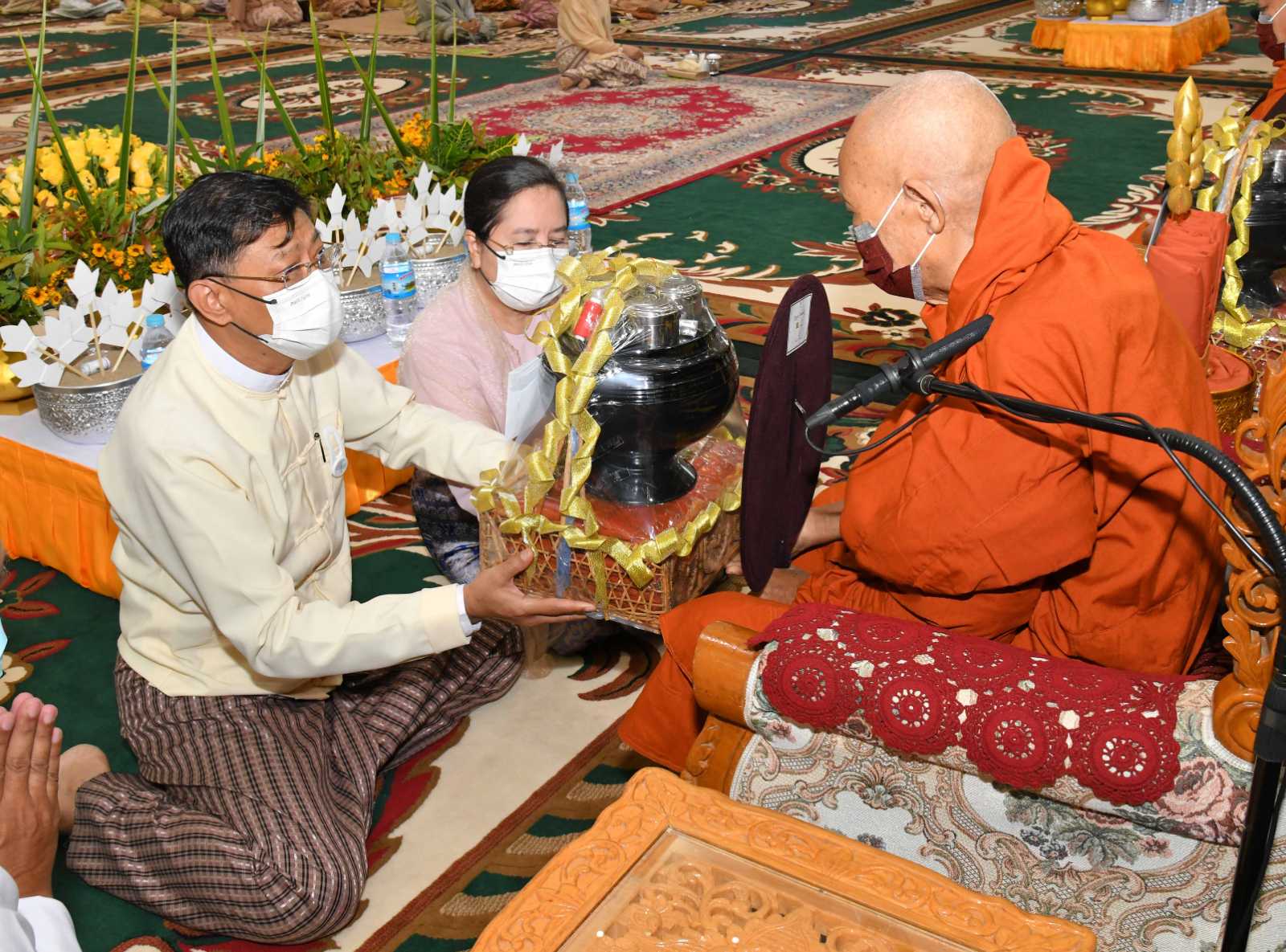 At the ceremony, the relevant departments and offices do-nated offertories hung on 84 tree-shaped stands and over Ks-171.3  million  which  were sent to the relevant monasteries by cars.