NAY PYI TAW November 27
Chairman of State Administration Council Prime Minister Senior General Min Aung Hlaing met MSME entrepreneurs in Magway Region at the Town Hall in Magway this morning and discussed economic development.
Present together with the Senior General were SAC Joint Secretary Lt-Gen Ye Win Oo, Union ministers U Win Shein, Dr Kan Zaw, U Hla Moe and Dr Charlie Than, Magway Region Chief Minister U Tint Lwin, senior military officers from the Office of the Commander-in-Chief, the Central Command commander and officials, mem-bers of region government.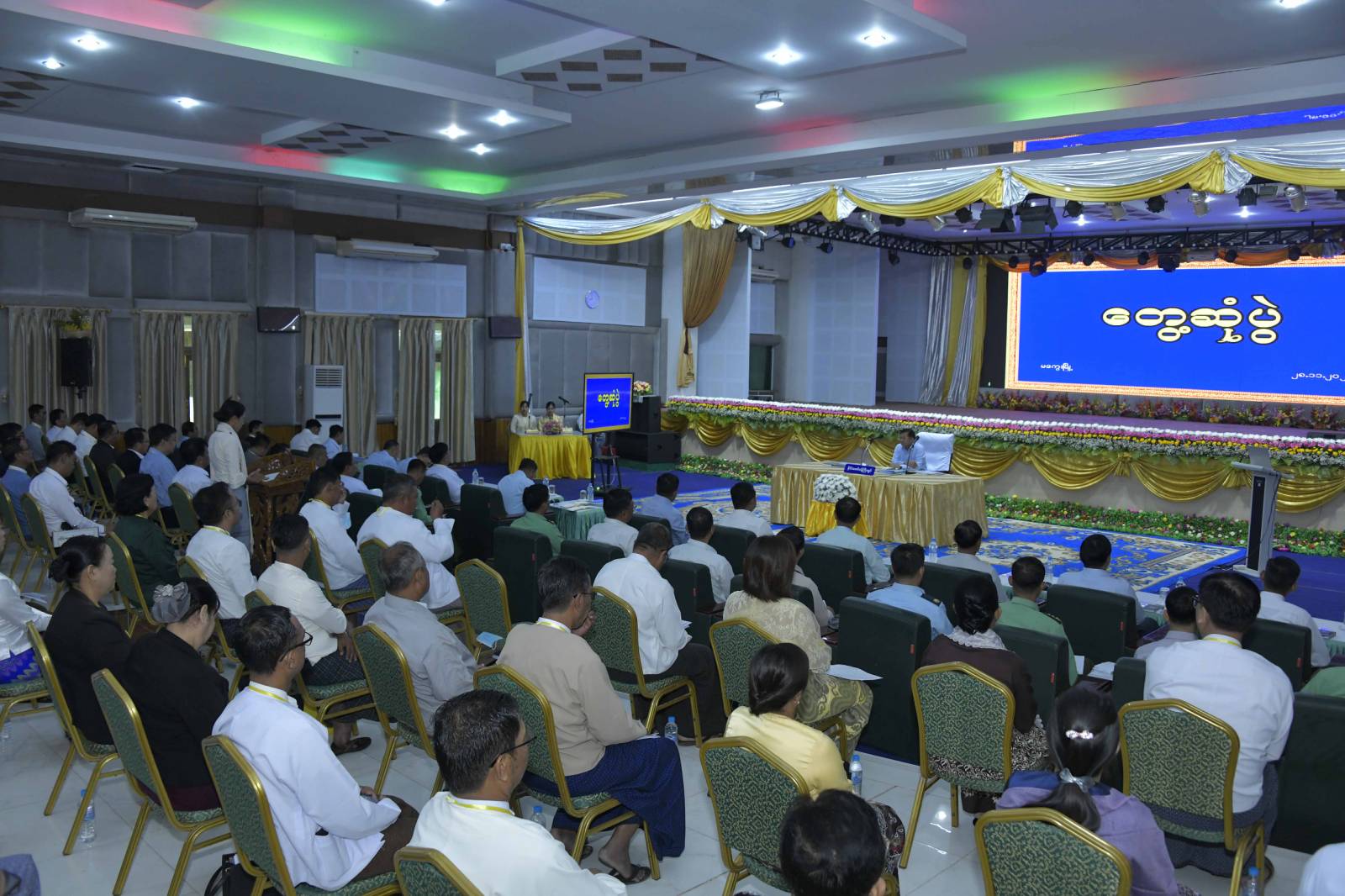 Individual suggestions for economic progress The region chief minister reported on salient points of the area, ongoing MSMEs in the region, mini industrial zone project, MSME production businesses, resumption of CO-VID-19 loan program, support for MSME development and ongoing on-job trainings.
Magway Region Traders and Edible Oil Entrepreneurs Association Chairman U Po Ni, weaver industrialist Daw Tin Htay, organic prunes and tamarind squash producer Daw Thet Su Htay, edible oil miller U Win Tun, bottle water and edible oil producer U Maung Maung Lwin, and other participants reported on undertakings to reduce cooking oil import by increasing oil crop sown acreage in the region, government's provision of inputs and technical aids for weaving industry development, electricity requirement for industries based on local raw materials, financial assistance for rice mills and farming, support for local motorcycle assembling plants, and requirement for development of local businesses.
Union ministers' sector-wise discussions Union ministers U Win Shein, Dr Kan Zaw, U Hla Moe and Dr Charlie Than, explained ministry-wise implementations, economic downturn caused by COVID-19 in the world and Myanmar, economic development undertakings amidst the many hardships including COVID-19, disbursement of loans from COVID-19 funds, support for MSME development, establishment of cooperative societies and provision of machines and financial aids for rural socio-economic development and income generation, minis-try-wise assistance for MSME development. The chief minister discussed necessary assistance for MSME development.
Counsel for regional development In his counsel for regional development, the Senior General said significant progress can be seen during the second visit to Magway Region in this year. Participants discussed points for business and regional development. Self-made efforts are re-quired for the success of busine-sses. Progress in the production industry will lead to creating a better businesses environment. Production businesses depend on natural resources and farm products. Demand and supply imbalance and high production cost are the main source of commodity price volatility. So, supply must meet the demand.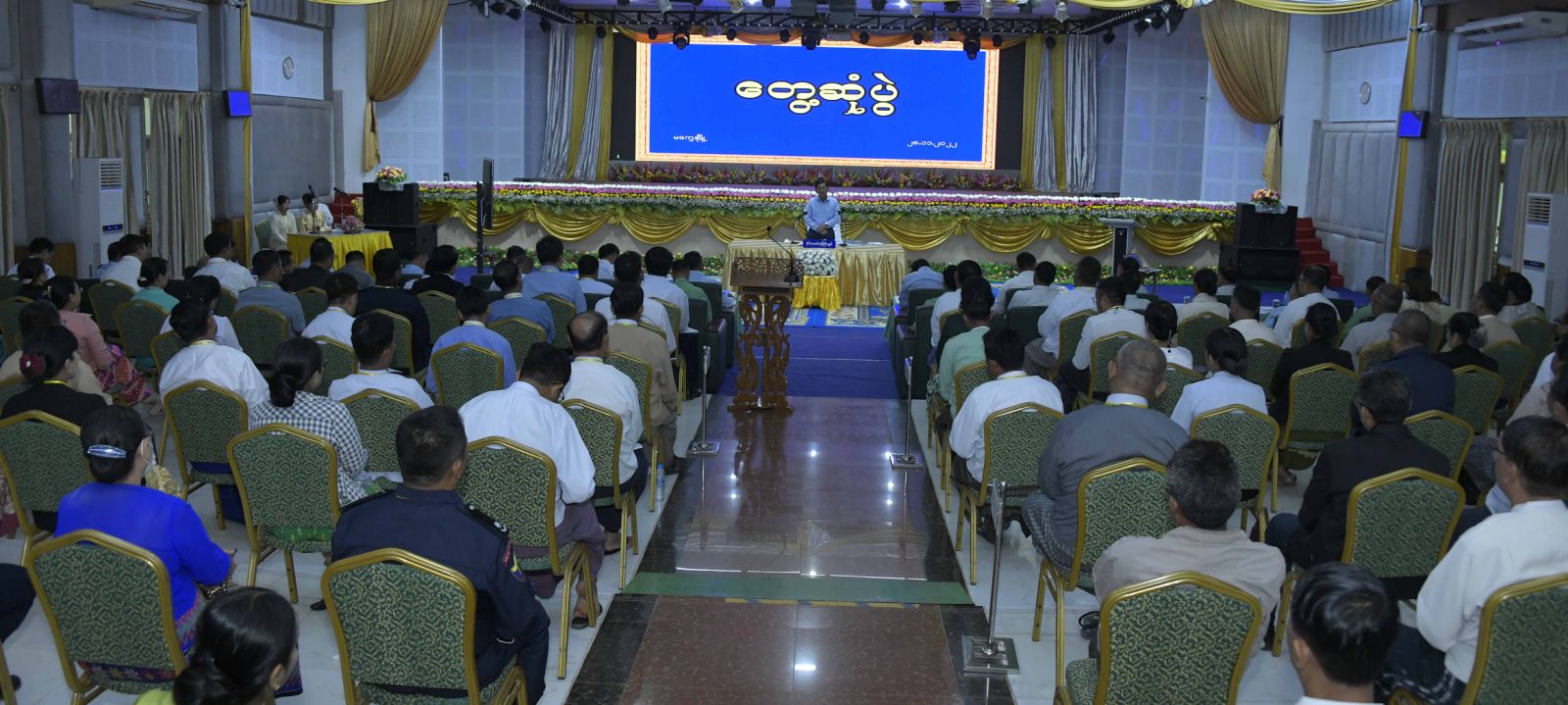 It can be seen that rural residents of the country mainly carry out agriculture and livestock breeding tasks and urbanites manufacture goods from agriculture and livestock breeding products. Therefore, agriculture and livestock breeding tasks are fundamental to the manufacturing industry. Encouraging them amounts to promoting the fundamental rural economy. When the rural economy has developed, the demand will increase and socioeconomic life will improve. Therefore, it is necessary to carry out systematic agriculture and livestock breeding tasks.
Promote domestic manufacturing industry There has been little interest in manufacturing in the country. As domestic manufacturing was not promoted in the past, there were trade deficits and economic downturns. As the economy of the country will develop by promoting the domestic manufacturing sector, the government has been encouraging the sector since it came into office. However, it has not achieved as much progress as it should due to COVID-19 and political developments. Moreover, fuel prices have risen because of global political issues. Despite the challenges, the government has exerted efforts for economic development and achieved appropriate progress. The government has been able to overcome challenges during COVID-19 pandemic, which started in 2020, in cooperation with the people. On the other hand, as there were violent acts instigated by political opportunists, measures were taken to control the situation. It can be seen that Magway Region managed to achieve economic development despite these challenges. Therefore, more businesses will thrive and more economic progress can be achieved in the region if all cooperate for regional stability.
MSMEs need raw materials, inputs, capital investment and favourable human resources. MSMEs can be classified into manufacturing, trading and services. Emphasis must be placed on manufacturing goods from raw materials produced mainly by agriculture and livestock breeding farms in the region. Only then, can job opportunities be created and contributions can be made to regional development, which helps raise social economic life.
As manufacturing businesses that are based on rural economy are more beneficial for the region, all are urged to cooperate for raising the social economic life of rural residents under the leadership of the chief minister.
If sufficient consumer products for the domestic market can be produced by the local manufacturing industry, spending in foreign currencies can be reduced. It is necessary to exert efforts to turn the country from an importer of basic consumer products needed for the country into an exporter of them after meeting the domestic demand.
In conducting businesses, all citizens are required to do so with farsightedness. The country is abundant in tree, forest and bamboo resources. If pulp can be produced from bamboo, the domestic paper demand can be fulfilled. Similarly, finished wood products can be produced.
By using forest products, consumer products can be manufactured for the domestic market as well as for the export market. After exploiting forest products, reforestation and environmental conservation tasks must be carried out without fail.
Regarding domestic edible oil needs, Magway Region, despite being an oil bowl of the country, has yet to meet the State target. So, efforts should be made to meet the domestic need. Meanwhile, efforts are also necessary to increase the yield of oil crops such as groundnut, sesame and sunflower. As it is a cotton growing region, the job should be done successfully. Efforts are to be made to ensure the region is able to produce best textile from cotton cultivation. Responsible officials are to cooperate in getting good strains, fertile soils, irrigation water and correct cultivation methods.
Increased tourist arrivals will contribute to regional economy With many places of interest and famous pagodas, Magway Region attracts pilgrims from across the country. All are to work together to make towns and villages of the region pleasant and neat and tidy for the satisfaction of visitors.
Then, traveller arrivals will in-crease thereby contributing to regional economy. Maintenance and cleanliness measures are required for the pagodas and monasteries to enable visitors to have a peace of mind. The MSME industry includes ser-vice, so tourism service must be encouraged. Loans with fair interest rates are being disbursed for the MSME development. There are State loans as well as private loans. Those loans need to be resettled during prescribed periods. The State is planning to give more loans.
Magway Region is engaging in petroleum oil production that needs to be systematic.
The State is striving for enough electricity supply, while consumers need to save electricity usage. Power should also be produced from solar power. Hydro-power projects were stopped for various reasons, causing delays in electricity generation.
Education must be encouraged Today is the age of wisdom. Life of individuals will vary depending on how they are educated. Education is being encouraged as educated people are necessary to have human resources required for MSME development. Magway Region has a lot of universities and colleges. Encouraging education means promoting lives of the people. Likewise, it is necessary to constantly learn books to widen the scope of knowledge. The combination of theory and practice will promote the interests of individuals. Individual progress will lead to the development of communities, villages, townships and then the State. So, efforts should be made to achieve progress.
Next, the Senior General cordially greeted the MSME entrepreneurs.
He then interestingly viewed displays of goods such as foodstuffs, consumer goods, industrial products, traditional handmade products, clothing and traditional medicines. The Senior General asked about market availability and heard reports of businesspeople from respective sectors.