74th Anniversary International Human Rights Day observed; Chairman of State Administration Council Prime Minister Senior General Min Aung Hlaing delivers address
NAY PYI TAW December 10
74th Anniversary International Human Rights Day observed; Chairman of State Administration Council Prime Minister Senior General Min Aung Hlaing delivers address
The 74th Anniversary International Human Rights Day was observed at Myanmar International Convention Centre-1 here this morning with an address by Chairman of State Administration Council Prime Minister Senior General Min Aung Hlaing.
Also present were SAC Joint Secretary Lt-Gen Ye Win Oo, SAC members General Mya Tun Oo, Admiral Tin Aung San, Lt-Gen Moe Myint Tun, Mahn Nyein Maung, Daw Aye Nu Sein, Jeng Phan Naw Taung, Lt-Gen Soe Htut and Lt-Gen Yar Pyae, Union level officials, Union ministers, the Nay Pyi Taw Council chairman, senior military officers, the Nay Pyi Taw Command commander, deputy ministers, officials of Myanmar National Human Rights Commission, guests and students.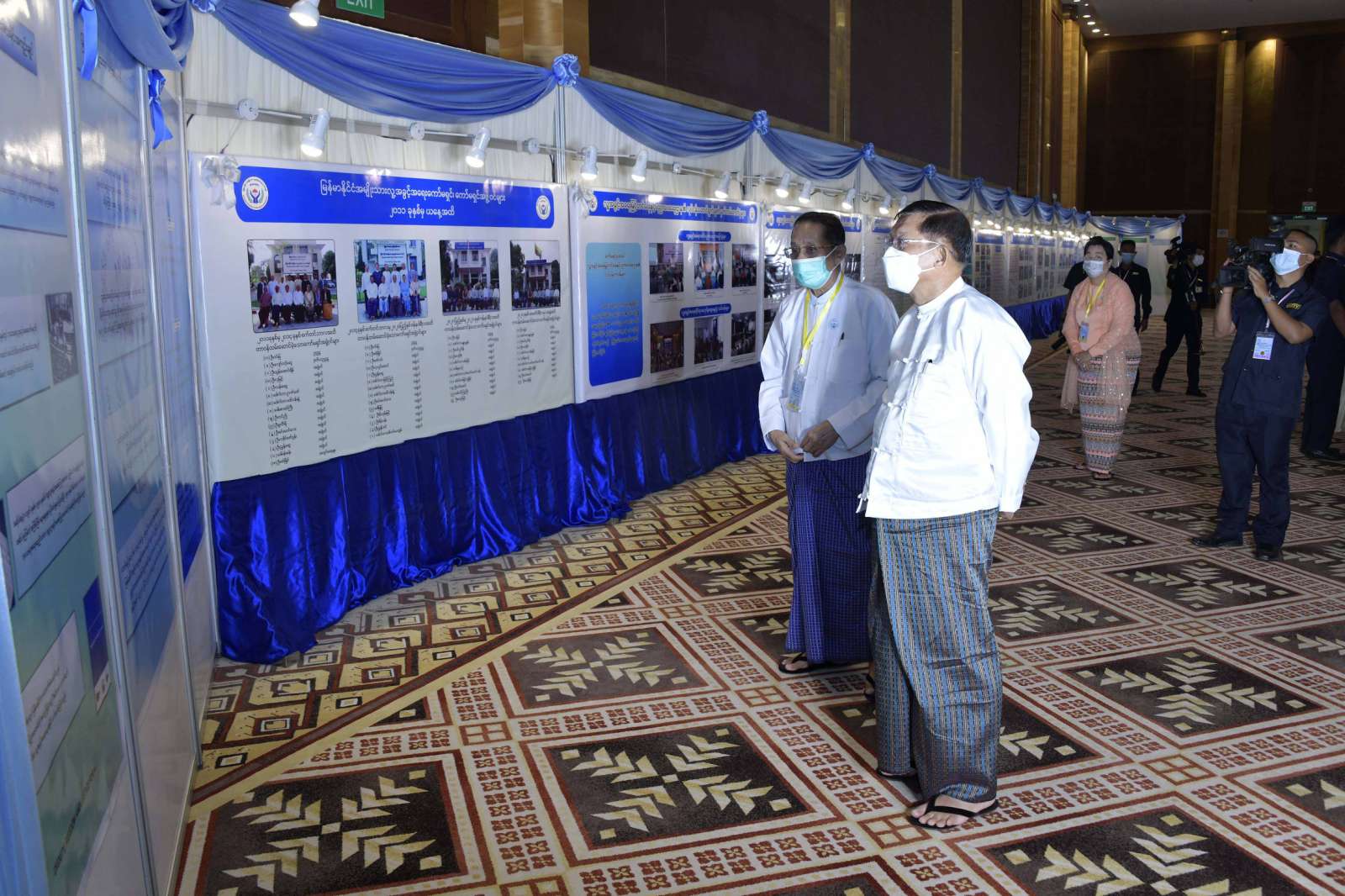 Senior General said it was 74 years ago that the Universal Declaration of Human Rights, which includes norms of human rights, was adopted. Myanmar became a member of UN on 19 April 1948 soon after it regained independence. It voted in favour of the Universal Declaration of Human Rights when its adoption and promulgation was voted on 10 December 1948 at the UN General Assembly.
Global countries are observing the ceremonies to mark the Universal Declaration of Human Rights annually on 10 December on which it was adopted. The declaration enshrines a provision, "All human beings are born free and equal in dignity and rights." Likewise, the practice of all human beings to acknowledge and value dignity and rights of others without any discrimination in exercising their rights and freedom is also the vital essence of human rights. The declaration also proclaims the need to practice human rights within limits of legal framework to fulfill the rational needs of society which are moral conducts, community peace and tranquility and public interest. Hence, people should not ignore or fail to respect others' freedom and rights and moral conducts in exercising their freedom and rights.
As a show of respects to the human rights norms of the declaration, majority of world countries adopted them in writing and promulgating their constitutions. Likewise, the 2008 Constitution of the Republic of the Union of Myanmar enshrines "Citizens and Fundamental Rights and Duties of Citizens" as a chapter. It enacted the Myanmar National Human Rights Commission Law to further protect the fundamental rights enshrined in the Constitution. It also set up Myanmar National Human Rights Commission that is promoting and checking the human rights issue through protective measures and awareness campaigns.
In order to render cooperation in and value the human rights issue, Myanmar is a signatory to Convention on the Rights of the Child, Convention on the Elimination of All Forms of Discrimination Against Women, Convention on the Rights of Persons with Disabilities, and International Covenant on Economic, Social and Cultural Rights, which are the main agreements of the human rights issue. The country has also signed some of the related protocols. State peace and stability is instrumental in ensuring full rights and socio-economic progress of the citizens. In the efforts to ensure equal rights of the national races and national solidarity, it is known to all that emphasis has been placed on peace talks by inviting various ethnic armed organizations.
Our national races are the people who respect and value humanity and human rights, which is in accord with their religious and cultural traditions and national characters. For the wellbeing of humanity, the Myanmar society has such blessings as good behaviour, character and ethics. In other words, there are ethical standards in various fields of relationship like parental, child, teacher, pupil, husband, wife, friend and leader ethics as well as 38 blessings related to relationship, living, teaching, care-giving, sincerity, patience, frugality and kindheartedness. All of them are accepted by the majority of our people as their traditions and customs.
The Universal Declaration of Human Rights (UDHR) will be 75 years old in 2023 and from the 74th International Human Rights Day today until the next event, all are urged to carry out activities that reflect the UDHR, a good legacy of the entire humanity. All those responsible officials are to cooperate in conducting educative campaigns for all the people to be able to have better understanding of UDHR and better and positive attitudes towards human rights so that Myanmar can create a society that respects human rights. Next, Myanmar National Human Rights Commission Chairman U Hla Myint explained activities of the commission and Vice Chairperson Dr Nanda Hmun read the message of the UN Secretary General.
Afterwards, the Senior General and those in attendance watched the video clip on human rights. Then, the Senior General presented prices to winners of commemorative poem, cartoon and article contests. The Myanmar National Human Rights Commission (MNHRC) Application launched and artists of the Fine Arts Department under the Ministry of Religious Affairs and Culture performed with a song Human Rights for All. Later, the Senior General and attendees viewed the documentary photos on the MNHRC's activities on human rights promotion and education.