NAY PYI TAW December 21
The Passing-out Parade of the 23rd Intake of Defence Services Medical Academy was held at the parade ground of DSMA in Yangon this morning, addressed by Chairman of State Administration Council Commander-in-Chief of Defence Services Senior General Maha Thray Sithu Min Aung Hlaing.
Also present at the ceremony together with the Senior General were wife Daw Kyu Kyu Hla, Chief of General Staff (Army,Navy and Air) General Thiri Pyanchi Maung Maung Aye and wife, Commander-in-Chief (Navy) Admiral Zeya Kyawhtin Moe Aung and wife, Commander-in-Chief (Air) General Zeya Kyawhtin Tun Aung and wife, senior military officers from the Office of the Commander-in-Chief and their wives, Union ministers, the commandant of DSMA and officials of Mingaladon Station, officer instructors and faculty members of the academic wing and training wing of DSMA, who are the guardians of the cadets, and guests.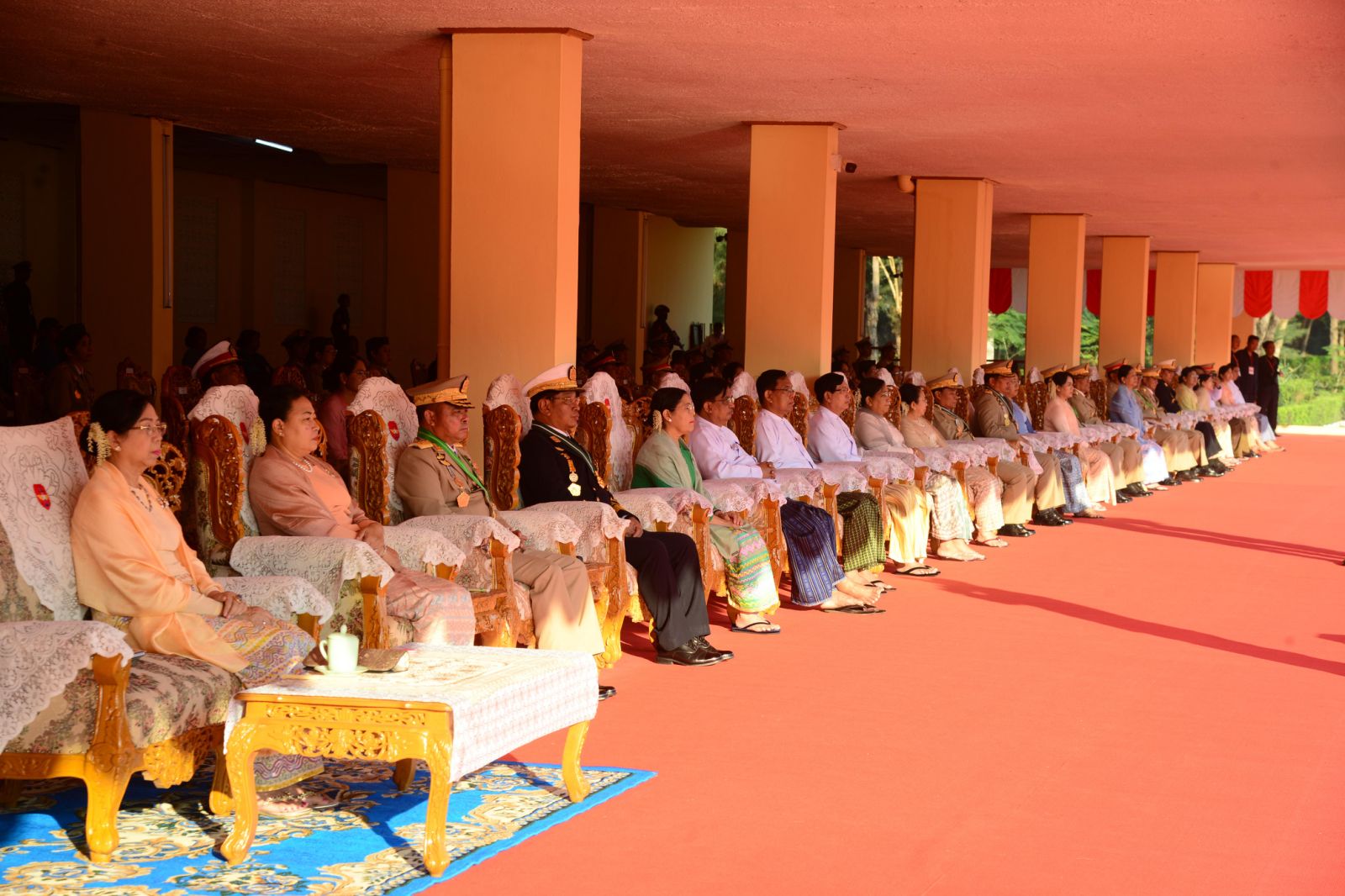 First, the Senior General took the salute of cadet battalions and inspected the cadet companies. Then the cadet companies saluted the Senior General with slow-march past and quick march past.
The Senior General presented Best Cadet Award to Cadet Hein Tun Zaw, Excellent Award in Training to Cadet Min Khant Kyaw, Excellent Award in Studies to Cadet Kyaw Thura.

In his speech, the Senior General said during the course, you all have been diligently studying military and medical subjects that all military medical officers must be efficient. In all seriousness, I'd like to give some guidance to you who are going to serve in various regions assigned as military medical officers whom the Tatmadaw always finds trustworthy.
The Defence Services Medical Academy was initially established with the aim of "Bringing up physically and intellectually able medical science officers required by the Tatmadaw (Army, Navy and Air Force)" and has already been producing good military medical officers.
From today onwards, all of you, medical officers produced by the Defence Services Medical Academy, are going to give health care services for all military men and their family members in your assigned region and respective battalions. Moreover, as you are the ones who are responsible for the national defence, you must also be able to carry out the duty of military operation in the battle fields. Therefore, you should keep on learning hard the military subjects and literature to be able to apply in your practical field and from one corner, you all must also put into action of the mission of the military corps, "Make Fit to Fight."
It is really necessary to take care of the health of not only the military men and their family members but also national groups with full of sincerity and sympathy as the motto goes, "Sincerity, Sympathy and Safety." In accord with the saying, which goes, "Prevention is better than cure" I'd like to tell you to provide services widely such as distributing knowledge concerned with prevention and cure in order to update one's health knowledge and mindfulness.
You, as military men, are would-be medical officers and must also try hard mainly to abide by the disciplines and to be fit and healthy. When you are well-disciplined, there will be mutual respect between seniors and juniors which leads to a unity in carrying out their duties. Once one is fit and healthy, he will become a smart military man in the standard army.
According to scholars, today is known as the Fourth Manufacturing Revolution Age (Industry 4.0) which is the combination of Digital Internet Technology and Artificial Intelligence. In the processes of manufacturing, transportation and distribution, electronic devices, such as man-made artificial high-intelligent robots, 3D technology, high-tech digital devices, are being used. In this Fourth Manufacturing Revolution Age, such developed digital and computer technology would be broadly used in health care sector of several countries all over the world.
In doing so, robots controlled by humans and 3D technology are used to be able to undergo surgery and to be able to invent machines to manufacture artificial limbs in perfect precision.
Therefore, I'd like to say that researches on high technology should be done continuously.
Military corps having great historical value, born together with those trying to gain independence has come to 75th Diamond Jubilee on 1st October. Military corps, relaying age-long noble traditions, has been bringing about the benefits of the country, public and Tatmadaw until now.
Medical corps are not only serving at the hospitals and medical battalions but also giving mobile health care services with the aim of giving perfect health care services to the public all over the country. After being provided necessary medical machines and apparatuses by the Tatmadaw, it could be seen that health care services like operation, childbirth and outpatient treatment have been brought about to benefit the public all over the country.
At present time, military hospitals are now upgraded to undergo kidney transplant, liver transplant, coronary angiogram and coronary balloon angioplasty, cardiac surgery and radiation oncology, by doing so, it can be seen that the Tatmadaw has carried out advanced treatment like cardiac and neuro surgery, coronary stent insertion, pacemaker implantation, renal transplant and chest surgery in or-der to keep abreast with other nations. Besides, it is a great pride for the military corps because the very first liver transplant, which is a milestone for the military corps, has been successfully undertaken in the Tatmadaw on 27th September in order to honour 75th Diamond Jubilee of the medical corps.
At constant times, concerning with the public, our Tatmadaw is an institution keeping the motto in mind, "Regarding the public as the mothers and the fathers." The Tatmadaw is an institution which firmly stands for the national political leadership sector, in line with the motto, "Our Tatmadaw never betrays national policy."
You all know that what domestic and overseas opponents as well as their organizations have done are: rioting, threatening, devastating and taking up arms to collapse state stability and make the country lack of law and order. During that time, the need of health workers was in great demand due to COVID-19. Some health workers neglected giving health care services to the public and in various ways, they even disturbed those who sacrificed their selves in giving health care services.
Such acts were really terrible black marks and became indestructible in our history.
Especially, owing to incorrect emotion and inspiration, doctors broke the solemn wish of nine medical ethics. And while facing the third wave of the COVID-19 pandemic, some doctors with no medical ethics unfaithfully turned their backs to health care services which led to public deaths. It was really a sorrowful incidence. After vowing the solemn wish of nine medical ethics, one became a doctor. But if he failed to save the life of a person, he would be unfaithful to his patient. The meaning of faithfulness is righteously doing things physically, verbally and intellectually and so, keeping faith would be prosperous and if not, it would end in complete failure. That's why you all should take them as a lesson and must be faithful to your profession and institution. I'd like to urge you to keep medical ethics in mind so deeply that they are rooted in your hearts.
Along the history of the Tatmadaw, there have been so many soldiers who sacrificed their lives like Captain Thura Mon Htaw Thet Nyunt whom the medical corps would be proud of and also there are many military doctors who can keep abreast with doctors from other countries. Sustaining these traditions, you who are going to take hand-over duties must strictly abide by the military laws and civilian laws.
You all should try your best to become medical officers who are reliable for the nation and the Tatmadaw as the motto goes, "To be a good soldier and an efficient doctor," should work hard solemnly to become medical men who can keep abreast with others from all over the world by doing researches and keep on studying medical subjects which are constantly improving, should work diligently to give health care services to the Tatmadaw men, their family members and local people where you are assigned, and should try your best to become outstanding and brilliant medical scientists to enhance the prestige of the Defence Services Medical Academy, the medical corps and the Tatmadaw.
After taking salute from the cadet companies, the Senior General left the parade ceremony.
After the parade ceremony, the Senior General met with cadets who won outstanding awards at the parlour of the headquarters of the DSMA and spoke words of honour.
In his praise of the outstanding cadets, the Senior General said like their parents he also felt pleasure and honour for the outstanding cadets. The cadets won the outstanding awards as they had tried very hard and controlled themselves throughout the seven-year course with their own vision and mission. So, they already have the good foundations. They must exercise self-control with awareness and contentment to keep their vision and mission on course throughout their life and sustain the good foundations. They must observe the human values and try to embrace the good moral conducts. They must pay back the debt of gratitude had nurtured them till they reached DSMA by obeying them. They must also pay back the debt of gratitude they owe to DSMA and Tatmadaw which had taught them intellectual and technological knowledge by pursuing the life of a good military doctor and by discharging their task dutifully. They must make continuous efforts and exercise self-control to preserve their vision and mission and improve themselves. They must always in touch with the new subjects of the medical field which has many advanced areas through life-long learning.