Nay Pyi Taw December 11
Commander-in-Chief of Defence Services Senior General Min Aung Hlaing who is on a goodwill visit to the Federal Democratic Republic of Nepal at the invitation of Chief of Army Staff Gen. Ranjendra Chhetri of Nepalese Armed Forces, accompanied by his wife Daw Kyu Kyu Hla, senior military officers from the Office of the Commander-in-Chief, Myanmar Ambassador to Nepal U Tun Nay Lin and wife, Myanmar Military Attaché (Army, Navy and Air) to India Brig-Gen Thein Zaw and wife, and officials, flew over Himalayan mountain ranges by special helicopter of the Nepalese Armed Forces this morning.
First, the Senior General and party left Nepal Army Mid Air Base in Kathmandu by helicopter and viewed Himalayan mountain ranges from the helicopter. Then, they arrived at Hotel Everest View which is enlisted as the world's highest hotel in the Guinness World Records, on Himalayan mountain ranges. And, they enjoyed the panoramic views on the Mount Everest and Himalayan mountain ranges explained by officials. Then, the Senior General and party posed for documentary photo.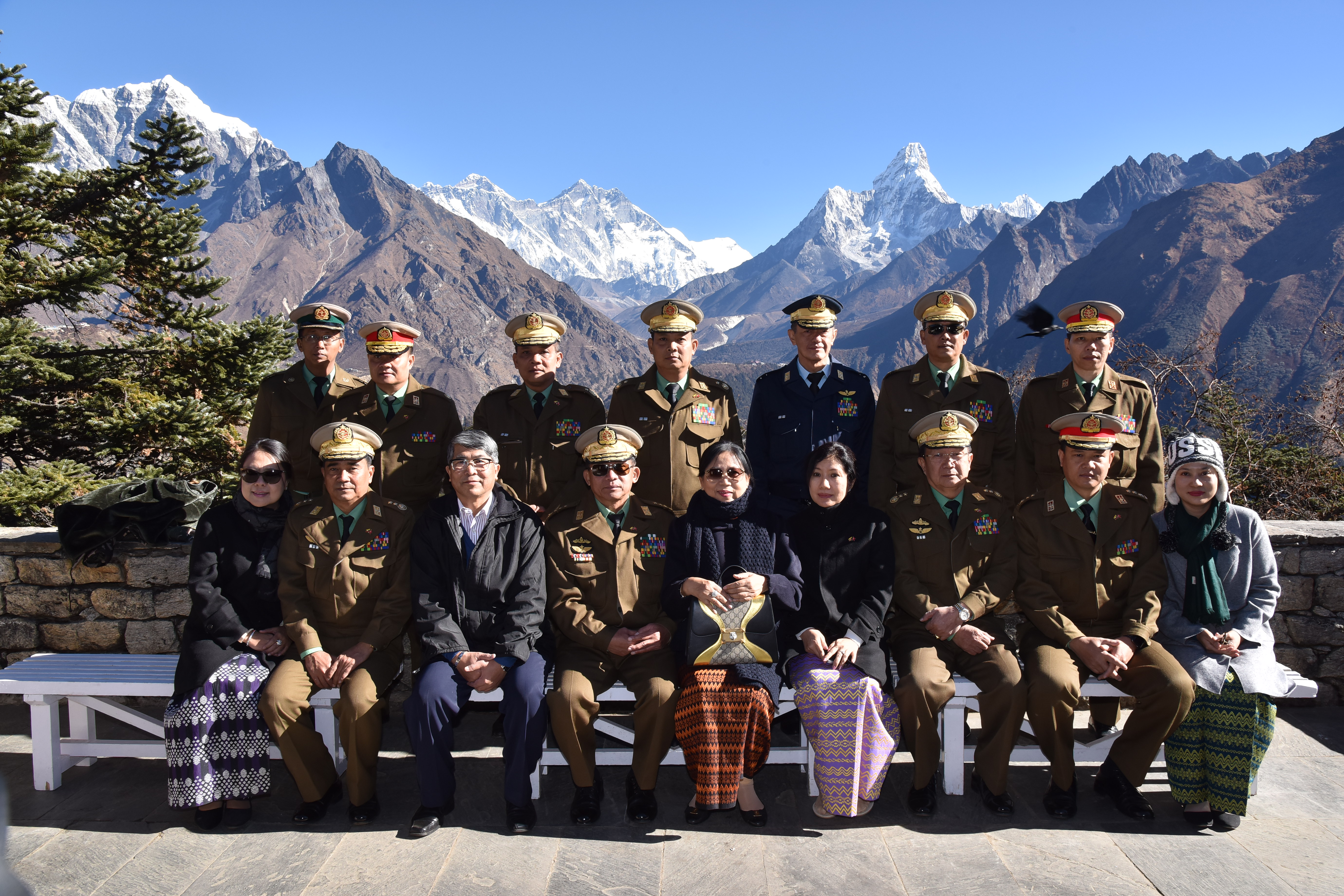 On arrival at Birendra Peace Operation Training Center, the Senior General and party were welcomed by Deputy Director Col. Yog Raj Sharma and officials of the UN Peacekeeping Department of the Nepalese Army. At the meeting hall, Col. Yog Raj Sharma explained opening of the training center and duty discharging of Nepalese troops in UN peacekeeping troops with the use of power point. The Senior General asked what he wanted to know.
The Senior General and party viewed demonstration on peacekeeping exercises at the practical training ground of the training center. Afterwards, the Senior General and Col. Yog Raj Sharma exchanged commemorative gifts.