Nay Pyi Taw December 23
A Christmas Carol Team of Catholic Kachin Youth Yangon (CKYY) of Yangon visited the residence of Commander-in-Chief of Defence Services Senior General Min Aung Hlaing this evening, singing Christmas carols and making wishes for peace.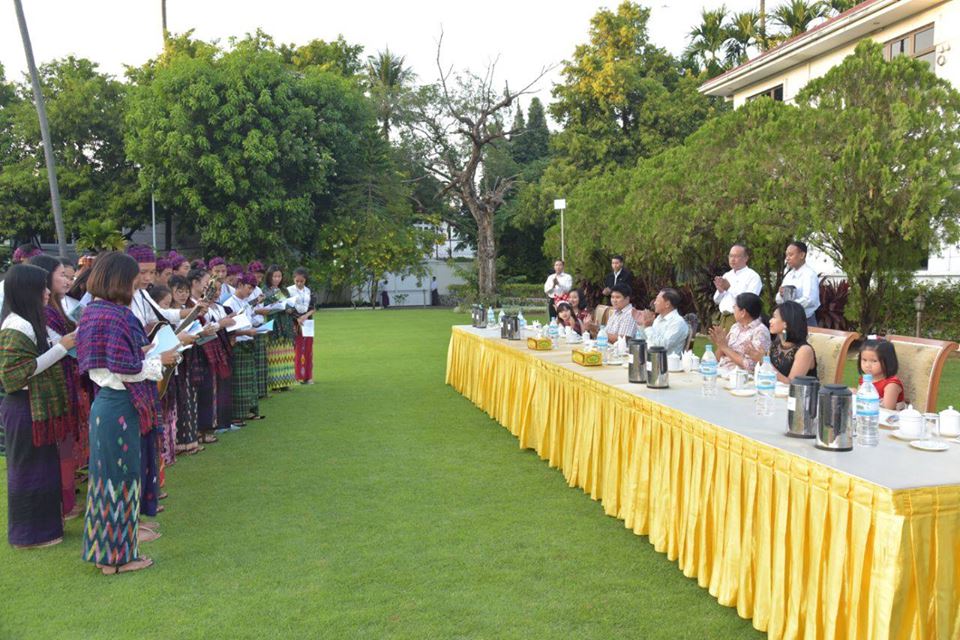 First the team sang Christmas carols and songs for peace. The leader of the team Daw Swanlut Hsai Khaung in her wish for peace thanked Senior General Min Aung Hlaing for opening the peace door, saying it is a prestige for the team to sing carols. May we all overcome obstacles and restore peace, she prayed.
Members of the team presented Christmas gifts to the Senior General and wife, who in turn presented them musical instrument for singing Christmas carols and cash donations, and also served them with foods.
After that, the Senior General extended greetings to Catholic Kachin Youth Yangon (CKYY).
In his greetings, the Senior General said the people should try to have an understanding of peace, prosperity and progress whatever faiths they practise. He honoured them for placing special emphasis on the religion. The country lagged behind in development due to various circumstances. As a Tatmadaw leader, he was making all-out efforts to reach eternal peace rapidly. The country would see development only when peace was restored. He urged youths to play their parts in peace-making processes. Emphasis was placed on the role of youths as they were the leaders of future. All those living in the country are treated on equal terms. May all nationalities enjoy equal rights and success! With the spirit of "We are Myanmar", they are urged to play their part for the sake of the country. In so doing, they need to be wise and knowledgeable while trying to improve themselves. The skills and knowledge they have received should be in the interests of their country and people. Then, the Senior General extended greetings and best wishes for the strength, peace, prosperity and development in the New Year after invigorating their strength in the Christmas period.
Later, the Senior General and family served the Christmas carol team with food and posed for a group photo.