Nay Pyi Taw March 19
Tatmadaw members are the persons who join the Armed Forces of own volition to serve the national defence duty. In shouldering the national defence duty lives and limbs are being sacrificed as and when necessary and constant preparations are being made to serve it. The Tatmadaw is conducting rank-wise trainings systematically, and the knowledge on military science provided by the trainings must be fully applied in the practical field, said Commander-in-Chief of Defence Services Senior General Min Aung Hlaing at his meeting with officers, other ranks and families of Putao Station this evening.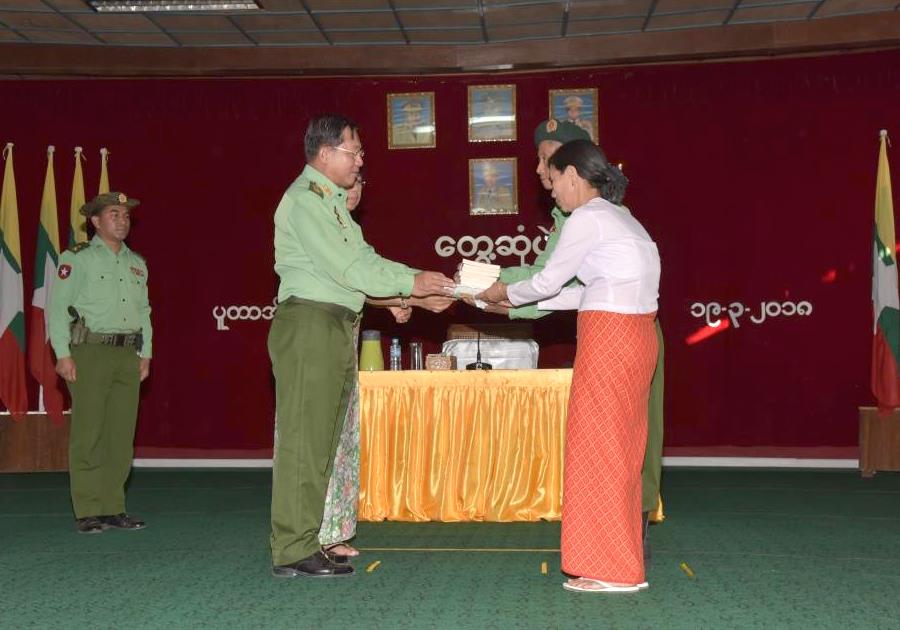 The Senior General accompanied by wife Daw Kyu Kyu Hla, Union Minister for Border Affairs Lt-Gen Ye Aung, Commander-in-Chief (Navy) Admiral Tin Aung San, Commander-in-Chief (Air) General Maung Maung Kyaw, senior military officers of the Office of the Commander-in-Chief (Army), Commander of Northern Command Maj-Gen Nyi Nyi Swe and Deputy Minister for Home Affairs Maj-Gen Aung Soe, arrived in Putao in the evening and was welcomed by departmental officials, national race leaders and local ethnic people.
At his meeting with officers, other ranks and families of Putao Station in Bandoola Hall, the Senior General said the present era sees technical development and also the evolution of military equipment and hardware. The Tatmadaw is also producing and using the military equipment and hardware in line with the advancing trend. Hence, soldiers must learn and practise military tactics that are in conformity with the advancing weapon systems. They will have to adapt the military tactics and science to the practical field, and all must work in accord with the motto – learn, train, obey.
In the Tatmadaw, wives of Tatmadawmen and family members are the major auxiliary force. Now internal armed conflicts remain