Nay Pyi Taw April 18
Discipline is a sort of regulations and prohibitions, and the orders and rules issued by the Tatmadaw must be observed. Awareness is required in using the social media, said Commander-in-Chief of Defence Services Senior General Min Aung Hlaing at his meeting with offi cer instructors and other ranks, medical specialists and offi cers of the station at the Convocation Hall of the Defence Services Academy in PyinOoLwin Station this afternoon.
Also present on the occasion were Commander-in-Chief (Navy) Admiral Tin Aung San, Commander-in-Chief (Air) General Maung Maung Kyaw, senior military officers of the Office of the Commander-in-Chief (Army), the commander of Central Command, senior military officers of PyinOoLwin Station, offi cer instructors and other ranks.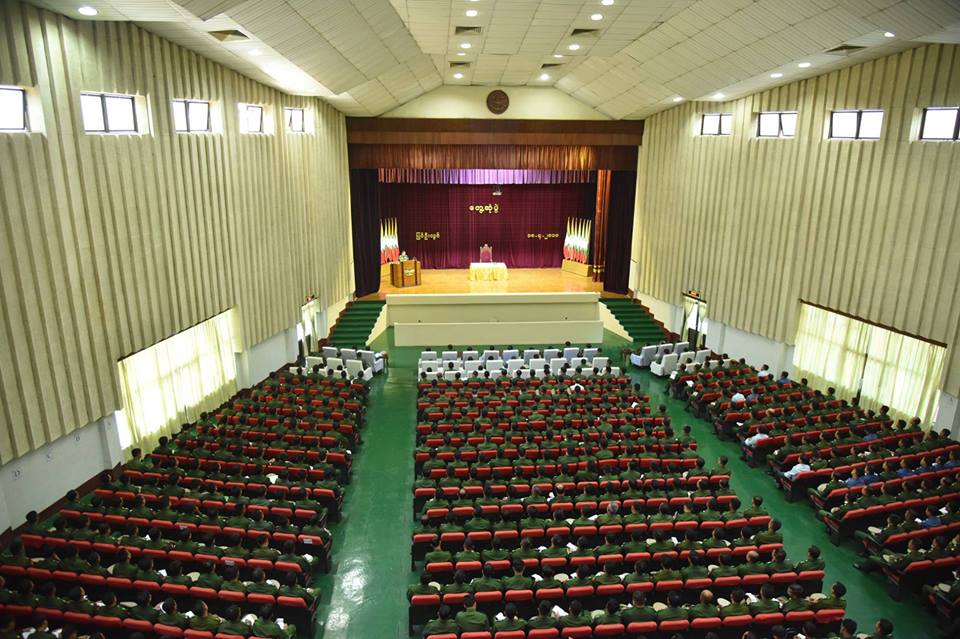 In his speech, Senior General Min Aung Hlaing said a teacher is always a teacher. Military training schools have rank-wise instructors. As trainees are following their instructors, poor instructions will only produce poor trainees. An instructor must live and act in accord with the norms of a good teacher to produce excellent and skilled trainees also good in moral conducts. As some of the trainees will have to serve at the battlefields at the risk of their lives, inapplicable lessons will bring great loss. So, effective means must be used for the lessons to be applicable in the practical field. Only the persons who have a certain level of fi eld experience and who score high marks at courses are being appointed as instructors. Instructors must share their experiences with trainees to become applicable in the practical field. As there are differences in rank and experience between the instructors, they must also share their experiences among themselves. In the battlefield, experienced offi cers and other ranks should share their knowledge with their less experienced counterparts. This tradition must be maintained.
The course must be effective as their mottos. Professionalization is the main requirement in turning the Tatmadaw into a Standard Army. As education generates knowledge, education promotion plans are being implemented for the whole Tatmadaw. Meanwhile, training sector is being developed, he said. The Senior General stressed the need to achieve the aims and objectives. He said young people could get spoiled if they stick to self-indulgence. Instead, they need to cultivate a sense of good and mature leadership. They need to stay away from drug and alcohol abuse as much as possible. Self-indulgence could lead to drug abuse.
Consequently, they could face delays in their promotion. As good servicemen, they need to shoulder their duties being loyal to the State and the Tatmadaw. The misconduct of a serviceman can harm the image of the whole Tatmadaw. Therefore, individuals need to live in a disciplined manner. Tatmadawmen must live each other in unity as well as in a family and brotherly spirit.
This morning also, the Senior General and party went to the defence service hospital in PyinOoLwin and comforted the patients individually who were wounded while carrying out defence duties. He asked after their health and presented foods and cash awards to them.
Daw Kyu Kyu Hla, wife of the Senior General, also encouraged and greeted Tatmadaw family members receiving treatment in the women's ward and presented foods to them. Later, the Senior General and party inspected the extended construction of the operation theatre and looked round in the hospital.