Nay Pyi Taw, May 30
War veterans are loyal to the Tatmadaw and the State as they have taken the oath under the saying, which goes "Once a Soldier Always a Soldier". War veterans and the wives of soldiers are the two main reserve forces of the Tatmadaw. In this regard, efforts are being made for ensuring food, clothing and shelter and job opportunities for the war veterans and Tatmadaw families, said Commander-in-Chief of Defence Services Senior General Min Aung Hlaing during his meeting with war veterans at the advanced war veterans housing (Mandalay) at the Central Command area this afternoon.
Also present at the meeting were Commander-in-Chief (Navy) Admiral Tin Aung San, Commander-in-Chief (Air) General Maung Maung Kyaw and senior military officers of the Office of the Commander-in-Chief, the commander of Central Command and war veterans.
At the meeting, the Senior General went on to say that advanced war veterans housings and war veterans housings are being built at the military commands and priority is being given to the families of veterans who sacrificed life or limbs for the nation in allotting homes. The housings are being allotted to other veterans in accord with the prescriptions. Moreveteran housings are under construction.
The Tatmadaw is producing and distributing foodstuff at reasonable prices for food safety. It will also sell foodstuff to veterans at reasonable prices. The Tatmadaw is selling fish, meat, eggs, milk and vegetables produced by its farms military command-wise to the most possible degree.
Members of War Veterans Organization are allowed admission to clinics in military units and defence service hospitals. Measures are being taken for education promotion of Tatmadawmen as technology is necessary in building up a standard army. Necessary assistance is also being provided to improve the education of children of war veterans. For family members of war veterans to get job opportunities, manufacturing businesses are being launched, said the Senior General.
On hearing the requirements of war veteran families, the Senior General left necessary instructions and presented Shwephi Oo instant coffee packages to war veteran members. Quartermaster General Lt-Gen Nyo Saw and officials reported on implementation of advanced housing projects. The Senior General gave necessary instructions and cordially greeted the war veterans.
The Senior General and party then cordially greeted families living in advanced war veteran housing and presented them with foods. In advanced war veteran housing (Mandalay), five four-storey apartment with two units for junior officers and 12 four-storey apartments with two units for other ranks were built in 2016. Then, the construction of four four-storey apartments with two units for junior officers and 18 four-storey apartments with two units for other ranks started in 2017 and 78 percent have been completed. This year, four four-storey apartments with two units are under construction and about 17 percent has been completed.
In the morning, the Senior General and party visited Yadanapon Newspaper Printing House. At the meeting hall, an official reported on distribution of newspapers. In response, the Senior General stressed the need for reporters to cover more regional news and to ensure that their news stories and photos are correct. He also stressed the need for responsibility and accountability in news coverage and coverage of news in all sectors.
The Senior General and party went round in the printing house and gave instructions on publishing of newspapers with better quality. He then presented cash awards to the staff.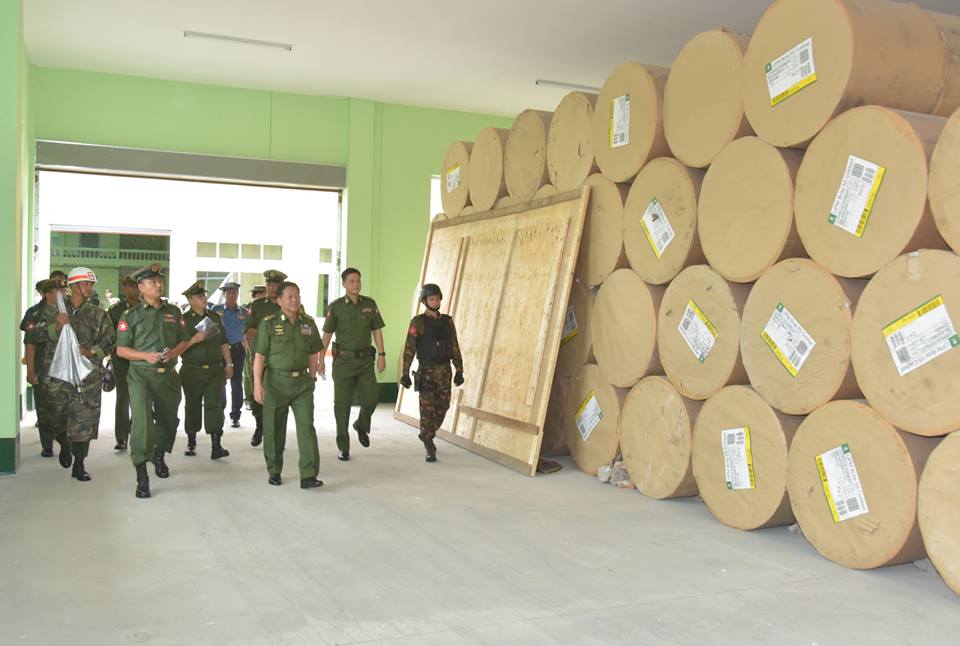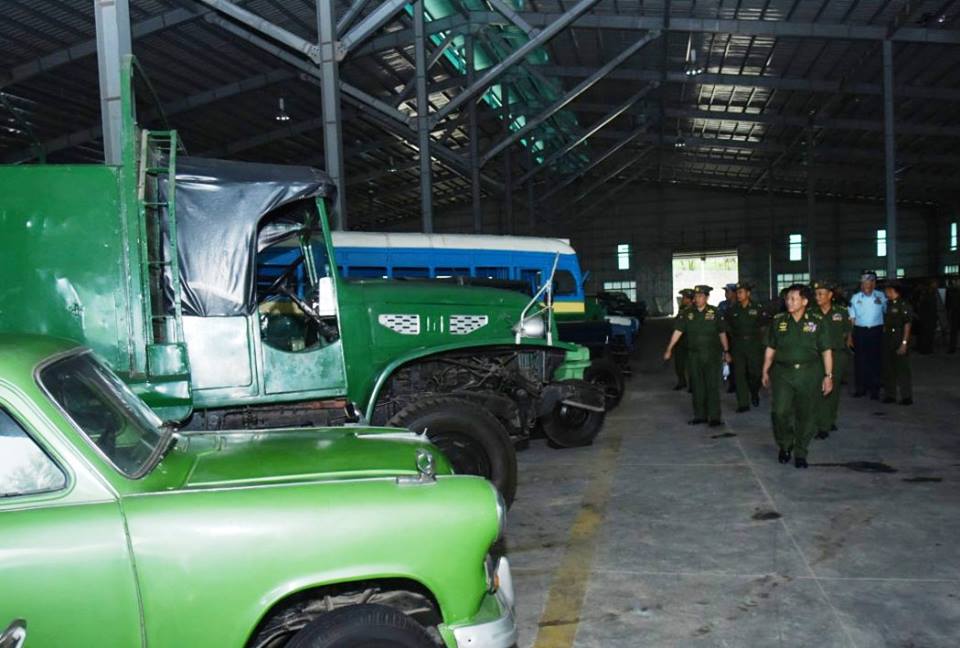 The Senior General and party went to regional battalion in Htonebo of Mandalay Station and inspected vehicles used throughout history of Tatmadaw and vehicles used by the public in successive eras and systematic maintenance of them. The Senior General then left necessary instructions.