Nay Pyi Taw June 1
Commander-in-Chief of Defence Services Senior General Min Aung Hlaing, accompanied by Commander-in-Chief (Navy) Admiral Tin Aung San, Commander- in-Chief (Air) General Maung Maung Kyaw, senior military offi cers of the Offi ce of the Commander-in-Chief, the commander of Central Command and officials, visited Tatmadaw Textile Factory (Meiktila) this morning.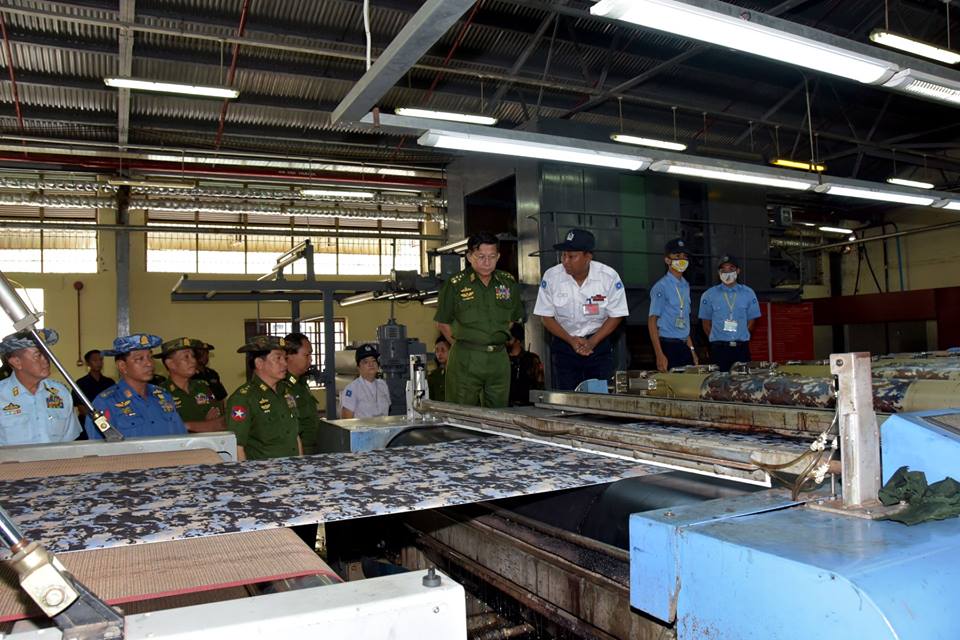 At the meeting hall, the factory manager reported on production process and staff welfare tasks. Next, Central Command Commander Brig-Gen Kyaw Swa Lin reported on making of school uniforms for 20,495 children of officers and other ranks from local units and regiments of the command and saving of over Ks-17.5 million as the factory price was Ks-860 less than market price.
In response to the reports, the Senior General gave instructions on distribution of quality factory products at fair prices without focusing on profi t, operating of the factory at full capacity, extended production, supervision for better design and quality of clothes, extensive distribution of school uniforms for children at reduced prices by coordinating with the concerned region governments, production of men's longis with various colours and designs, seeking of market to export both fi nished goods and raw materials, paying taxes on clothes and staff welfare tasks.
The Senior General and party inspected display of the textile for uniforms of Tatmadaw (Army, Navy and Air) manufactured by the factory, textile for school uniforms and other clothes. After inspecting production of clothes in the factory, the Senior General fulfilled the requirements of offi cials and presented cash awards to staff of the factory.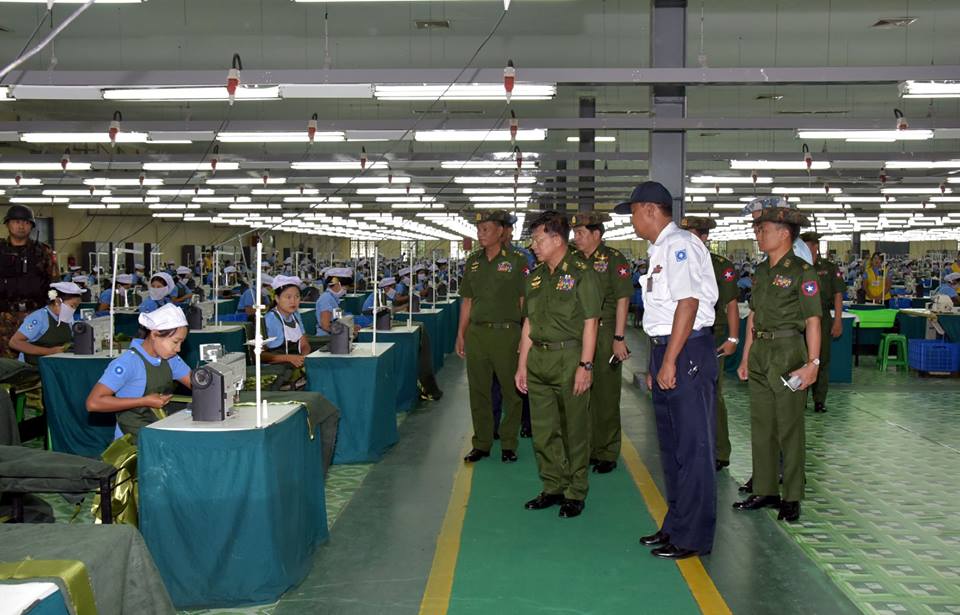 In the afternoon, the Senior General and party arrived at Tatmadaw Tarpaulin Factory and Shoe Factory (Hlinetet). At the meeting hall, offi cials reported to the Senior General on production of military equipment, school knapsacks, shoes, caps and belts being used by State service personnel, and welfare tasks for factory workers. After hearing the reports, the Senior General instructed offi cials to always make assessment and improvement on quality of military equipment to produce better ones for convenience of users, sell the products at fair prices in the market with efforts to improve quality of factory's products in comparison with domestic and foreign products and systematically carry out welfare tasks for workers, and fulfi lled the requirements.
The Senior General and party viewed round production of military equipment at the weaving and equipment section of the Tarpaulin Factory and production processes of the Shoe Factory.
Officials conducted the Senior General and party round the factories. Later, the Senior General presented cash award for factory workers.