Nay Pyi Taw June 9
The Empower My Myanmar Ceremony of Telecom International Myanmar Company Limited (Mytel) which is the fourth operator of Myanmar being jointly conducted by Myanmar and Vietnam took place at Pullman Yangon, Centerpoint Hotel in Yangon this morning, attended by Commander-in-Chief of Defence Services Senior General Min Aung Hlaing.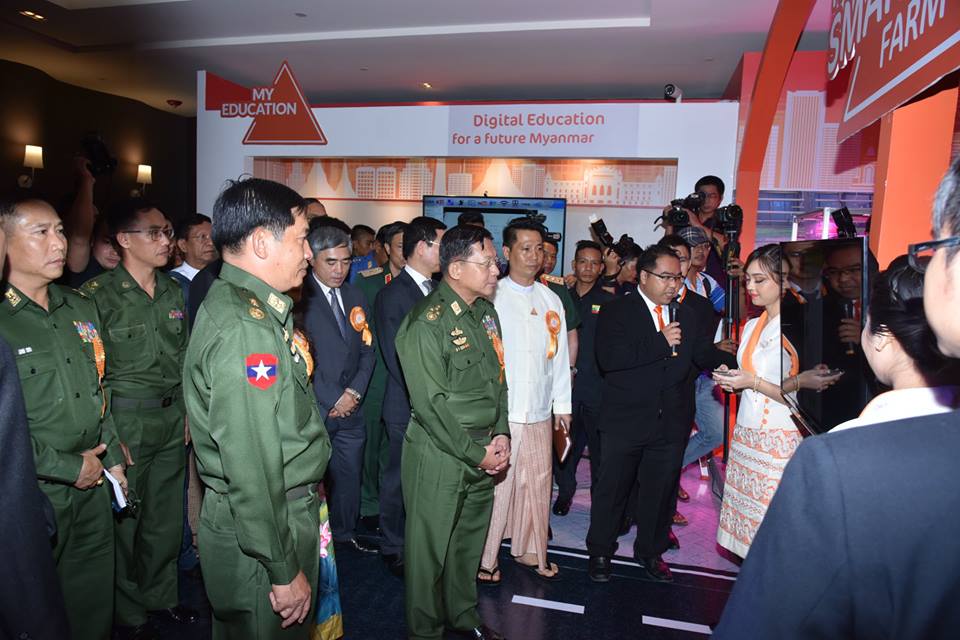 Also present at the ceremony together with the Senior General were Union Ministers Lt-Gen Sein Win and Lt-Gen Ye Aung, Commander-in-Chief (Navy) Admiral Tin Aung San, Commander-in-Chief (Air) General Maung Maung Kyaw, senior military officers from the Office of the Commander-in-Chief (Army), Deputy Minister of National Defence of the Vietnam People's Armed Forces Senior Lieutenant General Tran Don, Deputy Minister of Vietnam's Information and Communications Mr. Nguyen Minh Hong, Deputy Minister for Transport and Communications U Tha Oo, Vietnamese Ambassador to Myanmar H.E. Dr. Luan Thuy Duong, officials of Vietnamese government and the armed forces, officials of Yangon Region government, Chairman of the Executive Committee of Telecom International Myanmar Company Limited (Mytel) U Khin Maung Soe, the Chairman of Viettel Company and officials, and guests.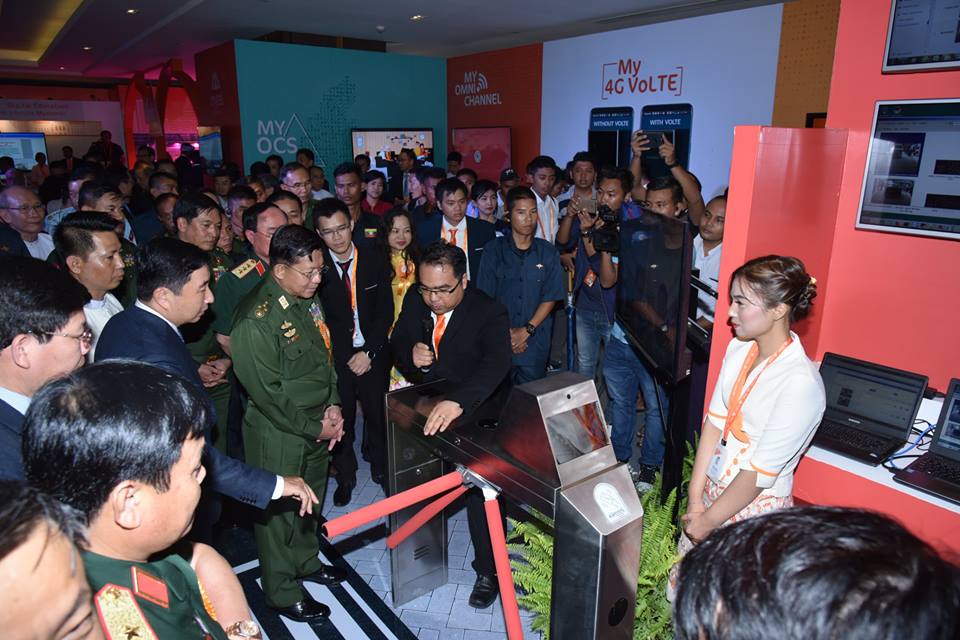 First, the ceremony started with the opening performance (interactive dance) through the 3D design floor plan, and the Mytel Amazing Journey Tour was presented with video clip.
Afterwards, the Senior General delivered a speech of honour, saying that human brain development is the highest in the world. The basic reason behind this development is the languages for mutual contacts, the creativity, and the ability to share our thoughts, finds and sentiments. In the past, fact-to-face contacts and dialogues were made. But now, information, techniques and messages can be exchanged more and more between faraway places, with fewer limits, in a very short time through the use of communication technology. We can also use ICT-Information and Communication Technology effectively for multi-sector development. We need harmony between the State Building and the Nation Building.
As the infrastructure development is vital for State Building, the protection and promotion of culture, the safeguarding and promotion of the spirit to love for the country and the State and the improvement of national characteristics are also essential for the Nation Building. The following are the essentials for national development—transportation, communication, electricity and human resources development. Of them, Mytel will strive mainly for development of ICT an important element of the information age. Mytel have completed construction of about 5,300 BST stations till now so that it can cover about 72 percent of the country including rural and urban areas, and communication channels. As it applies Fourth-Generation (4G) +(Plus)LTE (Long-Term Evolution) Wireless Broadband Technology, users will have to apply broadband Internet connection and enjoy High Definition (HD) video files and read Multi-Media news-papers. By applying these technologies, the people in various regions of the country can save money in studying any subjects they wish in their residences as they can learn them with only a few teachers without going to urban areas. Moreover, 4G LTE technologies will be cheaper than that of 3G ones, with opportunities to enjoy global news, Myanmar news and technologies in time. Hence, ethnic people in various regions of the nation will be in touch with globalization processes continuously and will have the opportunities to make studies as part of efforts to contribute towards development of human resources. Upon completion of BST Stations targeted this year, the network coverage will reach 93 percent of the total population of the nation with 2G (Voice) and 60 percent with 4G (Data) to the subscribers.
These educational activities will contribute to human capital development of Myanmar, and information can be utilized for socio-economic development of concerned regions.
ICT can also be utilized to promote culture, patriotism, nationalism and national identities, which are fundamentals for nation building. We will also receive benefits from partnering with Viettel Co, the international telecom operator, in terms of technology transfer and experiences.
The government of the Republic of the Union of Myanmar has initiated reforms in the country's telecoms sector in a transparent manner, giving nationwide operator licences in accordance with telecommunication law to two foreign telecom operators Ooredoo Myanmar Co Ltd and Telenor Myanmar Co Ltd in 2014, and local operator MPT and KDDI Summit Global Myanmar Co Ltd in 2015. Telecom International Myanmar Co Ltd (Mytel) is the only public company among these four telecom operators. Viettel Group has served as a successful telecom operator in nine countries, and we honestly believe it will also be able to notch up success in Myanmar.
As the fourth telecom operator, Mytel will also network with foreign operators. It now has International Gateway (IGW) across the border, one each with Laos, China, and India, and two with Thailand. It also has submarine cable, optical fibre, and AAE-1, and nationwide 4G network coverage. It is also ready for future's technologies. Mytel could build over 5,000 BTS Towers within a year from obtaining licence and launching of SIM cards. It is satisfying to have completed large volume of work in short period. Today is a milestone in Myanmar's history as it marks the launching of telecom network of Myanmar-Vietnam joint venture Mytel and Empower My Myanmar Ceremony which will provide better services and better technologies across the country.
The Senior General said that he was grateful to officials of Ministry of Transport and Communications, Ministry of Planning and Finance, Ministry of Defence, Ministry of Construction, Ministry of Electricity and Energy, Myanmar Investment Commission and concerned departments, chief ministers and ministers of region/state government, officials of Defence Ministry and Communications Ministry of the Socialist Republic of Vietnam, the Vietnamese Ambassador to Myanmar, and officials of Viettel Group for all their efforts.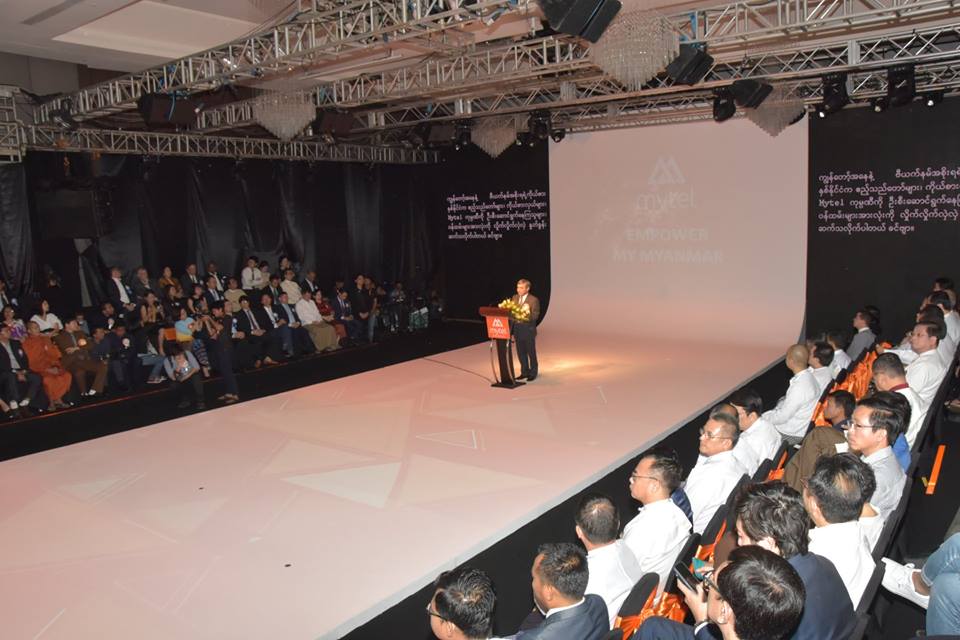 The Deputy Minister of Information and Communications of Vietnam spoke words of honour while the chairman of the Executive Committee of Telecom International Myanmar Co. Ltd (Mytel) spoke words of thanks. Then, Mytel CERO U Zaw Min Oo explained matters related to Mytel Package and Data Plan. Brand Ambassadors Nay Toe of Mytel and Vietnamese actress Nguyen Tran Huyen My recounted their experience on using Mytel SIM card. Then, students of National University of Arts and Culture performed various ethnic dances with the song "Eternal Myanmar" as shaping the motto "Empower My Myanmar".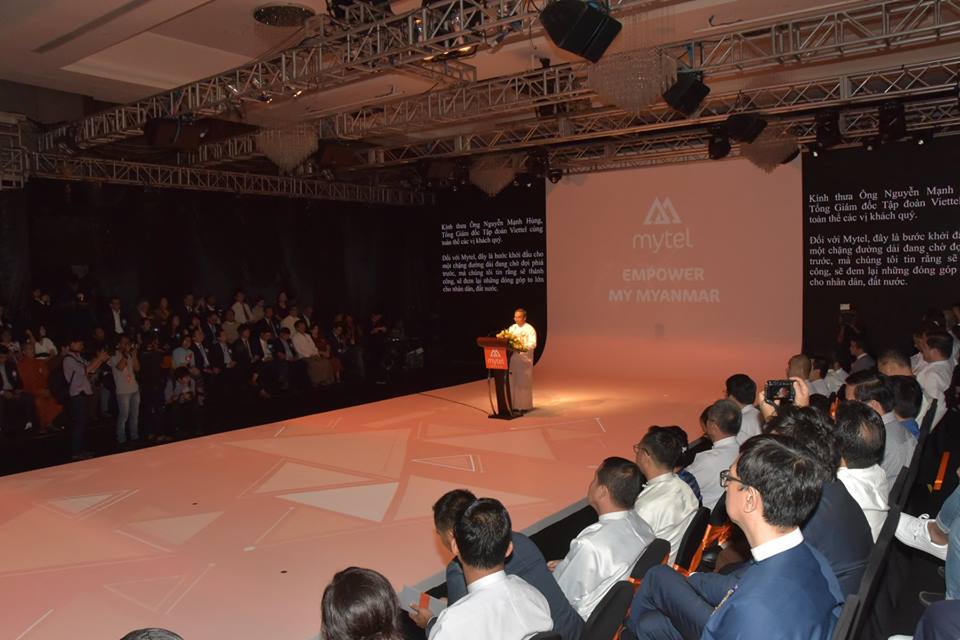 Next, the Senior General, the Vietnamese deputy minister and officials pressed the button to unveil the Mytel brand. Next, the Senior General and party viewed education, agricultural and health services and other services provided by Mytel in the technological booths where they were conducted round by officials. They then posed for a documentary photo.
Telecom International Myanmar Company Limited (Mytel) was established under cooperation between Myanmar and Vietnam. Mytel provides 2G and 4G systems. Nationwide, 30,000 kilometers of fiber cables have been installed so about 50 percent of the whole fiber optic infrastructure across Myanmar can be provided. The network can cover over 300 towns or 80 percent of the total population.
As VoLTE technology is used, users can use data and voice simultaneously with better quality. A Mytel SIM user will get free 1,500 MB data and 150 minute voice call that can be used in three months. When a voice call is made with the use of charging block 1s+1s, the user will be charged depending on duration. For Myanmar's socio-economic development, a wide variety of services such as modern agriculture, education and health are provided. Now, Mytel 4G SIM cards and top-up cards are available at 50 Mytel brand shops and 50,000 other shops across the country.