Nay Pyi Taw July 20
A ceremony to hand over the apartments of War Veterans Housing (Yangon-1/2) in Myaingthaya and Kyetphyukan and E-Bike powered wheelchairs was held at the Station Hall of Hmawby Station of Yangon Command this morning, with an address delivered by Commander-in-Chief of Defence Services Senior General Min Aung Hlaing.
Also present on the occasion were Commander-in-Chief (Navy) Admiral Tin Aung San, Commander-in-Chief (Air) General Maung Maung Kyaw, senior military officers of the Office of the Commander-in-Chief (Army), Commander of Yangon Command Maj-Gen Thet Pon, officials of the Yangon Region War Veterans Organization, senior officers of the station, officers, other ranks and war veterans and families.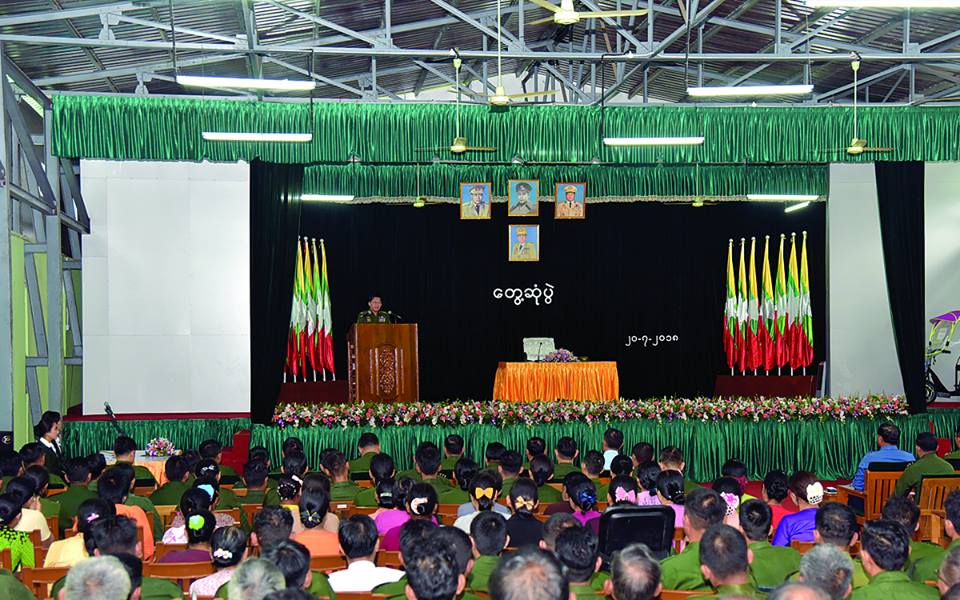 First, Senior General Min Aung Hlaing delivered the address. The Senior General said it is the ceremony to hand over apartments for war veterans and their families and E-Bike powered wheelchairs for officers and other ranks who received wounds while discharging national defence duties. War veterans housings have been built and allotted to the most possible degree in fulfilling the housing needs of war veterans. The successive governments of the past had served for the war veterans, but there were still requirements due to some difficulties. Although the needs of war veterans have been fulfilled to the most possible degree at present, there are still requirements.
Talking about welfare, the Senior General said factories including garment factories are being opened for war veterans and their families to enjoy job opportunities. As commodity prices get high, military-owned agricultural and livestock breeding farms are being launched to distribute fish, meat and vegetables at prices lower than in local markets for the welfare of Tatmadawmen, war veterans and their families. Tatmadawmen have to work round the clock so priority is given to their welfare. It is also necessary to run manageable-scale agricultural and livestock breeding farms. Out of self conscience, they must stay away from a self-indulgent lifestyle that could harm their health, cost more and affect the life of their families. Through frugality, they will be able to improve their own lives and support their families.
Regarding the education of the children of Tatmadaw families, the Senior General said as Tatmadawmen have to depend only on their salary, they also have to make savings for the education of their children. Therefore, for those children, education allowances, equipment and stationery including exercise books are provided twice a year. They need to encourage their children to try to become educated and improve their lives.
With regard to health care services, the Senior General said war veterans were allowed to take health care services at clinics of nearby military units and headquarters and Tatmadaw hospitals. He urged those war veterans to take care of themselves to have good condition of health by avoiding drinking and indulgence for prevention of diseases through lifestyle and foods. The Senior General stressed the need to take daily physical exercises for contributing to their health conditions.
Next, the Senior General presented E-Bike powered wheelchairs to them through a war veteran. Lt-Gen Myo Zaw Thein gave foodstuffs for war veterans and families, Adjutant-General Lt-Gen Hsan Oo, permits for living at Advanced War Veterans Housings (Yangon-1/2) and keys for apartments, and Quartermaster-General Lt-Gen Nyo Saw, packets of Shwe Phi Oo instant tea mix. War veterans and families accepted them.
Later, the Senior General and party cordially greeted the war veterans and families who attended the ceremony.