Nay Pyi Taw, August 4
Commander-in-Chief of Defence Services Senior General Min Aung Hlaing today met with flood victims staying temporarily in Shwegyin after Shwegyin Township in Bago Region faced floods due to continuous downpours beginning 23 July.
Senior General Min Aung Hlaing, accompanied by Commander-in-Chief (Air) General Maung Maung Kyaw, senior military officers of the Office of the Commander-in-Chief, Commander of Southern Command Maj-Gen Myo Win, the security and border affairs minister of Bago Region and officials, visited flood victims temporarily staying at shelters in Shwedaung Oo Pagoda, basic education high school in Gangawwaing Ward of Shwegyin, the relief camp in Shwegyin and historic Phayagyi Pagoda.
First, the township administrator reported on the situation of floods, the removal of victims to the shelters in Shwegyin town and the assistance being rendered by the region government and the Tatmadaw members of local battalions and units.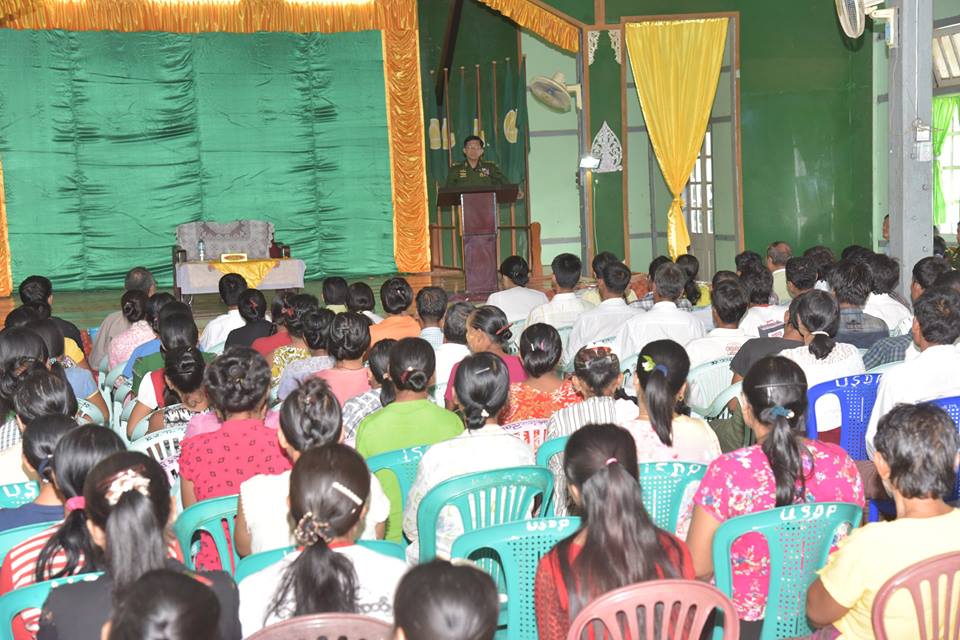 In his words of encouragement for the victims, the Senior General said the world is facing a lot of climate changes. Some countries are facing excessive rises or falls in the temperatures and heavy rainfalls. According to records, Shwegyin faces the worst flood in a 50 year-period. Although it is a natural disaster, means must be sought to overcome it. As the government is carrying out flood relief undertakings, the Tatmadaw on its part is also assigned station-wise duties to provide assistance. In some areas floods were caused by the drains terribly clogged by garbage. The relevant township development committees are ensuring a proper flow of the drains. Local people should render assistance to the most possible degree in cleaning the environment and clearing the drains. Every person should have a good discipline.
Only through united efforts and cooperation among relevant organizations and the people, towns and cities will become clean and tidy and develop. Efforts should be made for the return of students from flood victim families back to their schools when flood water recedes. In addition, parents themselves are to keep a spirit of improvement in their mind without content. Parents need to encourage their offspring to promote education standards and pass the exams as knowledge and arts are essential for the improvement of life. On the one hand, reading is a must for them to expend the scope of their knowledge.
The Senior General continued to say that our country is on the right track to democracy and is working to achieve the eternal peace. He believes that Shwegyin region would see more development soon as peace has been achieved to a certain degree. Our Tatmadaw is striving to achieve the eternal peace upholding Our Three Main National Causes. Health Department and Tatmadaw medical teams are providing health care for flood victims. Flood victims themselves need to take care of their health and their daily food and accommodation. Flood victims need to avoid the consumption of alcohol, tobacco and betel quid chewing that is dangerous for their health, as much as they can. Tatmadaw would continue providing assistance to flood victims.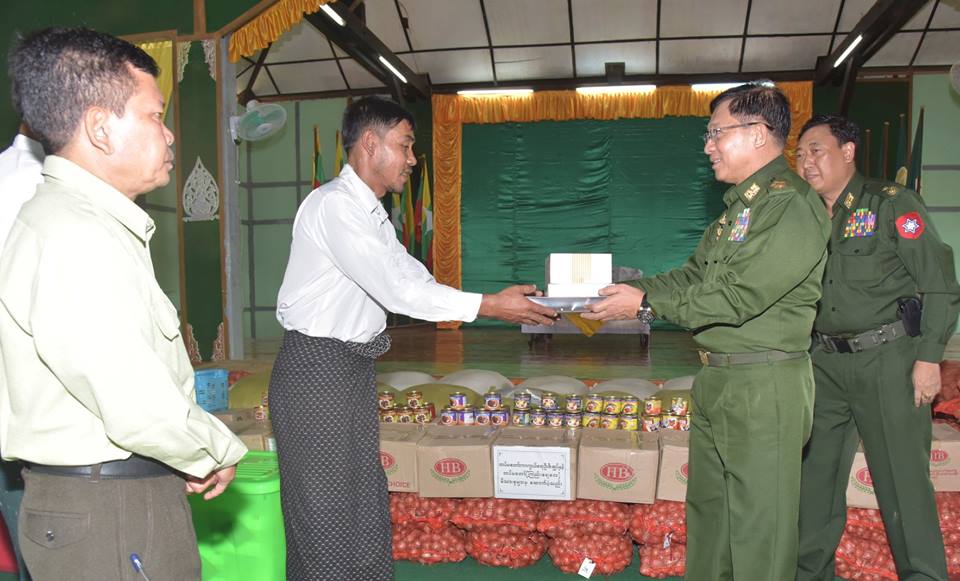 After the meeting, the Senior General and senior military officers presented foodstuff to flood victims and cordially greeted them. Afterwards, the Senior General and party visited health care service being provided to flood victims by Tatmadaw mobile medical team at relief camps.
Afterwards, the Senior General and party offered flowers, water and oil lights to the Buddha image in the compound of historic Phayagyi Pagoda in Shwegyin Township, donated money for offering gold foils to the pagoda and went round the pagoda clockwise.
Until July 30, the floods hit 5,768 households from eight wards and 42 villages in Shwegyin and 27,266 people were evacuated to the safer places. There are five relief camps in urban areas and 42 in villages in Shwegyin. Flood water destroyed around 25,500 out of 34,867 acres of monsoon paddy in Shwegyin Township.