Nay Pyi Taw, August 5
Commander-in-Chief of Defence Services Senior General Min Aung Hlaing today gave words of encouragement to flood victims taking shelter at the relief camps in Hpa-an as heavy rains caused flooding in Hpa-an Township of Kayin State starting from 22 July.
Accompanied by Commander-in-Chief(Army) General Maung Maung Kyaw,senior military officers from the Office of the Commander-in-Chief, Commander of South-East Command Maj-Gen Myo Moe Aung, the Kayin State Minister for Security and Border Affairs, the State Minister for Agriculture and Irrigation and departmental officials, the Senior General visited the relief camps at Shweyinhmyaw Pagoda, No 1 Basic Education High School and No 4 Basic Education High School in Hpa-an of Kayin State this morning and gave words of encouragement to the flood victims.
Acting Commissioner of Kayin State General Administration Department U Aung Zaw Moe reported on situations of flooding in Kayin State, evacuation of flood victims to the relief camps, help of the state government, local Tatmadawmen and members of social welfare associations to the flood victims, loss and damage of roads and bridges in flooding,and plans to carry out rehabilitation at a time when the flooding subsides. The Kayin State health officer also explained health care services being provided to the flood victims.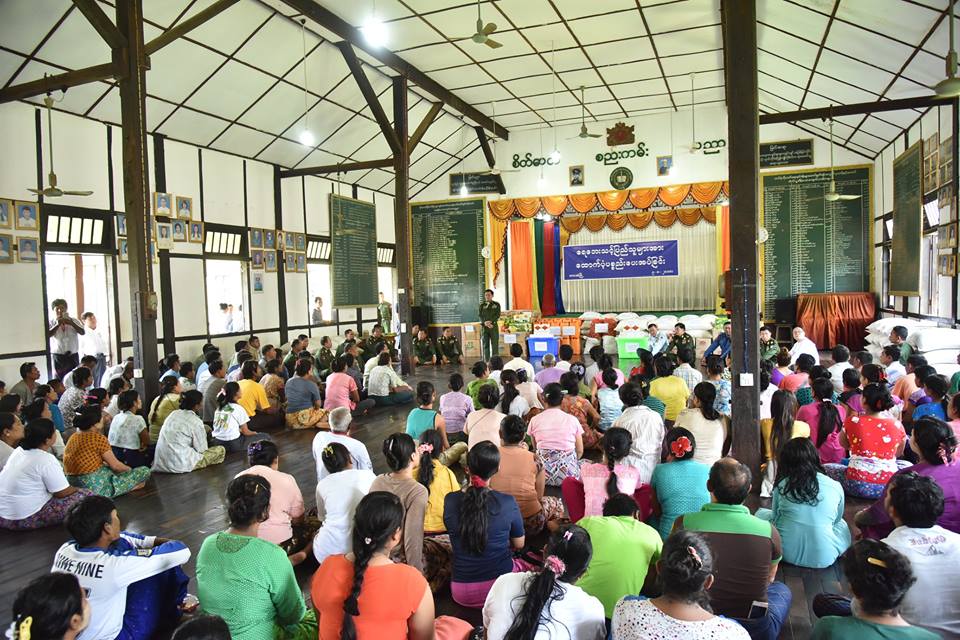 In his speech, the Senior General said the Tatmadaw has issued a directive that if natural disasters fall, nearby military units need to give a helping hand to the people without waiting for order from the superiors. The Tatmadaw helps endeavours of the government with advice and assistance based on its experience in carrying out rescue and relief works in natural disasters. It needs to adopt necessary plans to be able to consider and overcome impacts of natural disasters by assessing root causes of flooding and seek ways and means. In some flooded regions, drains were clogged with garbage to cause improper fl ow of water. If garbage is cleared, these regions will escape from flooding. Hence, all the people in individuals need to throw garbage systematically. As it is easy to cause infection of diseases at the relief camps where the flood victims gather, they need to take care of their health. While living there together, they should culture the family spirit. If flood water recedes, the administrative bodies and people should join hands in health activities such as cleaning houses and schools to have natural sunray and lighting for prevention of bacteria and germs and in spraying germicides and sprinkling lime powder around them. As such, it will prevent and control infectious diseases as much as they can. Moreover, they need to control themselves for use of alcohol, cigarette and betel quid which can harm their health conditions. Likewise, the Senior General urged the flood victims to avoid consumption of seasoning powder as much as they can, not to harm their health.
Afterwards, the Senior General said Kayin State, being a region with plentiful of natural resources, sees development due to restoring peace and stability. He stressed the need to effectively utilize the employment opportunities. To grasp the employment opportunities, the people need to have school education. Parents should encourage their offspring to learn education till university education to have better living standard than them. The university education means academic matters as well as observation of general knowledge through learning and reading. As such, local people should pursue university education as much as they can to directly apply knowledge from the learning in professions of their lives or to indirectly use the knowledge and wisdom for improvement of their lives. Only then they apply their knowledge and education after ending the school learning, will their lives improve. Only when individuals improve, will the whole region develop. If all the local people become the educated, they will have capability to cooperate with outside investors and receive their techniques. Hence, the Senior General urged them to cooperate with relevant governments in regional development tasks. Likewise, only the government and the Tatmadaw cannot carry out peace and stability of Kayin State, and ethnic armed organizations need to have keenness for actually restoring peace as well as the people need to link both sides. As such, they can enjoy fruits of peace and tranquility in their businesses and can see greater development of the region.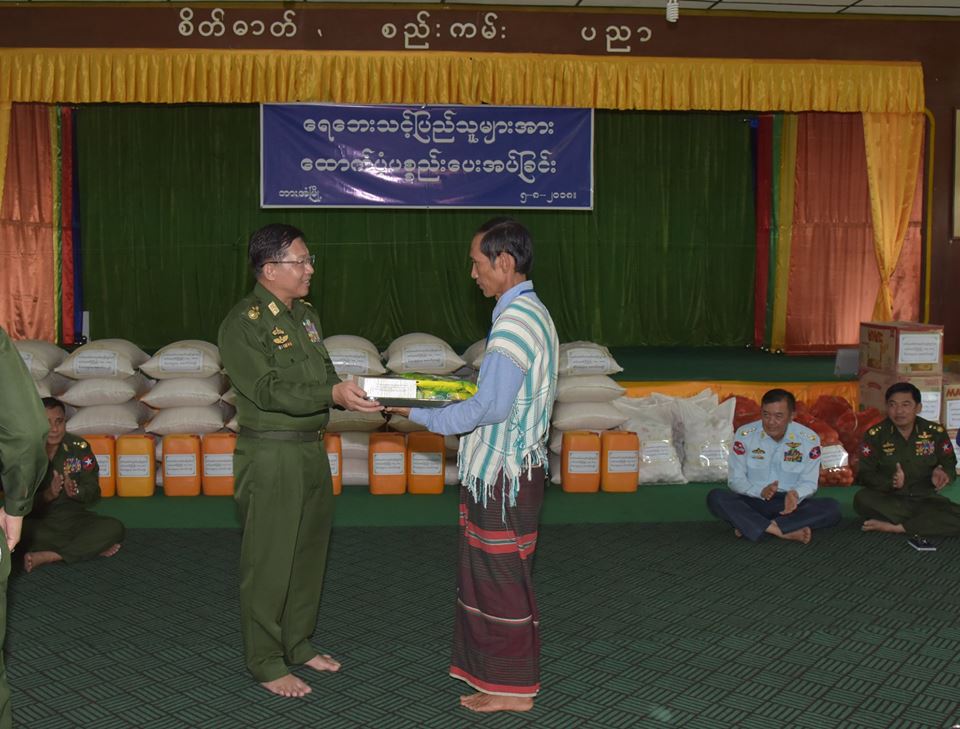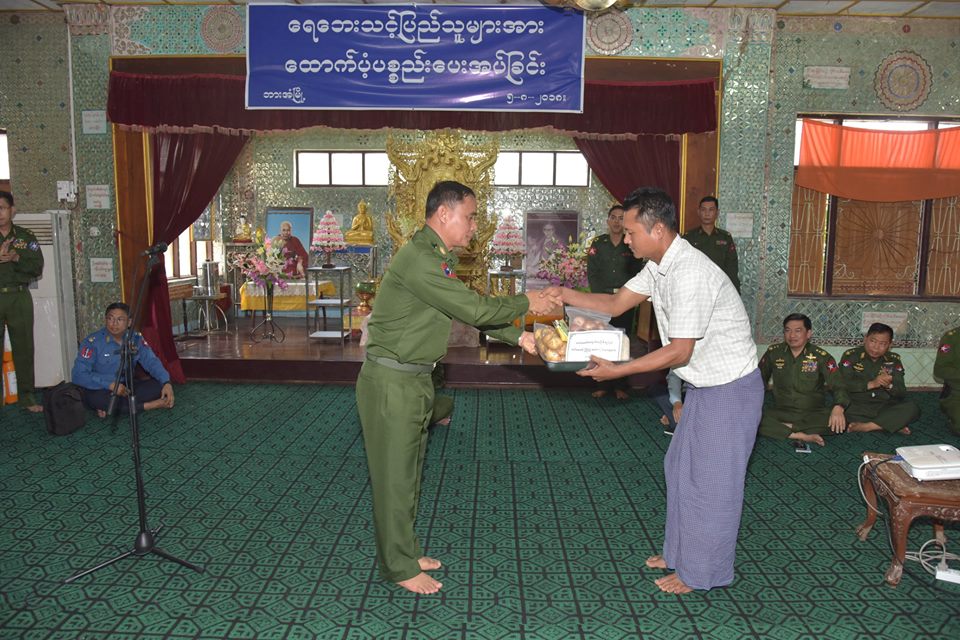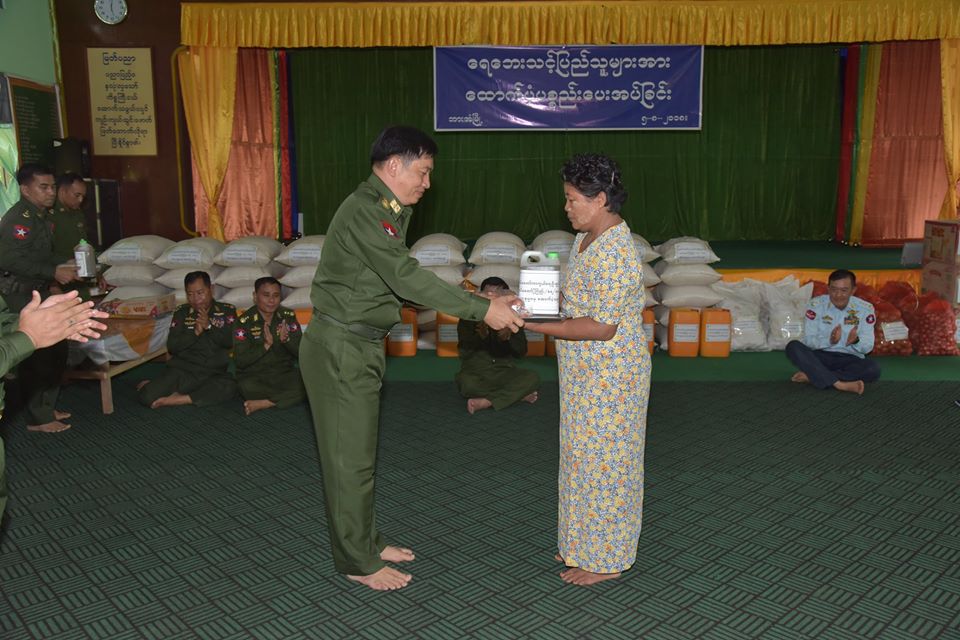 After the meetings, the Senior General and senior military officers cordially greeted the flood victims after presenting foodstuffs. The Senior General presented cash to the funds of No 1 Basic Education High School and No 4 Basic Education High School through headmistresses. Afterwards, the Senior General and party offered flowers, water and oil lights to the Buddha image at Shweyinhmyaw Pagoda in Hpa-an and donated cash to the fund of the pagoda through the pagoda board of trustees. The Senior General signed the visitors' book of the pagoda.
A total of 42 relief camps are opened in Kayin State due to flooding caused by continuous downpour starting from 22 July. A total of 42,498 fl ood victims were evacuated to the safe places. Due to flooding, 380 schools were temporarily closed. Flood water caused impacts on 8,623 acres of land against 191,225 acres of farmlands, destroying 5,568 acres.