Nay Pyi Taw, August 6
Commander-in-Chief of Defence Services Senior General Min Aung Hlaing received Minister of Foreign Affairs of Japan H.E.Mr.Taro KONO at the parlour of Zeyathiri Villa here this afternoon.
Also present at the call together with the Senior General were Lt-Gen Hsan Oo and senior military officers of the Office of the Commander-in-Chief (Army). The Japanese minister was accompanied by Ambassador of Japan to Myanmar H.E.Mr. Ichiro MARUYAMA, the military attaché and officials.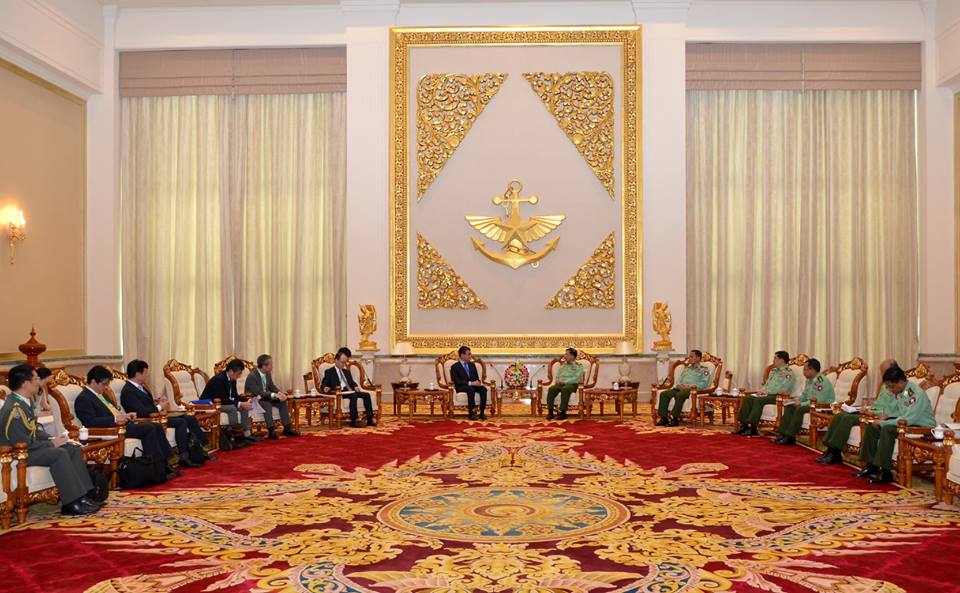 At the call, Senior General Min Aung Hlaing thanked Japan for providing assistance with goodwill at the time when Myanmar started marching on the path to multi-party democracy selected by the people and for earnestly rendering help in the internal peace process. There are successes as well as on-going negotiations. The issue of Rakhine State surfaced while the peace process is underway. The Tatmadaw is just safeguarding the sovereignty of the State and the life and property of the people. It is important for the international community to know the real situation and have the understanding and sympathy.
Then, they cordially exchanged views on the march on the path to multi-party democracy, Japanese assistance in internal peace process and peace, stability and progress of Rakhine State, the duty of the independent investigation commission to justly expose the real situation internationally, while staying away from the act of just finding fault of Myanmar, the importance of staying away from fuelling the situation that may cause panic among the Myanmar people, cooperation with UN and agencies being carried out by the Central Committee for the Implementation of Peace and Development in Rakhine State led by State Counsellor Daw Aung San Suu Kyi, Tatmadaw's assistance provided to the Central Committee,the needs for international organizations including the UN to provide assistance to local ethnic Rakhine fairly and equally, Japan's assistance for regional development tasks in peaceful regions, Japan's role in providing assistance for the success of local peace-making processes,equitable development in Myanmar including Yangon and cooperation in training exercise for promoting skills of each serviceman.
After the call, the Senior Generalpresented a gift to the Japanese Foreign Affairs Minister.