Nay Pyi Taw August 10
Commander-in-Chief of Defence Services Senior General Min Aung Hlaing met with a group led by U Mann Bahadur, Patron of All Myanmar Gurkha Hindu Dhamma Organization, at Kyaukse Hall in PyinOoLwin, this morning.
Also present at the meeting together with the Senior General were Commander-in-Chief (Navy)Admiral Tin Aung San, Commander-in-Chief (Air) General Maung Maung Kyaw, senior military officers from the Office of the Commander-in-Chief and Commander of Central Command Brig-Gen Kyaw Swa Lin. Patron U Mann Bahadur of All Myanmar Gurkha Hindu Dhamma Organization was accompanied by Patron U Rajan and officials.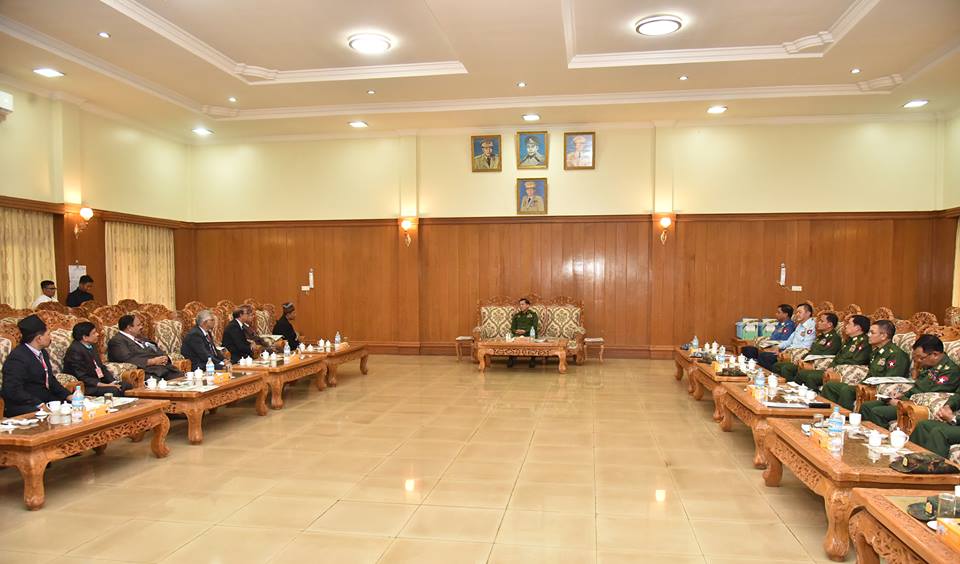 At the meeting, the Senior General said Myanmar and Nepal have been cementing friendly relations since the past, and the meeting aims to promote friendly relations.Gurkha people in lineage of Nepalese have been residing in Myanmar since the colonial era and they are loyal to the State. There are many Gurkhas serving in the Tatmadaw loyally. The Senior General urged them to promote friendly relations and trade between Myanmar and Nepal together with the Nepal-Myanmar Friendship Association from the Nepalese Federation. Efforts are being made to enhance further relations between the two armed forces of both countries. He called for cementing existing friendly ties and cooperation as well as mutual interest of the two countries. The Senior General stressed the need for any citizens and any organizations to live in unison without attachment. It is important to preserve national characters and cultural traditions.
Next, they cordially discussed loyally serving of Gurkha people on duty at Myanmar Tatmadaw in the past and at present, undertakings of the Myanmar Gurkha Hindu Dhamma Organization for Gurkha people in health, education and social affairs, and preservation of culture of Gurkha people.
Afterwards, the Senior General presented commemorative gifts to Patron U Mann Bahadur of the organization and members who returned commemorative gifts to the Senior General. Later, they posed for documentary photo.