Nay Pyi Taw September 12
In exerting peace efforts, the Tatmadaw is trying to achieve eternal peace. Such peace efforts are not meant for short-term period or solving short-lasting problems only. And the Tatmadaw is acting in line with the law which is the essence of democracy. The ethnic armed groups that have yet to sign the Nationwide Ceasefire Agreement (NCA) need to pursue the correct path to peace. To ensure that, military units are to motivate the local people, said Commander-in-Chief of Defence Services Senior General Min Aung Hlaing in meeting with officers, other ranks and their families at the hall of Loikaw Station this morning.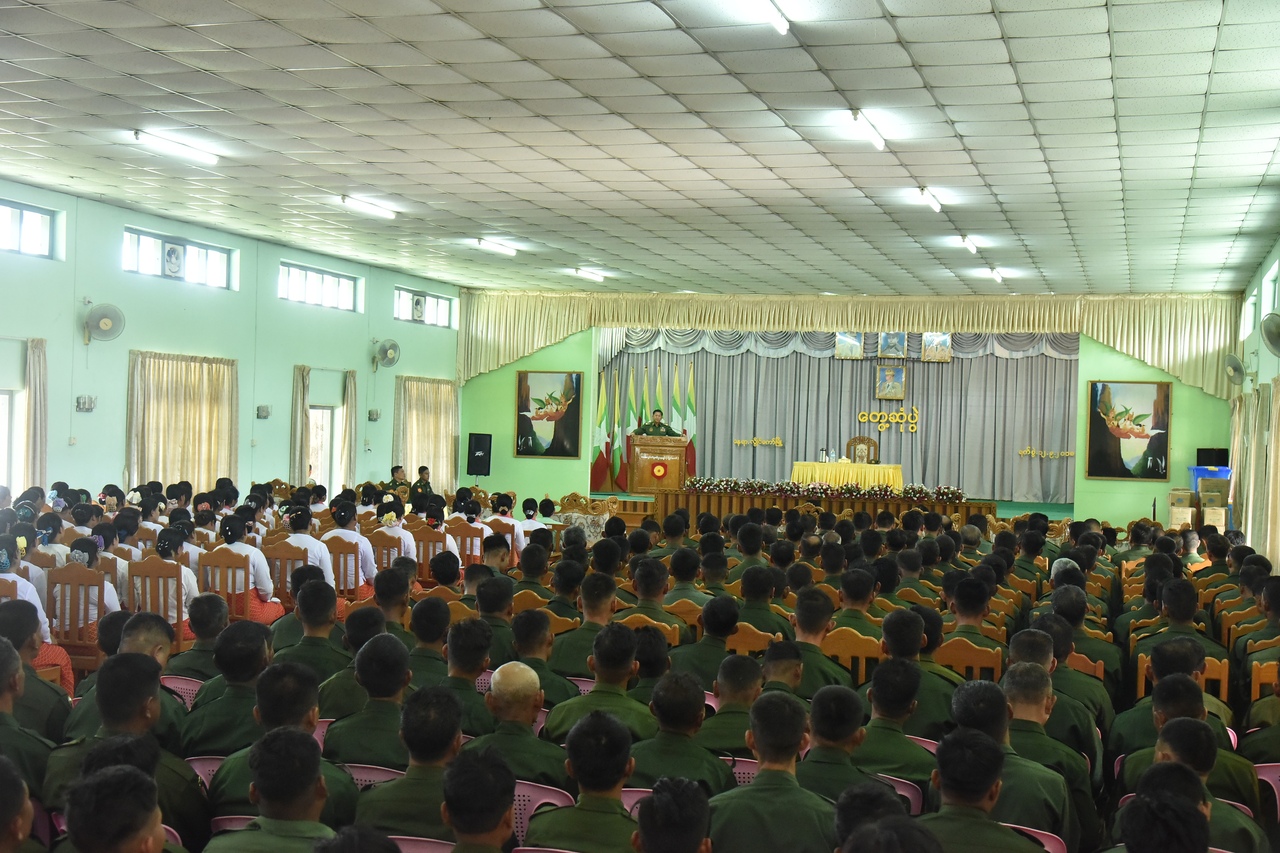 Also present together with the Senior General were his wife Daw Kyu Kyu Hla, Commander-in-Chief (Navy) Admiral Tin Aung San and wife, Commander-in-Chief (Air) General Maung Maung Kyaw and wife, senior military officers from the Office of the Commander-in-Chief (Army), Commander of Eastern Command Maj-Gen Lin Aung and officers, other ranks and their families from the station.
In his speech, the Senior General said peace and stability prevail in Kayah State. There is only the KNPP group in the state that has not yet signed the NCA. No single race lives in any state or region and they are inhabited by various national races. This is why equality is emphasized in ethnic affairs. The Tatmadaw is doing as much as it can to ensure peace and development of Kayah State. The need of a region is to ensure peace and stability in terms of politics and security. All should be aware that in nation-building tasks, blaming the past and paying attention to personality cult pose hindrances to democracy. To ensure security, peace and stability, the ethnic armed organizations themselves must act in accord with the law and discipline. Efforts must be made to bring about development to individuals and an organization and a region and then the whole country. In so doing, cooperation of all is necessary, said the Senior General.
He stressed the need for individual Tatmadawmen to always try to improve their skills and qualifications. He said necessary trainings are being provided for those at different levels so they must pay attention to their duties. To promote the education of Tatmadawmen and to widen their horizons, libraries have been opened with informative books and publications at respective military units and headquarters. Tatmadawmen are performing national defence duties. They need to try to have good knowledge of the regions they are assigned to and be able to handle their weapons efficiently. Tatmadawmen need to stay fit and healthy while they must be able to give command at respective levels. Light infantry troops and corps must be able to perform their duties efficiently.
They need to try to improve their skills and qualifications. Basic needs have been provided to a certain degree to ensure a happy environment in military units. For the welfare of Tatmadawmen and their families, Tatmadaw-owned agricultural and livestock farms are selling meat, fish, eggs and vegetables at reduced prices. By making the most of their rights and privileges, Tatmadawmen must try to improve themselves. Individuals must follow the discipline because good discipline contributes to the whole unit. A healthy lifestyle must be pursued as good health and fitness are required in discharging national defence duties conscientiously. Tatmadawmen must stay away from betel quid, alcohol and smoking. As the Tatmadaw is taking measures for the education promotion of Tatmadaw families, they also need to encourage the education of their children. Only if they are educated, will they be able to improve their lives. Children should have been trained since they were young so they can build their own lives. Efforts are also being made to enable families of war veterans to enjoy job opportunities.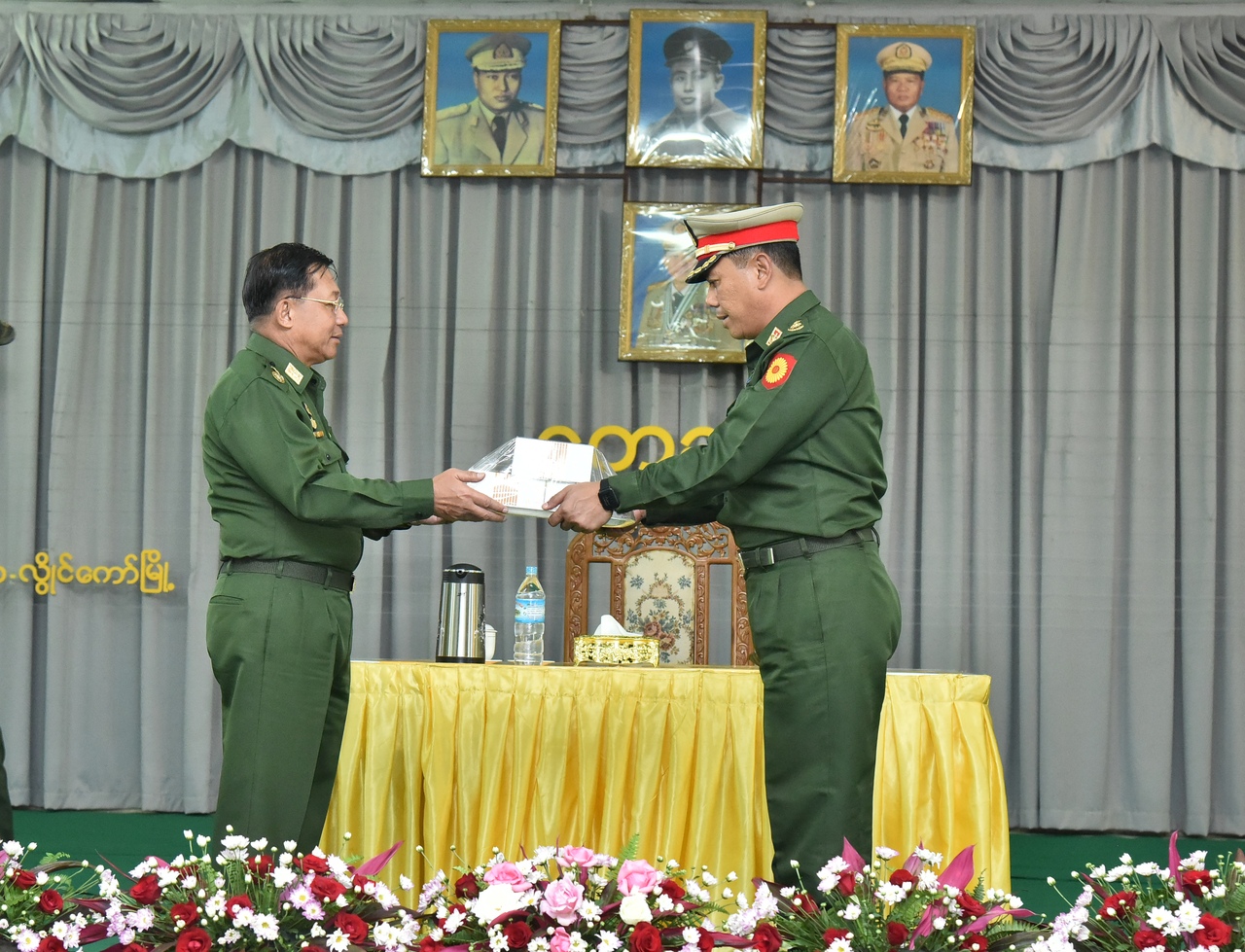 Then, the Senior General provided foodstuffs for officers, other ranks and their families of the station to the station commander. Daw Kyu Kyu Hla presented cash donations for the station maternal and child welfare association to the station commander's wife.
Commander-in-Chief (Navy) Admiral Tin Aung San, Commander-in-Chief (Air) General Maung Maung Kyaw and Quartermaster-General Lt-Gen Gen Nyo Saw and presented foodstuffs, sport equipment and informative publications to the officers, other ranks and their families of the station. After the meeting, the Senior General and party cordially greeted the officers and other ranks.
In the morning also, the Senior General, wife and party visited the local Tatmadaw hospital in Loikaw. They comforted the monks, officers, other ranks, families and local people who are receiving medical treatment and presented foods to them.