Nay Pyi Taw October 11
Commander-in-Chief of Defence Services Senior General Min Aung Hlaing, who is in Lao People's Democratic Republic on a goodwill visit at the invitation of Minister of National Defence of Laos Lieutenant General Chansamone CHANYALATH, paid a courtesy call on Laotian President H.E. Mr.Bounnhang VORACHITH at the Presidential House in Vientiane this afternoon.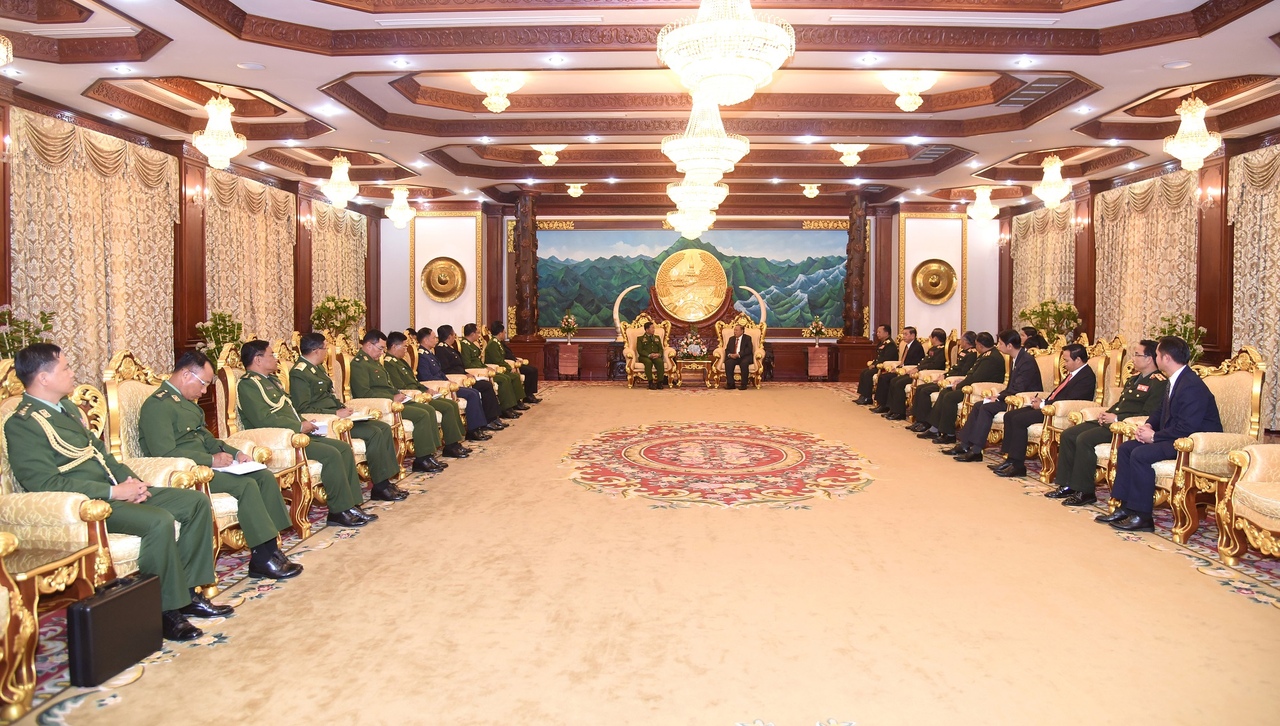 Also present at the call together with the Senior General were Lt-Gen Than Tun Oo and senior military officers from the Office of the Commander-in-Chief (Army), Myanmar Ambassador to Laos U Ko Ko Naing and Myanmar Military Attaché (Army, Navy and Air) Col Kyaw Kyaw Min. The Laotian President was accompanied by Minister of National Defence of Laos Lieutenant General Chansamone CHANYALATH and officials.
First, the Laotian President extended greetings saying that the relations between Laos and Myanmar and between the two armed forces are improving. It is hoped that the Commander-in-Chief of Defence Services of Myanmar's visit will further strengthen the existing bilateral relations and cooperation.
The Senior General for his part expressed thanks to the President for the acceptance of the delegation's visit. He then conveyed the Myanmar President's message on wishing for improved bilateral relations. The Senior General said Myanmar and Laos are inseparable good neighbours and friends. Myanmar is continuing to maintain and improve the fine tradition of good relations by exchanging visits between leaders of the two countries since Myanmar has regained independence.
During the visit, he and the Laotian Minister of National Defence exchanged views on the friendship between the two countries, bilateral cooperation between the two armed forces and security cooperation, and agreements were reached, the Senior General added.
Then, both sides cordially discussed Myanmar's political situations, Laotian support for Myanmar's efforts to seek solutions in a fair and just manner, border peace and stability, good contacts through border, improvement of regional trade through bilateral trade,cooperation in development of tourism industry Tatmadaw's strenuous efforts for achieving eternal peace, anti-narcotics on the border and prevention of illegal trade,exchange of visits between the two armed forces and continued sustainable cooperation,exchange of visits between military cultural troupes and matters related to socio-economic development of two peoples.
After the call, the Senior General and the Laotian President posed for a documentary photo together with those present.