Na Pyi Taw October 31
Myanmar War Veterans Organization(MWVO) as an auxiliary force of the Tatmadaw is a systematically formed organization.They had performed their defence duties conscientiously when they were in service. As the saying that goes by "Once a soldier always a soldier", war veterans will have to be active in shouldering the duties assigned after following the guidelines of the Tatmadaw. It is especially necessary for them to always be imbued with nationalism and patriotism despite their old age with the passage of time, said Patron of MWVO Commander-in-Chief of Defence Services Senior General Min Aung Hlaing in his speech at the second-day session of the MWVO's Special Conference(2018) held at the conference hall of the MWVO Headquarters in Dakkhinathiri Township, Nay Pyi Taw Council Area, this morning.
The meeting was also attended by Deputy Commander-in-Chief of Defence Services Commander-in-Chief (Army) Vice-Senior General Soe Win, Union Ministers Lt-Gen Sein Win and Lt-Gen Ye Aung,Chief of the General Staff (Army,Navy and Air) General Mya Tun Oo, Commander-in-Chief (Navy)Admiral Tin Aung San, Commander-in-Chief (Air) General Maung Maung Kyaw, senior military officers from the Office of the Commander-in-Chief, MWVO CEC Chairman Maj-Gen Mya Win (Retd) and members, the commander of Nay Pyi Taw Command, chairmen of war veterans supervisory committees, conference delegates and invited guests.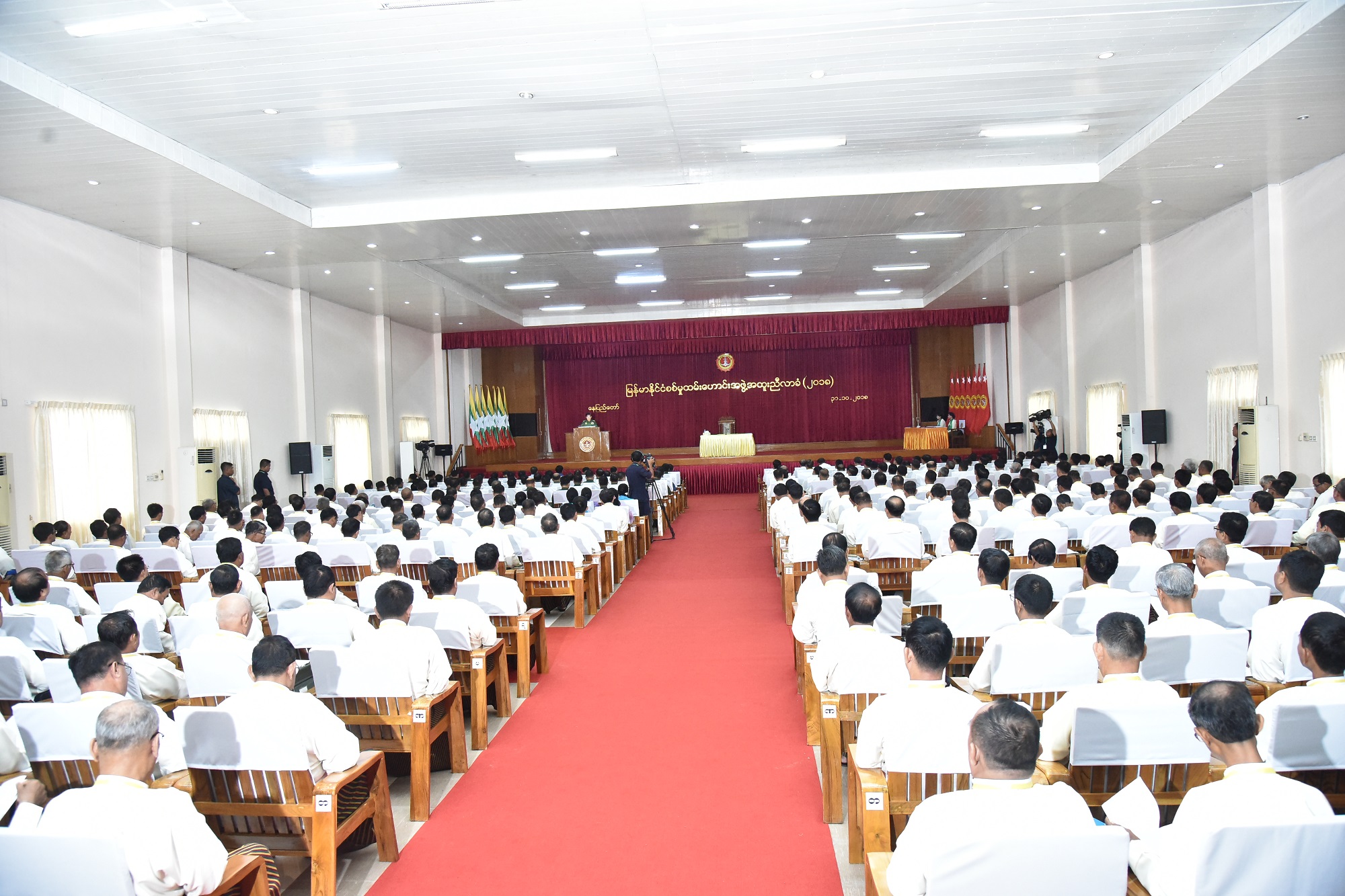 Speaking on the occasion, the Senior General said today's Tatmadaw is the strongest organization of the State. Meanwhile, the War Veterans Organization as an auxiliary defence force is formed with experienced war veterans and those showing goodwill towards the State and the people. In various countries,there are armed forces as well as war veterans who have retired for various reasons. An auxiliary defence force must be formed with war veterans who have military vision and follow command and order. In other words,the war veteran organization is not formed for amateurism. But it is an organization officially formed for national defence duties and for the reliance of the State and the Tatmadaw.
The war veteran organization is formed with those who have retired from the Tatmadaw after reaching old age as well as those who have retired on health grounds. Like they served in the Tatmadaw, they have now taken over such duties as good soldiers. Now they also need to perform the duties assigned in accord with the seven future tasks adopted by the MWVO conference held in 2016. To implement those future tasks, the CEC needs to continue its functions until success as ongoing short-, mid- and long-term tasks have been in place. It is an honour for a good soldier to be able to perform duties conscientiously.It can cause the best effect on the Tatmadaw and the State. So they must serve their duties assigned conscientiously. For war veterans who will take over duties, they must build a more consolidated unity.Only then, will the war veterans organization, an auxiliary defence force of the country, continue to exist for ever.
The Tatmadaw born of people must stand by the people. As the Tatmadaw represents the country,Myanmar War Veterans Organization,since it has regular contact with the people, must serve as a bridge between the Tatmadaw and people.War veterans should be careful with their words and actions that can harm Our Three Main National Causes, the national duty. They should bear in mind that their words and actions can have direct impact on the Tatmadaw, which is associated with veterans' organization. Ours is an independent and sovereign nation.Today, the Tatmadaw is playing its fair share in transforming to modern,developed, multi-party democratic nation according to wishes of people.In so doing, as per the Article 41 of the 2008 Constitution, the foreign policy of the country states that "the Union practises independent,active and non-aligned foreign policy aimed at world peace and friendly relations with nations and upholds the principles of peaceful co-existence among nations." In addition, the Union always adheres to five principles of peaceful coexistence.The Tatmadaw strictly follows the provisions enacted by the Union. It is everyone's knowledge that some foreign countries and organizations ignore the sovereignty of our country and interfere in internal affairs. Nationalistic and patriotic people in various townships have organized rallies to show opposition against one-sided allegations and interference of some foreign countries and organizations in internal affairs of our country,and to show support for actions of Tatmadaw. Such rallies showed that they understand the goodwill of Tatmadaw toward the Union and people, and that Tatmadaw and people are on the same side.Such good tradition should be maintained. Rallying for public support is not a thing to be done in times of emergency, but there is a need to take practical step to show our goodwill to the people by continuously engaging with them,and actively participating in public welfare works.
The most important thing for the people is self-improvement,and physical well-being. For this purpose, there must be good health and proper nutrition. Therefore,veterans should maintain a healthy lifestyle while receiving health care services provided by the Tatmadaw. Similarly, as nutrition is important, individuals as well as the organization as the whole should farm and breed livestock on a manageable scale as much as they can. The Tatmadaw battalions and troops will also give a hand, and there is a need for cooperation to achieve better results.
With globalization process,every country faces challenges in respective fields. All must take part in building a "modern armed forces" to fully protect the country.Tatmadaw alone cannot build modern armed forces, and public support is critically important.He urged them to contribute to development of their respective regions as much as they can as Tatmadawmen, being the members of Tatmadaw, are always ready to sacrifice life and limb to protect the people and the country and have discharged this duty in any party of the country assigned.
The Senior General then cordially greeted war veterans present at the ceremony and posed for documentary photo together with central executive committee members of Myanmar War Veterans Organization.