Nay Pyi Taw January 2
The opening of DENTOMEC toothbrush and toothpaste factory, established with a view to substituting imports and supplying low-cost products for the health of people, was held this morning at the factory compound near Yangon-Pyay road in Mingalardon Township,Yangon Region. It was attended by Commander-in-Chief of Defence Services Senior General Min Aung Hlaing.
Also present on the occasion were Commander-in-Chief (Navy) Admiral Tin Aung San, Commander-in-Chief (Air) General Maung Maung Kyaw, senior military officers from the Office of the Commander-in-Chief(Army), commander of the Yangon Command Maj-Gen Thet Pon, officials of dental medical unit, invited guests and factory staff.
Chairman of Myanmar Economic Corporation(MEC) Adjutant-General Lt-Gen Nyo Saw, commander Maj-Gen Thet Pon and MEC managing-director U Thant Swe cut ribbon to open the factory. The Senior General then unveiled the signboard of the factory, and sprinkled scented water to the plaque. Then,they posed together for documentary photos.
In his speech to mark the opening of the factory, the Senior General said a country has three driving forces—political, defence and economic forces. Of them, economic driving force is the most important. Only when the economy is strong, will people enjoy secure livelihoods and a good standard of living,will there be political stability and can the defence power be improved. There is a need to make efforts to produce consumer goods and foodstuffs that are consumed by the general public in their daily lives and that have domestic demand in order to contribute to economic development of the country. It is important that there is a market for domestically produced products. Myanmar imported $-5.46 million worth toothbrushes and $-22.26 million worth toothpaste in 2017-2018 fiscal year; and $-4.45 million worth toothbrushes and $-3.34 million worth toothpaste in mini budget of 2018, said the Senior General attributing this to the lack of import-substitute factories in the country.
Plans must be adopted to help reduce the use of foreign currency in order to substitute imports. The larger import market share in domestic market means large amount of currency flowing out of the country.Therefore, there is a need to manufacture finished products domestically instead of exploiting and selling the natural resources in raw, and secure the domestic market and there is also need for the people to purchase domestically made products. In post-war period, Japan rose from ashes to an economic power as Japanese citizens only used and consumed locally made products. So was the case of Korea. As Myanmar produces only a few on its own, it has to import large volumes to fulfill the domestic demand and inflation occurs as a result. Myanmar has seen trade deficit every year and despite its efforts to reduce the gap, the difference is still in millions of US dollars. He urged the manufacturing companies to contribute to reducing the trade defi cit of the country.
Regarding employment opportunities,the Senior General said there are over 50 million people in the country, of whom the working-age population is around 33 million,and only 21 million of them are employed while some are working in foreign countries.There is a need to create job opportunities in the country and only when the number of migrant workers is reduced, Myanmar will gain benefits from its working population. There is a need to implement resourcebased manufacturing. The toothbrush and toothpaste factory is intended to substitute imports and is believed to contribute to a certain extent in economic and social sectors of the country. Moreover, the economical use of water, electricity and other facilities will also facilitate the economy. Collaborated efforts in domestic manufacturing industry for economic development will ultimately help achieve the political objectives, he said.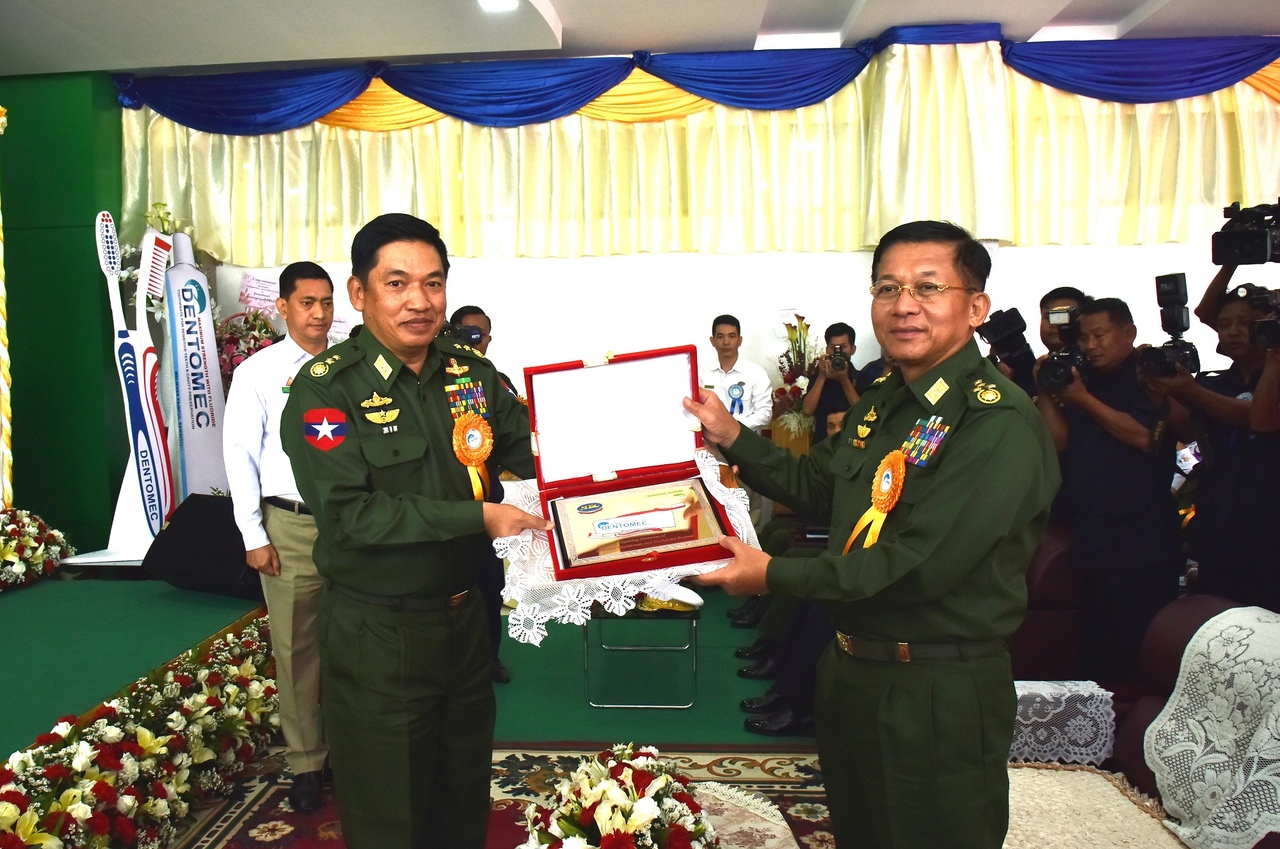 MEC managing-director U Thant Swe elaborated on capacity of the factory. Lt-Gen Nyo Saw presented commemorative gifts to the Senior General and Commander-in-Chief(Navy) and Commander-in-Chief (Air). The Senior General then presented fruit baskets to foreign technicians who took part in building the factory.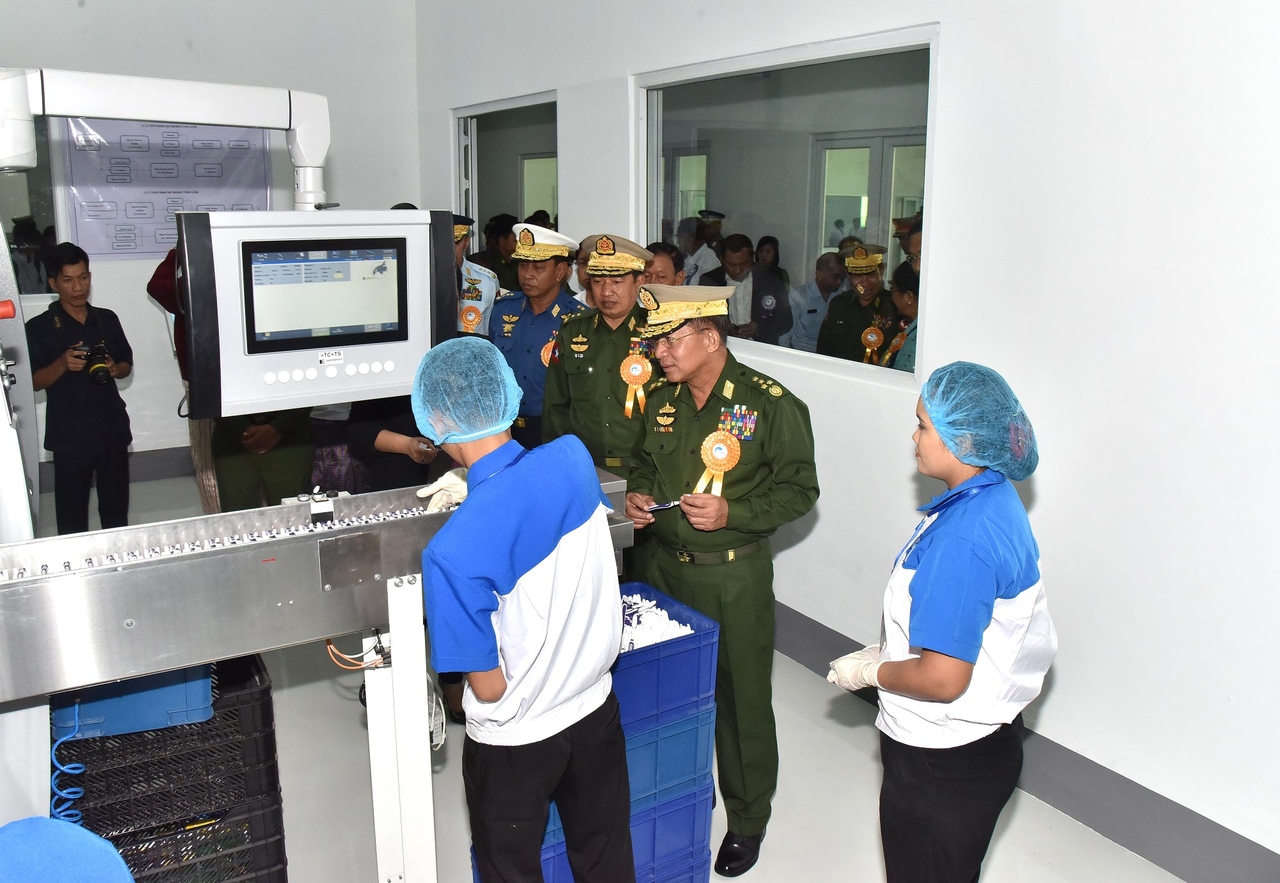 The Senior General and party inspected production process. With German and Swedish technologies and internationalstandard modern equipment, the factory will distribute low-cost and healthy toothbrushes and toothpaste as import substitution products to domestic market.