Nay Pyi Taw March 27
The Parade of the 74th Anniversary Armed Forces Day took place at Nay Pyi Taw military parade ground this morning with an address by Deputy Commander-in-Chief of Defence Services Commander-in-Chief (Army) Vice-Senior General Thiripyanchi Soe Win, on behalf of Commander-in-Chief of Defence Services Senior General Maha Thray Sithu Min Aung Hlaing. Military personnel of the Tatmadaw (Army, Navy and Air), female parade company of the Tatmadaw (Army),members of Myanmar Police Force and female parade company of MPF in columns which would participate in the parade ceremony of the 74th Anniversary Armed Forces Day for 2019 took positions at Thithat parade ground and participated in it on the parade agenda.
First, the Bagpipe Band and the Central Military Band took the designated position in the parade ground.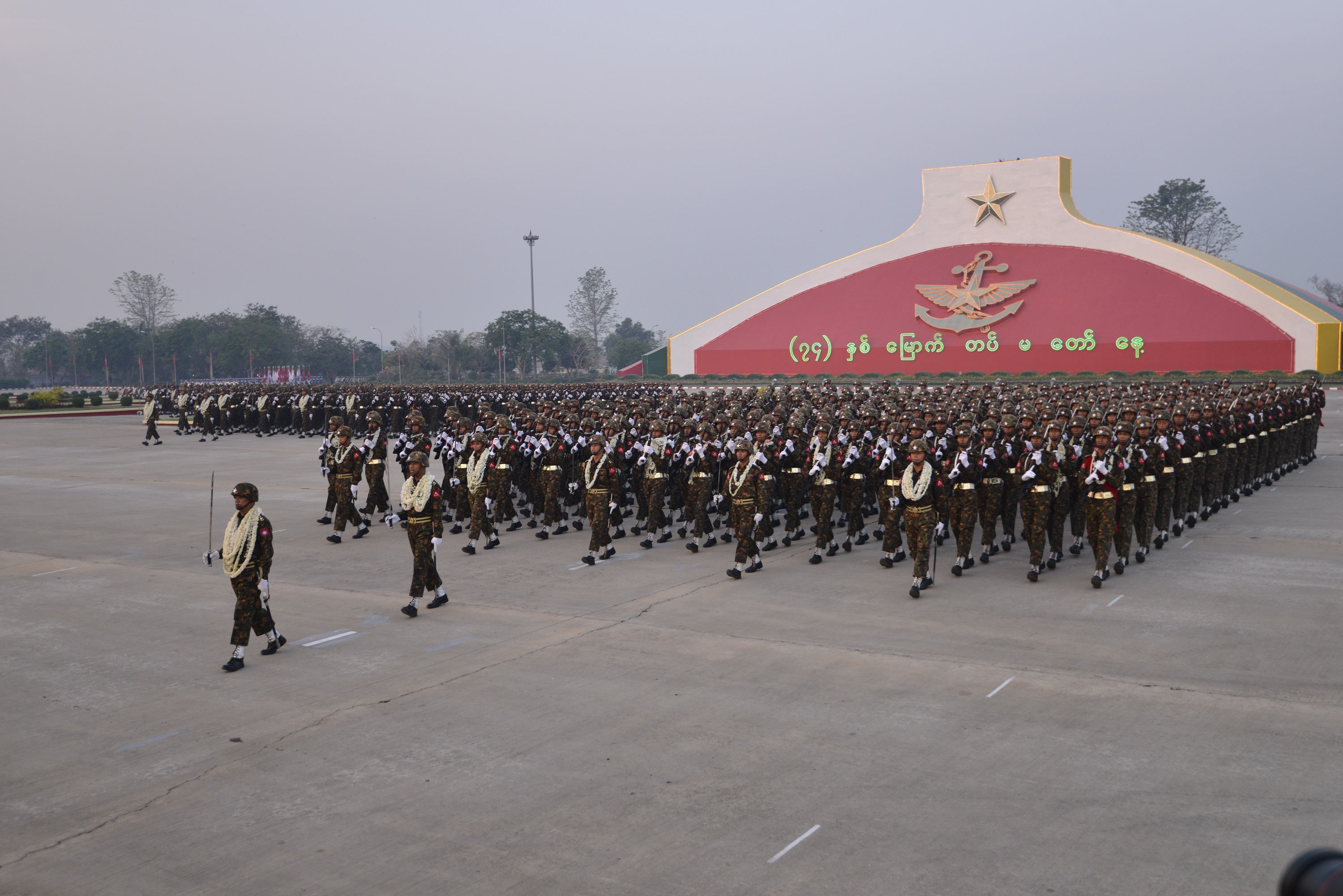 Then, the flag bearers led by Parade Commander Brig-Gen Zaw Hein—followed by Anawrahta Column led by Column Commander Col San Yu Naing comprising the parade companies representing the Directorate of Military Engineers, Directorate of Ordnance, Directorate of Electrical and Mechanical Engineers,South-West Command and Directorate of Medical Services; Kyansittha Column led by Column Commander Col Myint Tun Naing comprising the parade companies representing Directorate of Signals, Directorate of Supply and Transport, Directorate of Military Weapons, Yangon Command and Military Operations Command Headquarters;Bayintnaung Command led by Column Commander Col Tun Lu comprising the parade companies representing the Office of the Commander-in-Chief (Navy), Directorate of Artillery Corps, Eastern Command,South-East Command and No. 1 Company of the Office of the Commander-in-Chief (Navy); Aungzeya Column led by Column Commander Col Tin Soe comprising the female parade company representing the Office of the Commander-in-Chief (Army), No.1 Company of the Commander-in-Chief(Army), Central Command,Triangle Region Command and Military Operations Command Headquarters; Hsinbyushin Column led by Column Commander Col Zaw Zaw Tun comprising parade companies representing the Office of the Commander-in-Chief (Air),Directorate of Armoured Corps, Central East Command,North-West Command and No.1 Company of the Office of the Commander-in-Chief(Air); Bandula Column led by Column Commander Col Myo Khaing comprising parade companies representing the Airborne Crops, Bureau of Air Defence, Southern Command,Coastal Region Command and Military Operations Command Headquarters;and Myawady Column led by Column Commander Police Colonel Oakka Ko comprising parade companies representing female company and No. 1 female company of Myanmar Police Force,No. 1 male company, No.2 male company and No. 3 male company of Myanmar Police Force-marched to the parade ground.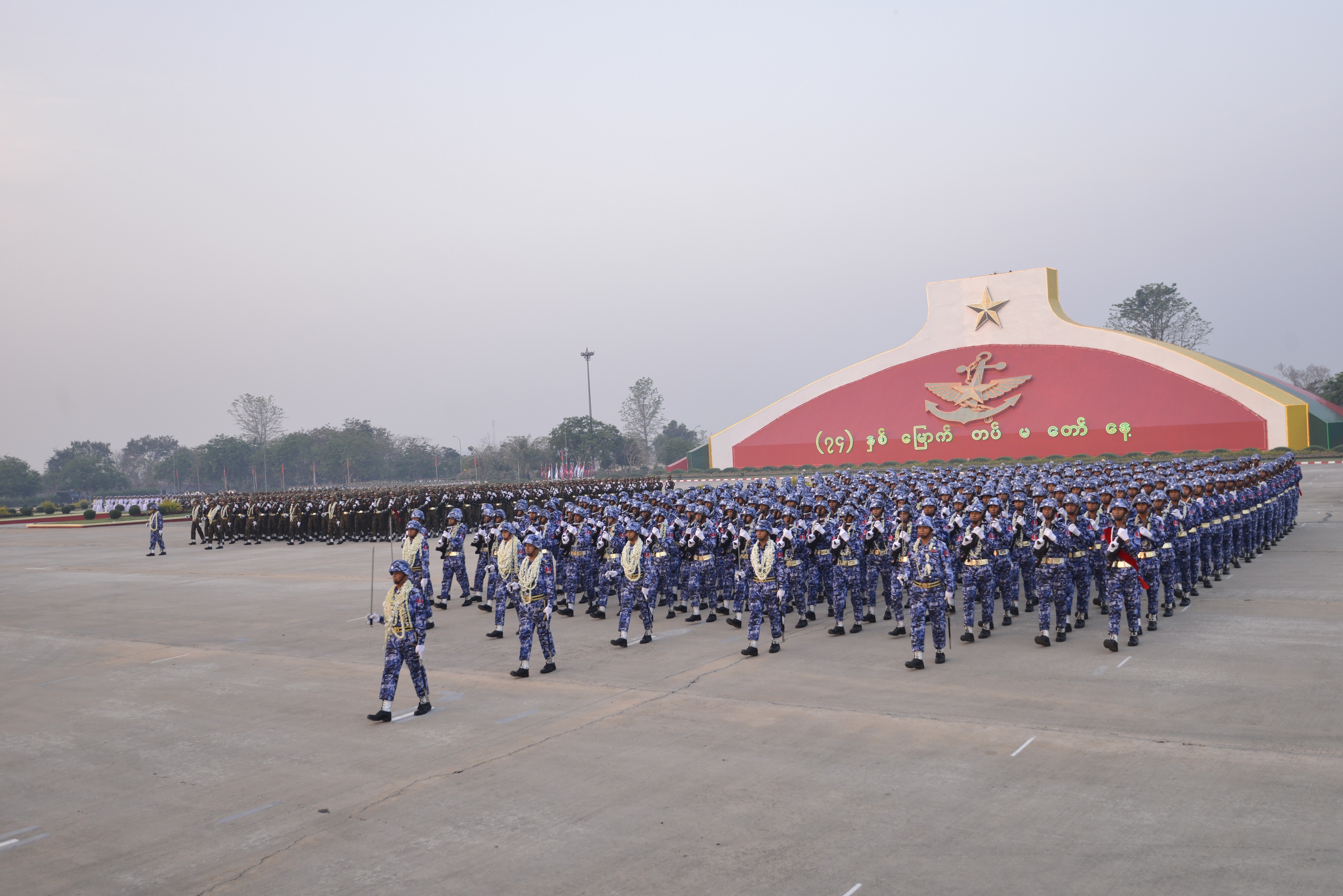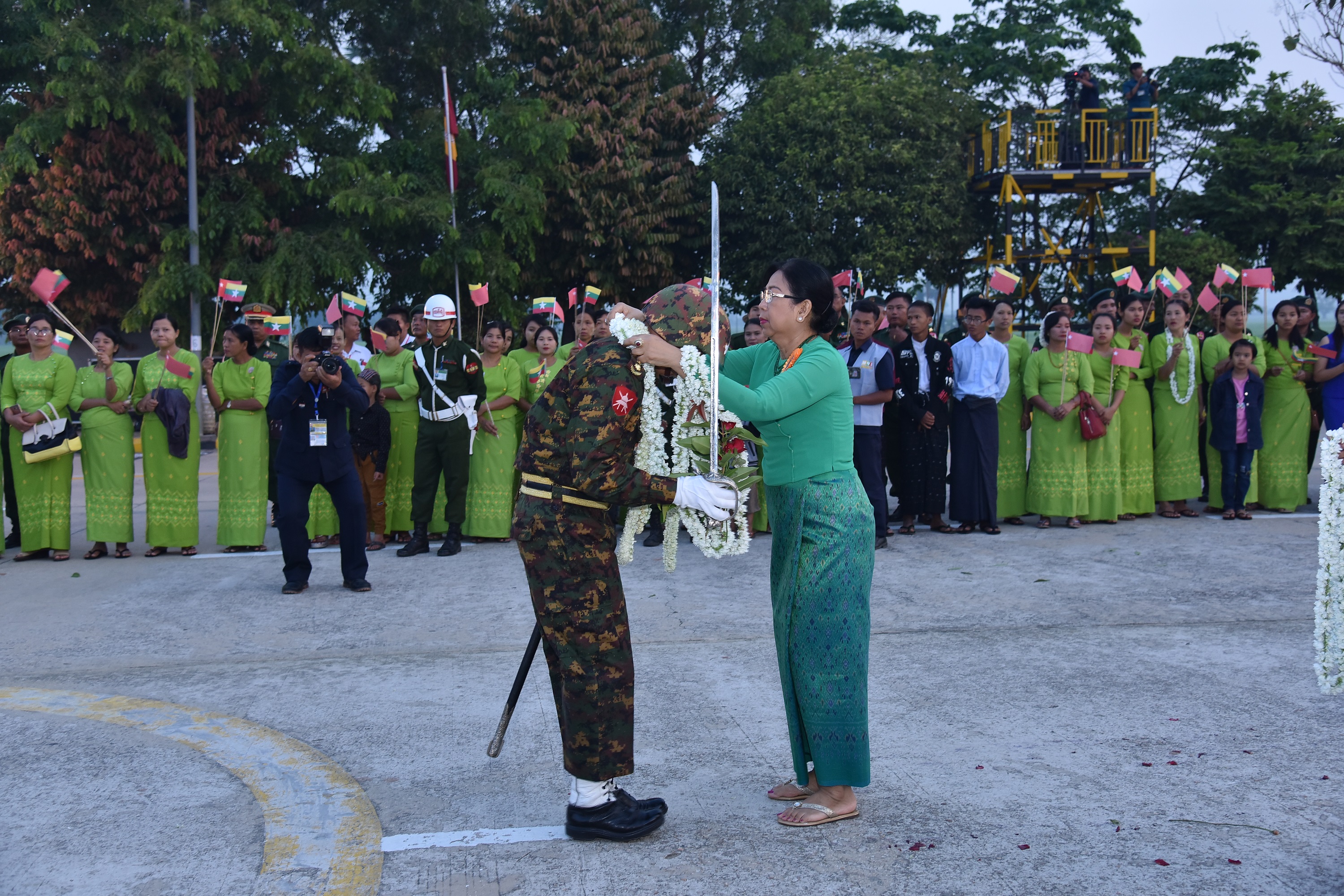 On the route, Daw Kyu Kyu Hla, wife of the Commander-in-Chief of Defence Services, Daw Than Than Nwe, wife of the Deputy Commander-in-Chief of Defence Services Commander-in-Chief (Army),Daw Thet Thet Aung, wife of the Chief of the General Staff(Army, Navy and Air), Daw Than Than Aye, wife of the Commander-in-Chief (Navy),Daw Aye Aye Than, wife of the Commander-in-Chief(Air), and wives of senior military officers of the Office of the Commander-in-Chief garlanded the participants of the military parade.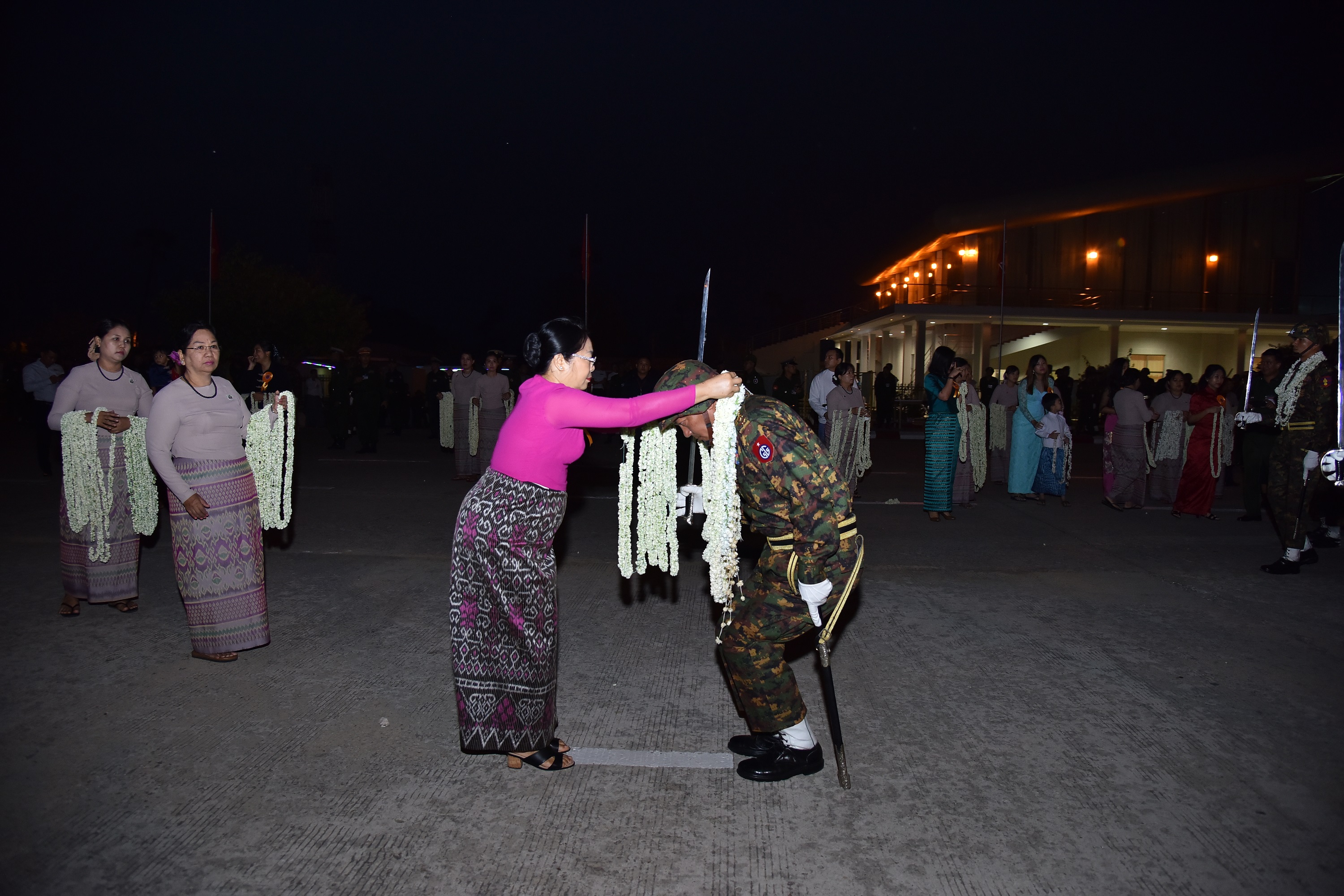 Likewise, officers, other ranks and families of the Office of the Commander-in-Chief(Army), those from Nay Pyi Taw Command Headquarters and military stations and over 11,000 local people heartily welcomed and garlanded the military personnel along their route. A total of 12,438 Tatmadaw men and police members from the military columns sang the marching songs in chorus with patriotic and nationalistic spirit and then took positions at the Parade Ground.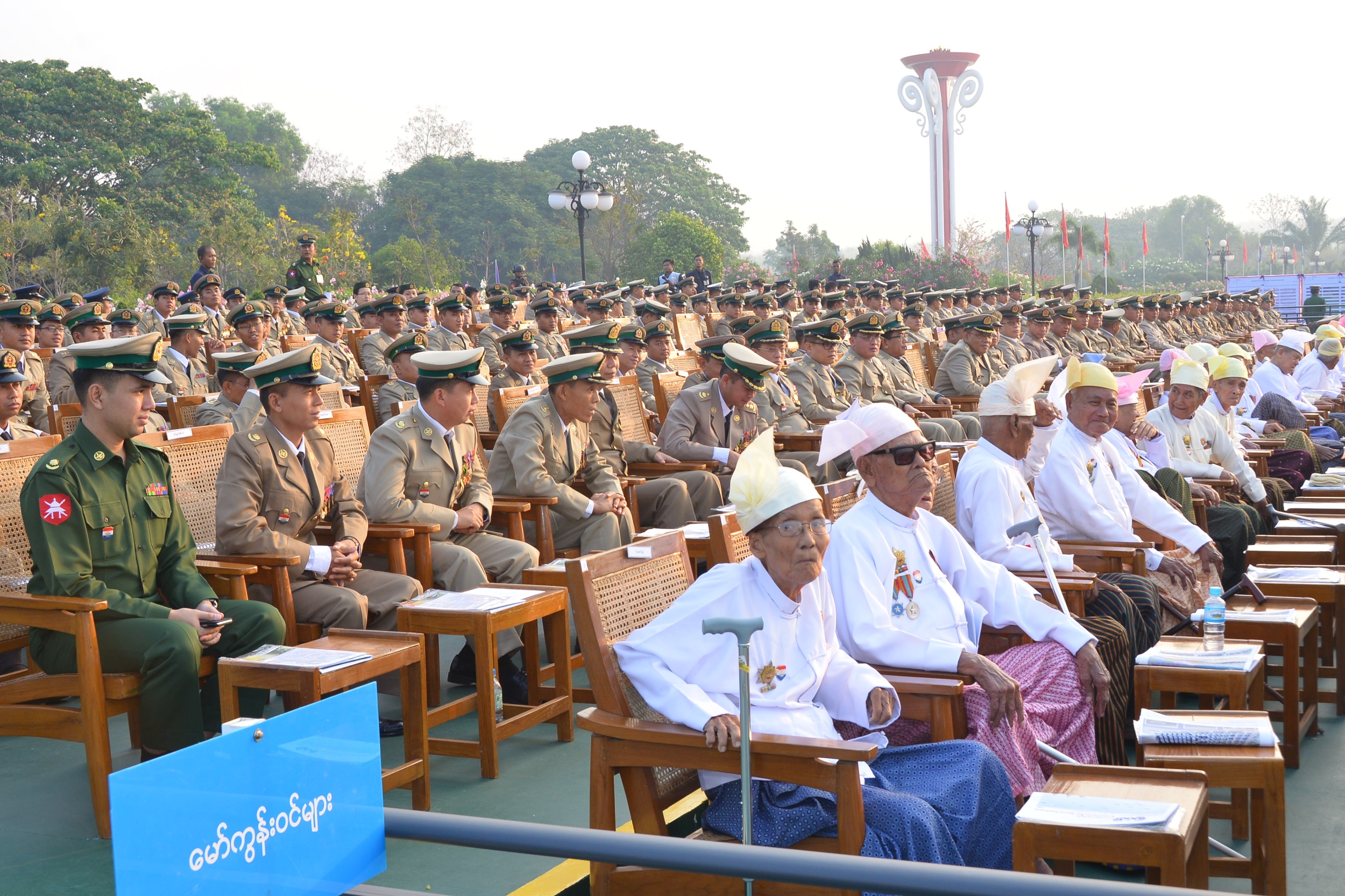 The Parade of 74th Anniversary Armed Forces Day for 2019 was also attended by Chairman of Constitutional Tribunal U Myo Nyunt, Deputy Speaker of Pyithu Hluttaw U Tun Tun Hein, Deputy Speaker of Amyotha Hluttaw U Aye Tha Aung,union ministers, Chief of the General Staff (Army, Navy and Air) General Zeya Kyawhtin Mya Tun Oo, Commander-in-Chief (Navy) Admiral Zeya Kyawhtin Tin Aung San, Commander-in-Chief (Air) General Zeya Kyawhtin Maung Maung Kyaw, senior military officers, Independence Mawgun First, Second and Third Class Award winners,retired senior military officers, chairmen from the Hluttaw committees, Defence Services personnel representatives of Hluttaw, families and relatives of Aung San Thuriya title winners, officers and other ranks who were awarded Thiha Thura and Thura titles and gallantry medals in 2018,representatives from the armed ethnic groups who have signed the NCA, members of the People's Militia and Border Guard Central Advisory Group, military attachés and officials from foreign missions,officials from Myanmar Police Force, Myanmar Fire Brigade and Myanmar Red Cross Society, members of Myanmar War Veterans Organization,students from University for Development of National Races, members of the University Training Corps,members of Myanmar Press Council, artistes, winners in the marching and military songs, poem, short story and novel contests, managers,instructors and trainees from marine youth training course and aviation youth training course, and invited guests.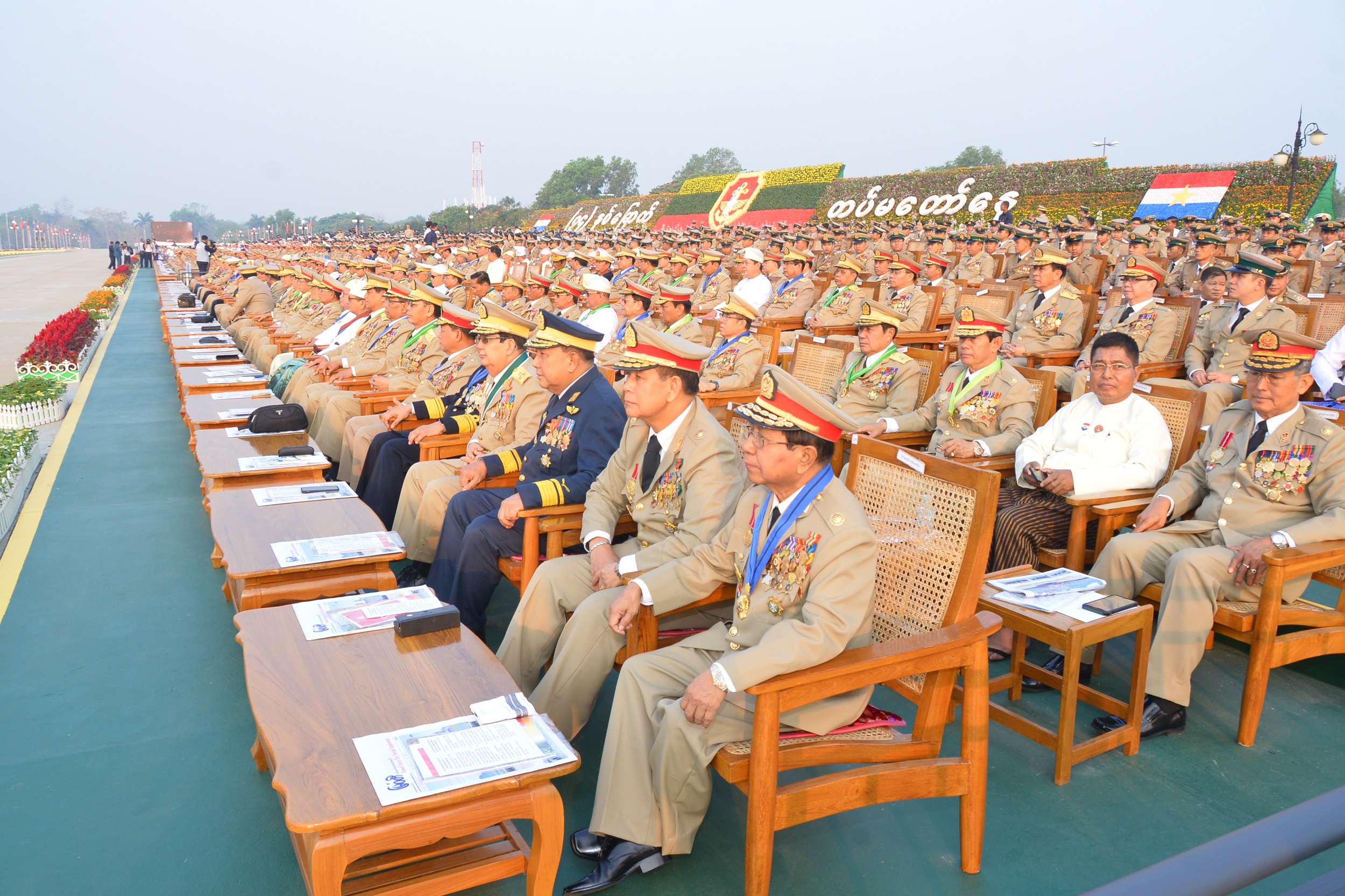 Vice-Senior General Thiripyanchi Soe Win, Deputy Commander-in-Chief of Defence Services Commander-in-Chief (Army), arrived at the parade ground and took position at the review stand.The Tatmadawmen from the military columns and members of Myanmar Police Force saluted the Vice-Senior General. Then, the Vice-Senior General inspected the parade columns.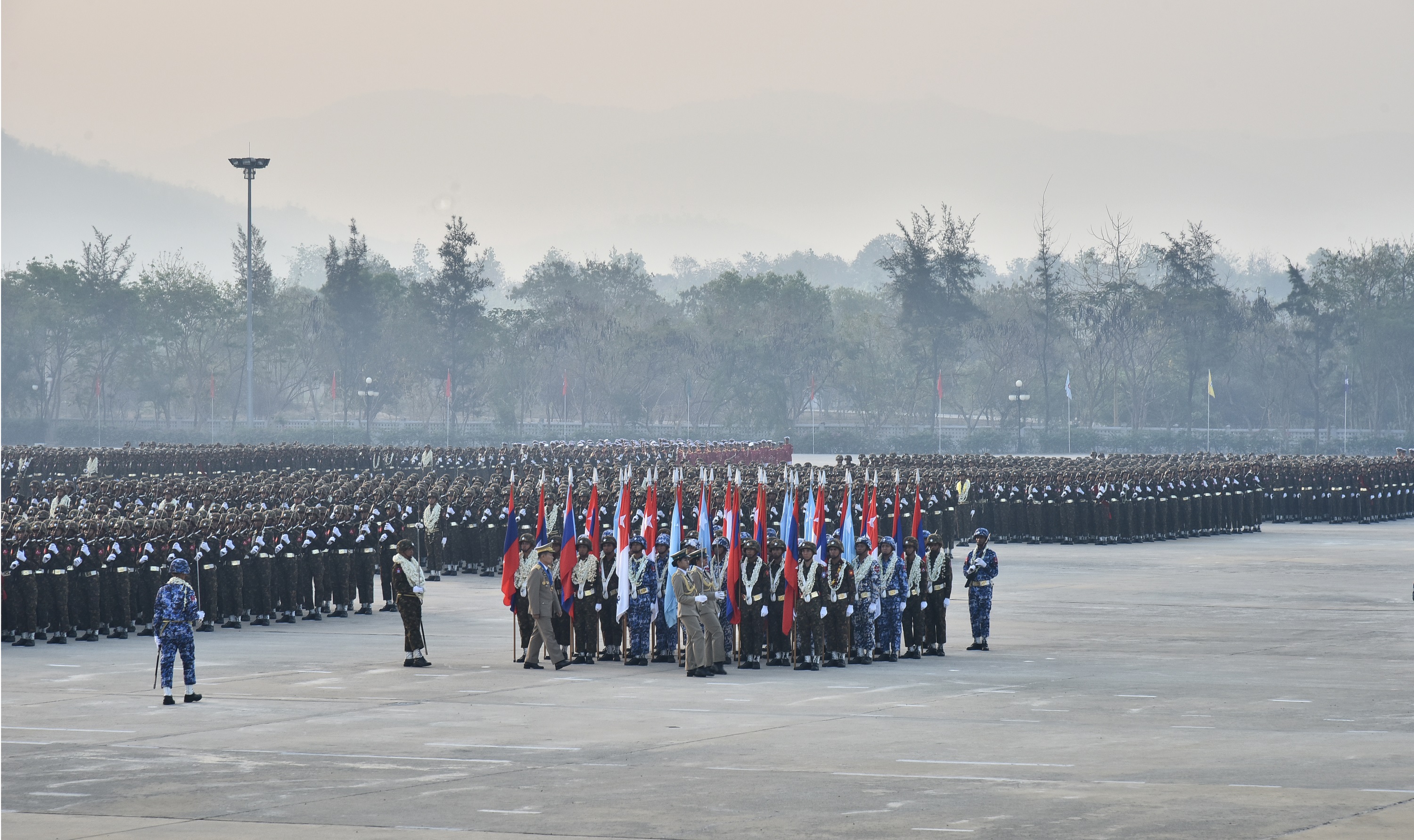 While those present taking the salute of the Flag of the Republic of the Union of Myanmar, the central military band played national anthem.Afterwards, they saluted the fallen Tatmadawmen and Tatmadawmen (Army,Navy and Air) from the parade columns and MPF members recited the Four Oaths in chorus.
On behalf of Commander-in-Chief of Defence Services Senior General Maha Thray Sithu Min Aung Hlaing,Vice-Senior General Soe Win said our Tatmadaw in collaboration with the people strived for Independence and stood firmly for our country as a mighty strength not to relinquish Independence and Sovereignty. At the very date of Independence in 1948,national solidarity became feeble, and both trust and cognition fell into diversion due to the suspicions laying hedges for our Independence struggle ignited from divideand-rule policy of colonialists.Consequently, internal conflicts that posed a dilemma for the country came into being. Our Tatmadaw safeguarded the Union not to be disintegrated and relinquish national sovereignty.Besides, Tatmadaw defeated the invasion of Kuomintang in Shan State and insurgency of Mujahideen in Rakhine State with much sacrifices. In consequence of Kuomintang's invasion, our Tatmadaw was obliged to eradicate narcotic issues and mass growth of opium cultivation through military operations. In the same vein, we are yet to solve the ensuing problems ignited by Mujahideen insurgents so far.
Since Independence, our country formed the various governments and practiced with different governmental systems from time to time. As a consequence of weakness of some systems, underprivileged experience and practice,diffidence about the system,and interference of external elements,1958 Political Crisis,1962 the threat of Disintegration of the Union, and 1988 Uprising and Devastation of Administrative Mechanism had happened. Thus, our Tatmadaw had to stand tall and take care of national responsibility, facing the risk of Union Disintegration,Independence and National Sovereignty imminent to lose. Tatmadaw laid down the political, economic and social foundation in order to build up the forthcoming people's 'desired nation' whilst fulfilling responsibility for the country in 1988. The prerequisite Constitution was ratified and promulgated by holding a nationwide referendum in order to implement a democracy and market economy system.It was conducted to abide by multiparty democratic system and guaranteed for tranquility of democratic transition. The Constitution (2008) is the Law that guarantees the country and its people including rights,duties and formation to each citizen and all institutions are enacted. In drafting the Constitution (2008), experts and ethnic representatives who experienced in political,security, administrative,economic, social and legislative affairs participated and made a constructive discussion to be in line with realities for the national interests without any threat and interventions. Whilst practicing the Constitution for 8 years, the enhancement of democratic, economic and international relations reform in respective sectors including the Government and the Legislative Body;Hluttaw can also be seen.Although strong legal system is the best, there is no perfect one. Thus, the amendments will be made if necessary.The points agreed by Ethnic Armed Organizations (EAOs)in the meetings related to the Union Peace Conference have been proposed to the Hluttaw as the part of Union Accord.Those agreed points should be taken into account when the constitution is amended. As the Union Peace Conference is still under process, amendment of the constitution will be more meaningful only after the inclusion of the additional points is made. While amending the constitution, in order not to happen unnecessary political hardship and its spillover effects, it must be carried out step by step with the manner of amendment prescribed in the Chapter 12 of the Constitution, in accordance with the laws. Democracy is a functional work in orders as legal system according to common people's aspiration.It is also needed to respect to the desire of minority.Unity in disapproval is like Myanmar saying: "လူအမ်ားညီလို႕ "ဤ" ကို "ကၽြဲ" ဆို". For example,these two words "ဤ" as in /i/ and "ကၽြဲ" as in /kjwe:/ look similar in Myanmar writing, but different meaning and pronunciation. In other words, it refers to being no matter whether it is correct or not by the agreements of the majority. In doing so, it may not only make difficulty but also endanger tranquility toward those who want to practice democratic norms systematically because it is an action that breaks the rules and regulations. Here we also need to embrace moral lessons of the historic events.
Our Tatmadaw is mainly responsible for safeguarding the country, its people, national interests and sovereignty. Hence,the Standard Army which can engage in conventional warfare is being established by means of Defence Capability Building and Defence Modernization.Whilst building up a Standard Army, we not only seek to enhance three critical aspects:military equipment, human resources and competence but also need to closely observe the military doctrines and forms of war, state-of-theart-weaponry and military technology development.National Defence cannot be taken action at one sitting.Furthermore, we can win the battle if there is a wellpreparation according to the principle of war. As a matter of fact, we have to synchronize well-preparation, training and exercises, administration and logistics. In modern warfare,military tactical skills, air superiority and supremacy of electronic technology,modern military ordnance and effectiveness of precisionguided munitions play a vital role. With the technology leapfrogging, we will have to do a great deal, properly and efficiently on military tactics and ordnance. I would like to say that Tatmadaw put an emphasis on promoting education for all military personnel and human resources development because they need to be educated well.I would like you to have a sustainable learning, to build self-control and to acquire knowledge and wisdom as the saying goes; "Library attain Sagacity."
Peace and tranquility of a country is crucial for its development. In doing so, the sectors related to country's development and social wellbeing of ethnic people and its advancement will be successful. There are still internal conflicts based on different conceptions among racial, ideological and religious affairs as a consequence of divide-and-rule policy by Colonialists. As a result of armed conflicts lasting over 70 years, the momentum of our country's development lagged behind the regional countries. Regarding internal peace as one of our country's prioritized mechanisms; it is being undertaken based on Nationwide Ceasefire Agreement (NCA) route to solve ideological difference and illusion among ethnic people within legal framework of multiparty democracy system. In building up the Union based on democratic and federal system, it has to carry out the constructive dialogue with Union Peace Conference through NCA toward the agreement of Union Accord by drawing time frame in progress, to gain the fruitful result of the development, the peace and tranquility, leaving no stone unturned for people.Whilst the peace process is in progress, the Ethnic Armed Organizations (EAOs) are not to put propositions about confusable issues in prior and to add irrelevancy of peace process. EAOs need to negotiate in accordance with the framework of NCA and to step toward the democracy process in the right direction.
The Tatmadaw announced that all military movements have been ceased from 21st December, 2018 to 30th April,2019 in Northern, North-East,Eastern, Central-Eastand Triangle Region Command to make a constructive discussion about peace process peacefully and freely. During the cessation of military operations, the channel is open for EAOs to negotiate peace-points including ceasefire in the operational area concerned.During ceasefire, I would like to reiterate that EAOs are to make discussion for peace as soon as possible, either with the National Reconciliation Peace Centre or with the Tatmadaw Negotiation Team by avoiding any activities which can harm the peace process. As the present peace track is leading towards "Eternal Peace", not for momentary, all EAOs are necessary to participate in the process with genuine affection. Instead of having a loose-tongue backwards,but taking advantage of the lessons covered, it will affect the country's development by working together with all nationals. I would like to say that our Tatmadaw will make efforts in achieving the peace process in 2020 and to bring the eternal peace which people long for to the hands of the people. Based on the experience of 2010 and 2015 elections, the unfair ones could be seen in some areas of EAOs. Thus, I would like to urge EAOs to do necessities in politics after signing NCA in order to conduct a free and fair election and not to encounter fraudulent activities. The violent attacks of the ARSA terrorist group in Northern Rakhine State encroached on national sovereignty in 2016 and 2017. Thus, local people were in trouble and the region was in instability.Our Tatmadaw carried out the Counter-terrorism and Stability Operations to make the region tranquil and save the people. The Border Guard Police has been carrying out law enforcement, not to resume violence in the villages where regional stability has been recovered and make an incursion into territorial integrity by ARSA Bengali extremists. On 4th January,this year, four border guard police outposts which carried out regional stability and security to protect from the danger of ARSA terrorist group were disproportionally attacked by AA insurgents.Attacking on police outposts responsible for safeguarding the lives and property of people is like impairing the administrative mechanism.As the sovereignty of the country has been threatened,Tatmadaw will vanquish them.Due to external destructive elements, there was instability in Northern Rakhine.Whilst the ongoing process of tranquility there, local people and their interests can only be endangered by AA insurgents' act of violence.So, I would like to assert that Tatmadaw is going to eliminate any armed insurgents for peace, tranquillity and law enforcement of the Union.
Our Tatmadaw has always been carrying out Three Main Duties: "defend the Nation,undergo Training and Exercise,and Forwarding the Interests of People". To such conduct,Tatmadaw need to be efficient in Three Capabilities: Military Capability, Administrative Capability and Organizational Capability. Only when the Three Main Capabilities are earned, there can be fulfilling orders and assigned duties.Besides, the complement of "Three Military Awareness",namely to Train Forever, to have Conscience Forever and to be in Combat-Readiness Forever, is also necessary for defence capabilities.Training is the fundamental task to be efficient in military capabilities. Individuals and units training are also required to be conducted through the military training policies.You soldier must conduct your daily routine properly and that means not only building the Tatmadaw with training but also abiding by the rules and regulations of our Tatmadaw. Moreover, it could raise the qualification of the units through sustainable training. If the administrative capabilities fall down, the military and organising ones will decrease. Military discipline in administrative capabilities is a major one for soldiers to follow. The discipline is under the control of law.Whichever political system has been practised, everyone needs to practice in line with the promulgated rules and regulations. Besides, there must be responsibility and accountability. We soldiers born from the people have to abide by not only Civil Law but also Military Law prescribed by the Union. As our Tatmadaw is an official institution within legal framework, any activity will be practised in accordance with law, bylaw, rules and regulations. If the deeds do not comply with the law, action will be taken. As the action of each soldier has impact on the entire institution, I would like you to follow discipline and be efficient individually.
We, all military personnel must have discipline, obedience,mutual respect and the spirit of a good soldier and live together in unity. Unit organization will be consolidated if you strictly follow the standing orders,dos and don'ts and principles included in the Sixty Codes of Conduct. Similarly, public organizational measures will be conducted in accordance with the Codes of Conduct, fulfilling the requirements of the people and forwarding their interests constantly.In addition, I would like to urge that you are to act together by completing the aforementioned factors so that our Tatmadaw could be entrusted institution for the country and the people. At the beginning of Post-Independence,Tatmadaw proved our mettle in the accomplishment of National Politics, National Defence and Security, State Building and Development,Internal Peace and National Reconciliation through time.At this juncture, we have been catering for the substantial contribution to achieve the values of Democracy. Whilst the Union based on democracy and federalism is being built,we will proceed with carrying out the National Polity like leaving no stone unturned respectively in future.
Tatmadaw members and MPF members of the columns led by Parade Commander Brig-Gen Zaw Hein saluted the Vice-Senior General in military procession and left the parade ground.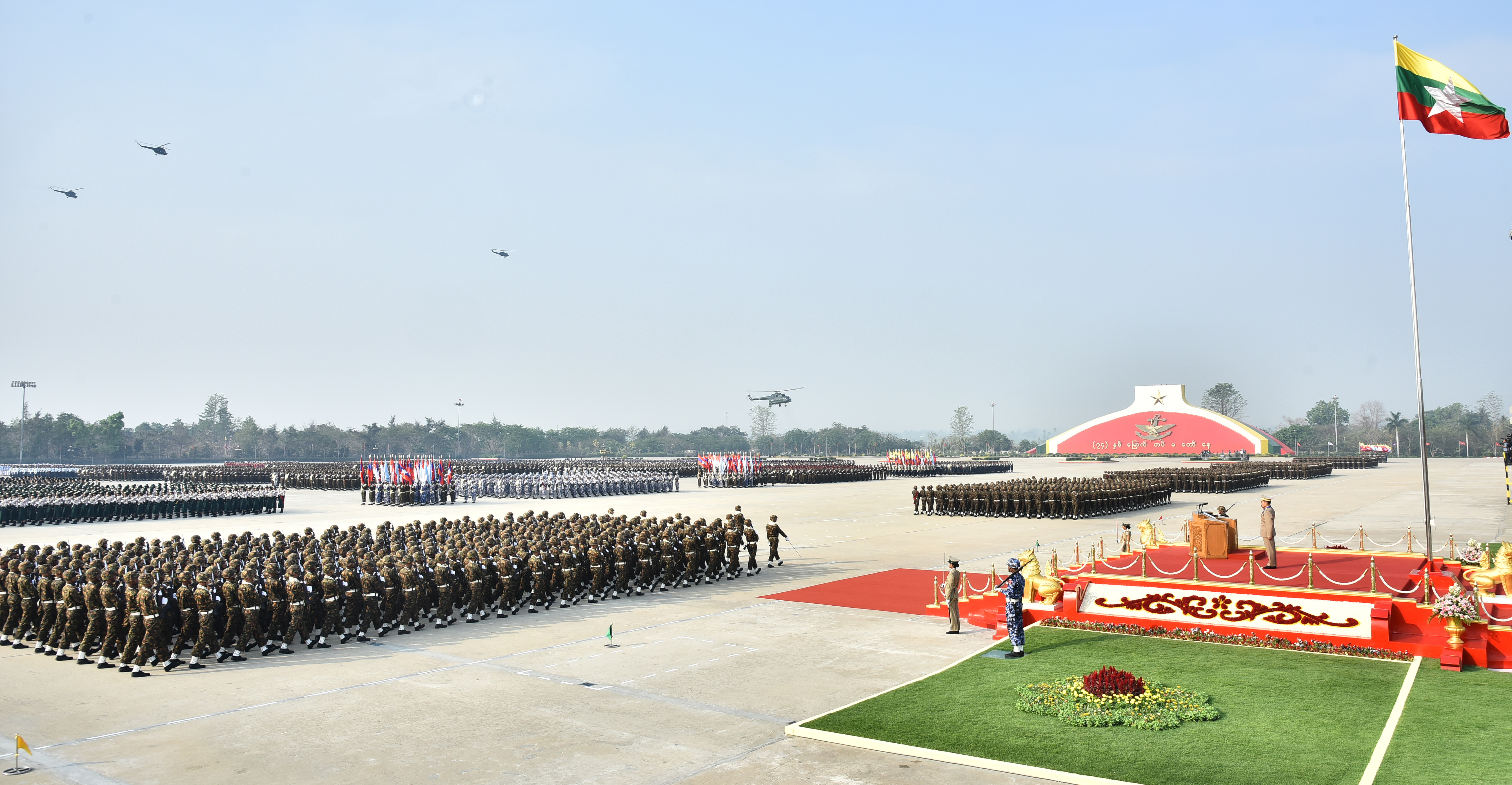 During the time, two transport helicopters of the Tatmadaw(Air) bearing the flag of the Republic of the Union of Myanmar and the flags of (Army, Navy and Air) flew in procession. Officers and other ranks of the parade company representing the Special Task Force (women) and officers and other ranks of Navy Seal of Tatmadaw(Navy) descended from the helicopters through fastroping and joined the parade columns.
Three combat helicopters of the Tatmadaw (Air) and four light transport planes flew in different-type chopper formation, five training aircrafts in arrowhead formation, three medium transport planes in Vic formation, three medium transport planes in Vic formation from the southeast to northwest positions of the parade ground,six light jet trainers in smoke trails, five advance jet trainers in arrowhead formation, four jet interceptors in right finger tip formation, three multipurpose jets in Vic formation, five multipurpose jets in arrowhead formation, five multipurpose jets in fambreak formation while setting off fireworks and were saluting the Vice-Senior General.
Afterwards, the Vice-Senior General left the parade ground and the ceremony came to a stop.
The honourable bronze statues of the founder kings of the First, Second and Third Myanmar Kingdoms, the Armed Forces Day Torch,and the plaque marking the 74th Anniversary Armed Forces Day could be seen with admiration. Moreover, the Burma Independence Army Flag, the Burma Defence Forces Flag, the flags of Tatmadaw (Army,Navy and Air), the flags of the directorates of the Office of the Commander-in-Chief(Army), and the colourful flags bearing the labels of military commands, light infantry divisions and battalions and units were also fluttering on the ground.
Giant posters portraying the activities of Tatmadaw members (Army, Navy and Air) that promote patriotism and nationalistic fervour were erected along Yangon-Mandalay highway near Thittat Parade Ground and Pinlaung junction,posters bearing the mottos of the Tatmadaw in Myanmar and English were erected or hanged along the parade route in honour of the 74th Anniversary Armed Forces Day. Foreign and local media were also gathering news with keen interest.