Nay Pyi Taw May 10
Commander-in-Chief of Defence Services Senior General Min Aung Hlaing held separate meetings with officials of NDAA (Mongla) Group and UWSA (Wa) Group at the parlour of Golden Triangle Avenue of Triangle Region Command headquarters this afternoon.
Present at the meetings were Commander-in-Chief (Air) General Maung Maung Kyaw, senior military officers from the Office of the Commander-in-Chief (Army) and Commander of Triangle Region Command Maj-Gen Khin Hlaing and Chairman U Sai Lin and members of NDAA (Mongla) and U Nyi Kap and members of UWSA (Wa) Group.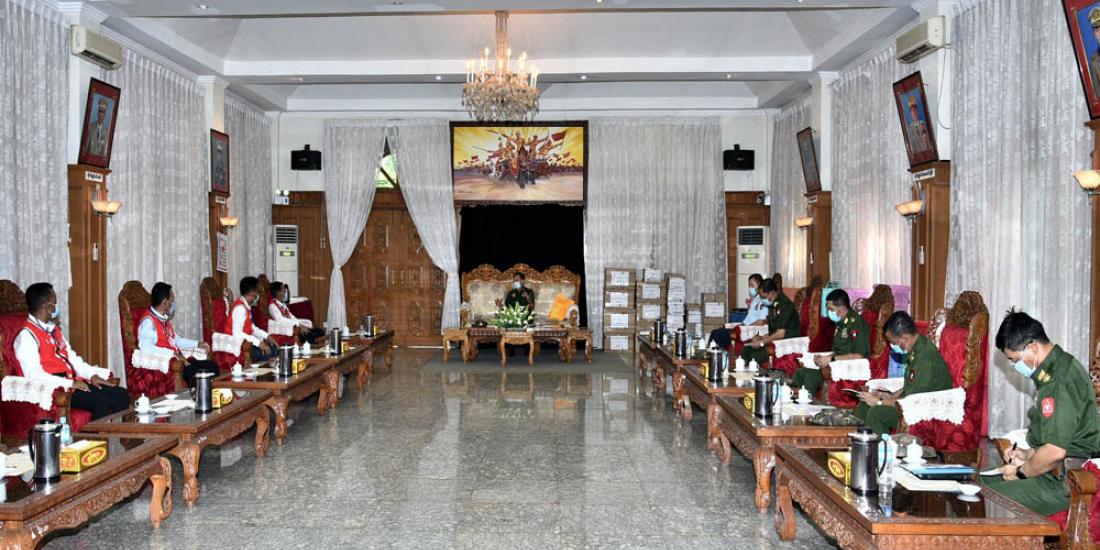 At the meetings, the Senior General said over four million people are infected with COVID-19 in the world, and Myanmar has 178 positive cases. As the virus invisible, silent and odorless, everyone should have the awareness. It is known that Mongla area needs medical doctors, and if the area has not enough civilian medical doctors, Tatmadaw medical teams will be sent. Restrictions issued by the Ministry of Health and Sports must be observed, and people must consume nutritious food for improving their immune system, as the possibility of infection is high if the immune system is weak. As the virus cannot be controlled yet, farming that does not need groups of workers should be conducted to the most possible degree to produce essential goods.
Normally, schools open in the coming June, and if difficulties to open the schools occur because of the virus, ten students should be placed six feet apart from one another in each classroom lectured by a teacher. Myanmar literature, Myanmar language and Buddhist culture courses can be conducted. Records of the persons who come back to Myanmar via the border gates and who are placed in quarantine should be kept, and the facts should be checked. Tatmadaw medical teams will be sent to provide care and protection. Rules of movement should be strictly observed. If medical checks are required, the Tatmadaw will arrange to undergo medical checkups in Kengtung. All should nurture the spirit of relying on own country.
Then, those from NDAA (Mongla) Group and UWSA (Wa) Group said there is no COVID-19 positive case in their areas. Hospitals and clinics are ready to give treatment in case infection occurs. Inspection teams have been formed, and they are conducting medical checks. Border entry points have been closed since January, and checks are being conducted there.
Then, the Senior General pre- sented 500 sets of personal protective equipment (PPE), 10,000 surgical masks, 100 goggles, 1,000 pairs of surgical gloves, two boxes of bleaching powder, 50 non-contact thermometers, 250 bottles of hand gel, 500 N95 masks and foodstuffs each for the NDAA (Mongla) and the UWSA (Wa) to the groups.
Afterwards, the Senior General and party went to the Amazing Keng Tong Hotel in the evening and met with town elders and departmental personnel from Kengtung.
At the meeting, the Senior General said that the first case of COVID-19, which is currently spreading in Myanmar and around the world, was reported in Myanmar on 23 March. As there has been no medicine to control the disease and potential drugs are still in experimental stages so far, the best way to prevent the disease is to adopt disciplined ways of life. Since the region is difficult to access, it is particularly worrying in time of emergencies. The Tatmadaw is taking measures to prevent and control COVID-19 for all energetically regardless of race and religion including in many public places. He urged all to read books and literature that widen knowledge in free time during the stay-at-home period instead of spending too much time on social media and to do indoor physical exercises that can be done individually without requiring teams. In conclusion, the Senior General urged the attendees to work for regional development with farsightedness.
Then, town elders reported to the Senior General on regional development and the Senior General attended to the needs.
Afterwards, the Senior General presented medical equipment for prevention and control of COVID-19 including 10,000 surgical masks, three boxes of bleaching powder, 50 non-contact thermometers, 250 bottles of hand gel, 500 N95 masks, foodstuffs and gifts to the town elders.