Nay Pyi Taw, July 10
Coronavirus Disease 2019 (COVID- 19) is breaking out across the world and also spreading to Myanmar. During the COVID-19 pandemic, Tatmadaw is donating COVID-19-assisted medicines and medical equipment and nutritious foods to specialist hospitals, general hospitals and district, township and station hospitals across the country. This morning, Tatmadaw (Army, Navy and Air) donated medical supplies for COVID-19 prevention, control and treatment and nutritious foods to the Central Women's Hospital. Present on the occasion were Commanderin-Chief of Defence Services Senior General Min Aung Hlaing, Commander-in-Chief (Air) General Maung Maung Kyaw, senior military officers from the Office of the Commander-in-Chief (Army), Yangon Command Commander Brig-Gen Nyunt Win Swe, Head of Yangon Region Public Health and Medical Services Department Dr U Tun Myint, Medical Superintendent Dr Daw Khin May Thwinand members.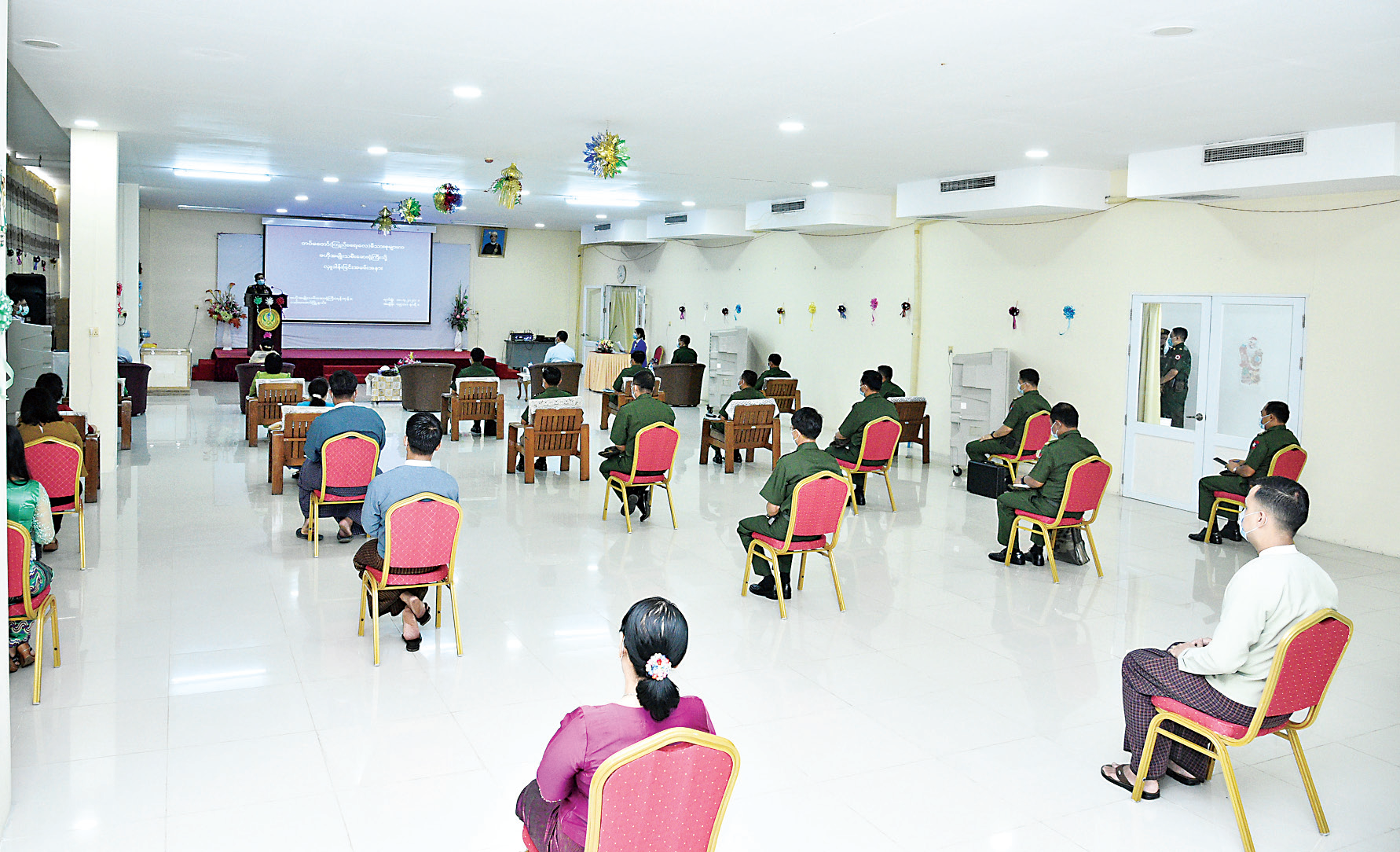 Speaking at the donation ceremony, the Senior General said as the saying that goes by "Good health is a blessing," everyone wants to be in good health. Talking about health, there are two parts: prevention and treatment. Tatmadaw, people and organizations are cooperating in preventive measures while health organizations are handling treatment. As developing countries still have weaknesses in treatment sector, public cooperation is necessary. Tatmadaw is a part of the State and was born of the people. So, it is always giving health and care when it comes to health. The Central Women's Hospital is an important hospital giving treatment mainly to women and mothers for their diseases. Therefore, Tatmadaw is glad to make as many donations as it could to that hospital. Careful lifestyle is necessary during the COVID-19 outbreak. As the virus is invisible and unheard, no infection is impossible. This is why medical supplies for COVID-19 prevention, control and treatment have to be donated. Though the donation may not be great in value, it will contribute to a certain degree. Everyone should take care of their health as nothing is as valuable as a human life. One will be able to work and pursue education only if one is healthy. The donation of such medical supplies is aimed at seeing people stay healthy. Tatmadaw will continue its assistance if is any further requirement, the Senior General said. Next, the Senior General presented 20,000 surgical masks, 500 N95 masks, 500 sets of surgical gowns, 1,000 pairs of gloves, three containers of sodium hypochloride, five sets of Daptone, two sets of CTG machine (fetal monitor), one set of portable ultrasound and one set of portable X-Ray. The donations were accepted by Medical Superintendent Dr Daw Khin May Thwin.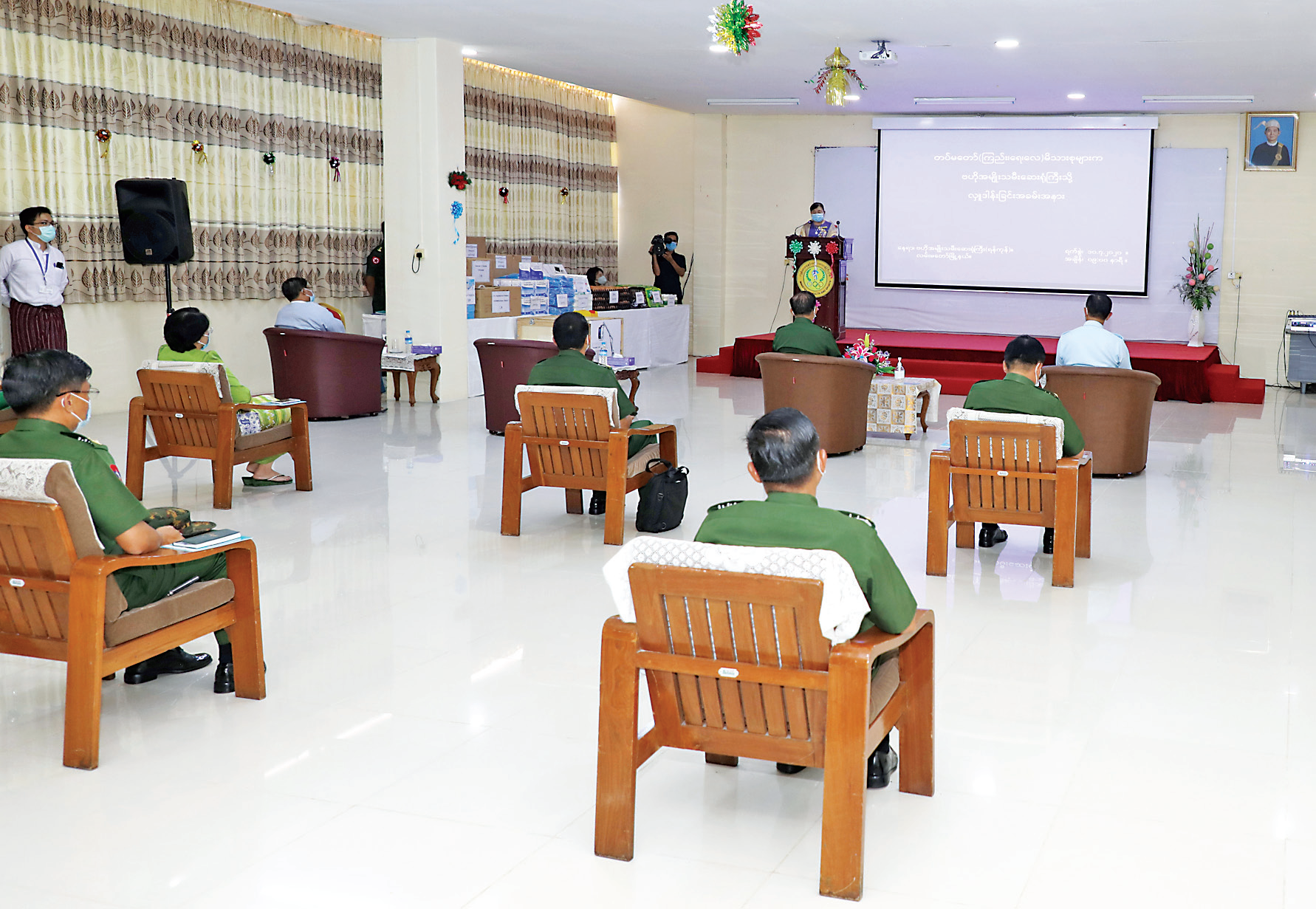 Then, Adjutant General Lt-Gen Myo Zaw Thein presented 1,300 chicken eggs, 1,300 bottles of yoghurt, 44 packs of Shwe Phi Oo and 44 packs of Nan Myaing coffee for the patients and medical staff to the medical superintendent. Then, Superintendent Dr Daw Khin May Thwin spoke words of thanks, saying she thanked the Commander-in-Chief of Defence Services and families of the Tatmadaw (Army,Navy and Air) very much for the donation of preventive materials, medical equipment and nutritional supplements. The Tatmadaw made such donations to the hospital so many times. The Central Women's Hospital is the most advanced obstetrics and gynecology specialist hospital in Myanmar and has admitted suspected COVID-19 patients, pregnant women and endometriosis patients. Therefore, there are shortages of preventive materials and medical equipment. Donations of the families of the Tatmadaw are of great help for the hospital. Moreover, donation of medical equipment like Daptone, CTG machine (Fetal Monitor), portable ultrasound and portable X-ray machines contributes a lot to the tasks for public health of the hospital. It is seen that the Tatmadaw is relentlessly participating in the prevention and control of COVID-19. She said she is proud to see that the Tatmadaw, which has been shouldering heavy responsibilities of the state, is participating relentlessly in the affairs of public health. She said she prayed for the peace of mind and safety of all members of the Tatmadaw, who have always protected the country and the people, so that they can safeguard the country and the people more. Afterwards, the Senior General and party cordially greeted the donors and guests who attended the ceremony. The Central Women's Hospital (800 beds) was first opened at the current building and place in early 1898 as Dufferin Hospital. The name was changed to Central Maternity Hospital in 1963. On 2 April 1969, the hospital was renamed as Central Women's Hospital based on public suggestions as the hospital not only helps deliver babies but also treats women patients.