Nay Pyi Taw October 6
A coordination meeting for COVID-19 prevention, control and treatment, and fulfilling other requirements was held this afternoon at the Office of the Commander-in-Chief (Army) here under the leadership of Commander-in-Chief of Defence Services Senior General Min Aung Hlaing. Present at the meeting were Senior General Min Aung Hlaing, Deputy Commander-in-Chief of Defence Services Commander-in-Chief (Army) Vice-Senior General Soe Win, Union Minister for Defence Lt-Gen Sein Win, Commander-in-Chief (Navy) Admiral Tin Aung San, Commander-in-Chief (Air) General Maung Maung Kyaw and senior military officers.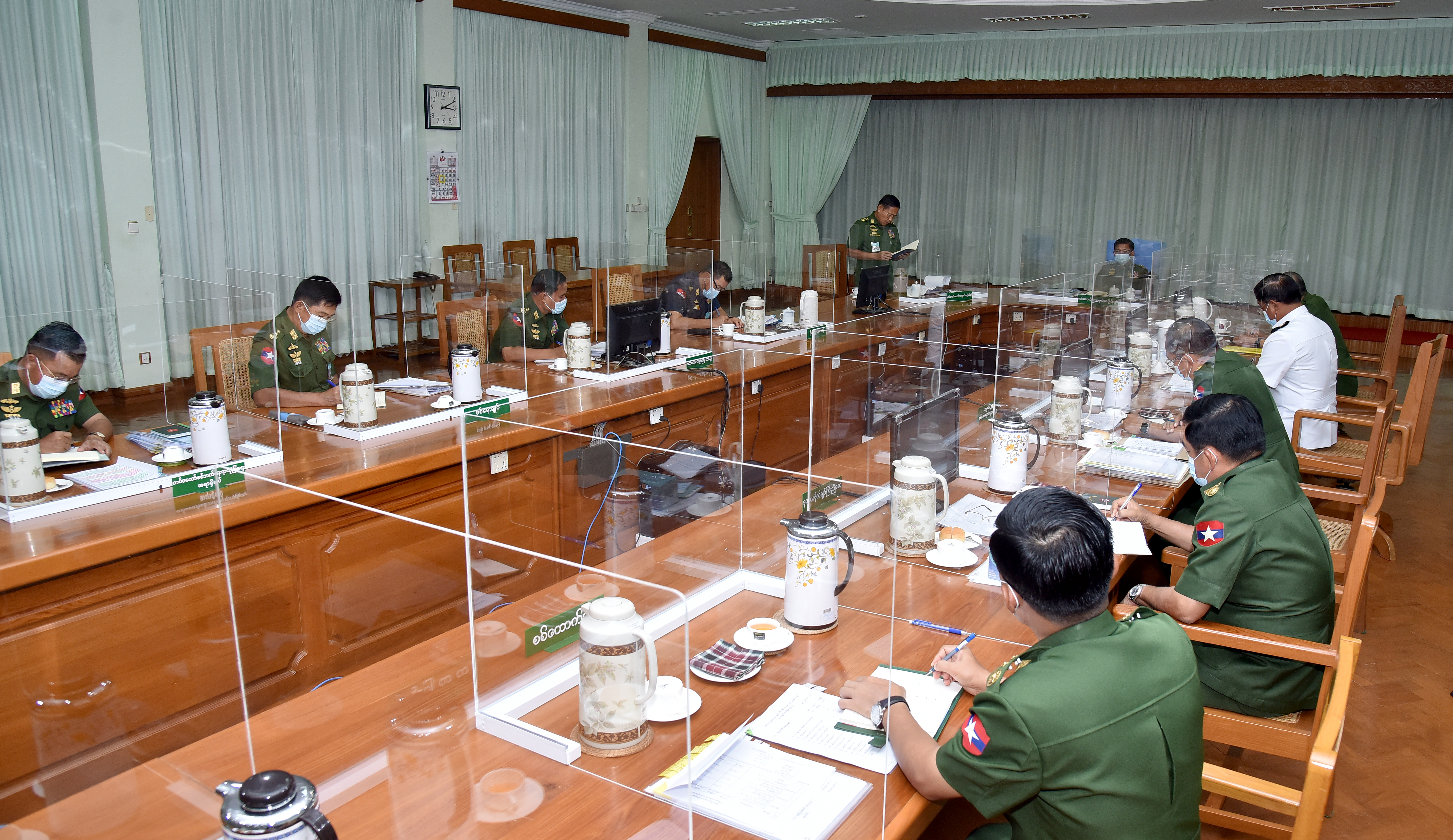 In his keynote address, the Senior General said COVID-19 infection rate is rising in Myanmar, and a total of 18,781 persons were infected with the virus during the period from 23 March, on which infection was first detected in Myanmar, till this morning. September has the highest monthly infection rate. More positive cases are detected when more people are tested, and the positive cases can be cured soonest. The infection rate will increase if we fail to do so. The best way is to conduct test and provide prevention and treatment soonest. At present, Buddhist monasteries,Buddhist Sarthintaiks and public places are the places where infection is high. So prevention should be conducted with accelerated momentum. The Tatmadaw will conduct virus tests at those places. As there is no officially approved medicine for treatment yet, prevention is the best way at present. So, preventive measures will be taken against the virus. Staying at home is the best way, and people should leave their homes only for urgent cases. Works should be operated with the least workforces, and social distancing must be observed. Moreover, people must wear mask without fail. Effective action must be taken against illegal rising of the price of masks and selling of substandard masks. So, masks must be manufactured and distributed at reasonable prices on non-profit basis. Free distribution arrangements for the persons who cannot afford to buy masks must be made. Assistance must be rendered to the most possible degree.
The Senior General then said as it is mentioned earlier, all must wear masks. There may be people who cannot buy masks even if they are sold at low prices. So, masks should be donated to them. People who have to leave their homes for their livelihood cannot afford to buy masks. The Tatmadaw must help these people to the most possible degree. The Tatmadaw has already made a lot of donations for this purpose. First donations were made for war veterans, followed by a series of donations for human societies as they also have the requirements. There are war veterans, retired police and State service personnel, and the long-term donation plans must be made for them. We must look into their requirements. We must give them all what we have, and must share the burden. We must make utmost efforts to free the people from anxieties. We must take into account the ways to ensure food safety for people who are lack of basic needs. Although COVID-19 is only a virus, it brings a lot of social problems. So, it is a serious issue. We must not only think about saving our lives, but also about our survival. Instead of arguing about unimportant matters we must find the best way for our existence. Participants must express their views in all seriousness, while presenting the progress of work.
Those present at the meeting reported on undertakings of COVID-19 control and emergency response committees from regions and states, raising awareness of disease prevention through TV, radio and newspapers on a wider scale, outbreak, infection, death and recovery situations of the disease across the world till this morning, infection of disease in the Tatmadaw, conducting of medical tests with the use of RT, PCR and COBAS 6800, and admitting and giving medical treatment to civilian quarantine patients and approved patients at military hospitals, medical battalions and local military headquarters.
They continued the reports on infection of 1,320 patients per day in the Philippines as the highest rate, followed by 1,435 in Indonesia the second and 229 in Singapore as the third. Currently, Myanmar stands the fourth position of infection rate and the third of dead rate. With regard to dead rate, a total of six persons were dead till the end of August and then reached 304 dead persons in September. But, number of dead persons reached 140 between 1 to 5 October in Myanmar with increasing the dead rate. There are 31.4 percent of urban population and 68.6 percent of rural population across the nation. It can be assessed that as urban population is more than 17 million, if all the urban people are tested, number of infected persons will raise more.
Officials reported on production and distribution of masks, face shields and PPE suits from Tatmadaw factories, grouping the members of military engineering corps to be ready for rapid construction of temporary hospitals and health centres which may be needed in emergency health conditions, gathering of cooker groups for solving the meals of monasteries, nunneries and Sarthintaiks, and storage of rice, cooking oil, salt and gram as reserved rations for Tatmadaw members and the people.
The reports were continued that since the start of disease out-break, the Commander-in-Chief of Defence Services and the Deputy Commander-in-Chief of Defence Services during their visits donated medical supplies for prevention of COVID-19. In this regard, medical supplies for prevention of COVID-19 worth more than Ks-480 million were donated to town elders and local people for 18 times, medical equipment for prevention, control and treatment of COVID-19 worth more than Ks-490 million to ethnic regions for 29 times, more than Ks-60 million to 1,378 persons from civilian organizations, and accepting one day salaries each donated by Tatmadaw members and civilian substitute appointed staff for two months, one month salaries and 25 percent of salaries each by senior military officers and cash donations of civilians, totalling more than Ks-5 billion. So far, more than Ks-4.5 billion of cash donations has been spent and there remains more than Ks-420 million. Such amount of cash will be spent on necessary places under systematic management. Medicines and medical equipments were donated to 1,168 people's hospitals with 100 percent and 1,088 rural health centres, accounting for 56 percent with more plans for donations.
Officials also presented reports on production, distribution and sales of disease prevention equipment from factories and industries under Myanmar Economic Corporation and Myanmar Economic Holdings Public Co Ltd, operating of these factories and industries in accord with the guidelines, efforts of respective military commands to raise health awareness and send medicines and medical equipment to far-flung villages located in poor transport areas, providing supplement nutritious foods worth more than Ks-190 million to patients at 513 hospitals for 5,320 times in respective military command areas from 16 April to date, and purchase, distribution and sales of vegetables from farmers in Aungpan, Pindaya and Ywangan areas facing difficulties to sell the crops.
They also reported on Tatmadaw's airlifting of medical equipment, preparations for the use of Tatmadaw vessels as floating hospitals, the need for health checks in accord with the eight characteristics for the entry and exit of the military areas and the need to live with the restrictions.
In response to the reports, the Senior General said, "When it comes to oxygen supplementation, the ventilators in the Tatmadaw needs to work properly. Oxygen cylinders must be donated for civilian use. Continuous supply is required. Online news spread that enough oxygen cylinders cannot be supplied in the civilian communities. Only those with trouble breathing are supplied with them. I will not talk about whether or not the news is true. But, Tatmadaw needs to distribute oxygen cylinders if it can. Contact must be made with Yangon General Hospital. Tatmadaw has oxygen cylinders which will be supplied. They must be distributed by military vehicle. There are Yangon General Hospital and a 500-bed hospital. There are also hospitals in Nay Pyi Taw. There are oxygen plants in PyinOoLwin and Aungpan. Those patients have lung problems. They have trouble breathing. It is necessary to donate and distribute oxygen."
In conclusion, the Senior General said food is an essential need. Everyone must eat to live. It is especially necessary to ensure food security for Tatmadaw members and the public. Tatmadaw factories must constantly produce foodstuffs and personal goods. The COVID-19 outbreak is seen in 229 countries and regions. In Myanmar, it is spreading in 239 townships. There are only one or two cases in some townships where agriculture and livestock breeding can be carried out. Protection, supply and encouragement are necessary for manufacturing. Foodstuffs are saleable.
Income can be earned from manufacturing. Respective command commanders and station commanders must seek coordination in ensuring smooth transport for smooth commodity flow. Security forces shouldering duties on borderline must take strict preventive measures against outsiders with disease. Rice reserves must be kept in respective military commands, and training depots, training courses and areas. Preparations must be made for meals. Coordination must also be sought to produce food and consumer goods.
As travel restrictions are in place during the outbreak of COVID-19,it is necessary to broadcast beneficial programmes and those on educational development and to urge all to read books that will benefit them. Respective regiments and units are required to train all of them by organizing reading sessions comprising five to 10 members for the formal education. As the number of people who live inside units will increase, it is important for administrative bodies to be patient at motivating them. It is vital to conduct diagnosis tests and give treatments to patients as soon as possible through hard work while carrying out contact tracing. Diagnostic tests must be conducted on people who have had frequent contacts with the surroundings. As those who live outside their units are also members of the Tatmadaw, they must be brought into respective regiments and units, and diagnostic tests must be conducted on them. It is essential to conduct diagnostic tests for war veterans and they must be provided with four food items including rice, cooking oil, salt and gram as much as possible while producing the food items.
Then, the Senior General continued to discuss that, "The situation of the outbreak of COVID-19 from September to 5 October is very worrisome. Therefore, it is necessary for all not to be reckless. Concerning the pandemic, it is necessary for all to report the situation and take measures in real time employing all available means without waiting for orders. It is necessary for all to consult with one another as a single individual may be wavering to make decisions. By working two or three people together, a problem can be solved. By working in a team of five people, better outcomes can be achieved. By working 7, 8, 9 or ten people, even better or complete results can be achieved. Therefore, it is necessary for responsible officials to solve the problem immediately as soon as they learn it first of all. Then, report the situation and consult with one another about it. Afterwards, I would like to say that it is important to take necessary effective measures. I would like to discuss that it is of the utmost importance that issues of national defence are not taken recklessly. It is necessary for all to adopt zero tolerance policy towards problems that lead to food insecurity of the people. It is vital for the Tatmadaw to offer assistance to do everything possible whether it is in regiments, units or civilian quarters."
The meeting successfully concluded at 3.30 pm.