Nay Pyi Taw, December 8
While upgrading our Tatmadaw to be modernized and capable, combat power and combat skill must be promoted with engineering knowledge and effective training in accordance with the motto "Technology for Military Might". Physical and mental training are required to enhance the combat skill. By our three main tasks of the Tatmadaw, "Observe, Practise and Obey," all of you must try diligently with the assistance of perpetual study and application of your experience and knowledge acquired to become decent military engineers for our country and our Tatmadaw, said Commander-in-Chief of Defence Services Senior General Maha Thray Sithu Min Aung Hlaing at the Passing out Parade of the 19th Intake of Defence Services Technological Academy held at the parade ground of DSTA in PyinOoLwin this morning.
Also present were Daw Kyu Kyu Hla, wife of the Senior General, Union Minister for Border Affairs Lt-Gen Thiri Pyanchi Ye Aung and wife, Commander-in-Chief (Navy) Admiral Zeya Kyawhtin Tin Aung San and wife, Commander-in-Chief (Air) General Zeya Kyawhtin Khin Aung Myint and wife, senior military officers of the Office of the Commander-in-Chief (Army) and their wives, Command commanders, the commandant of DSTA, senior officers of the PyinOoLwin Station, invited guests and parents and relatives of the cadets.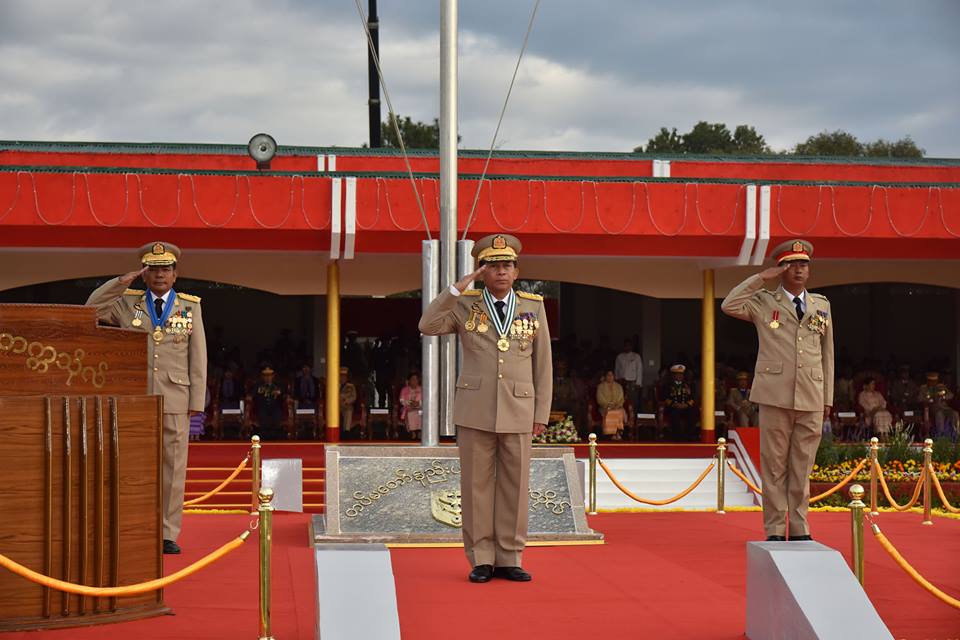 First, the Senior General took the salute of the cadet battalions and inspected them.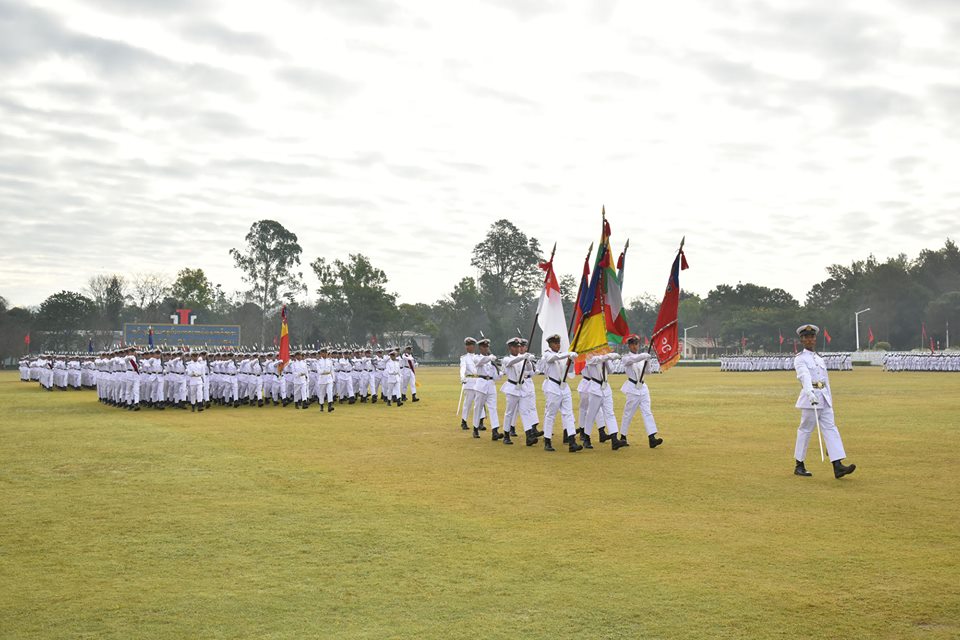 Then, the cadet battalions saluted the Senior Genera with slow-march past and quick-march past.
The Senior General presented Best Cadet Award to Cadet San Ye Kyaw (Cadet No.7076), Outstanding Award in Training to Cadet Zin Ko Htet (Cadet No.7097) and Outstanding Award in Literature to Cadet Kyaw Zin Thant (Cadet No.7060).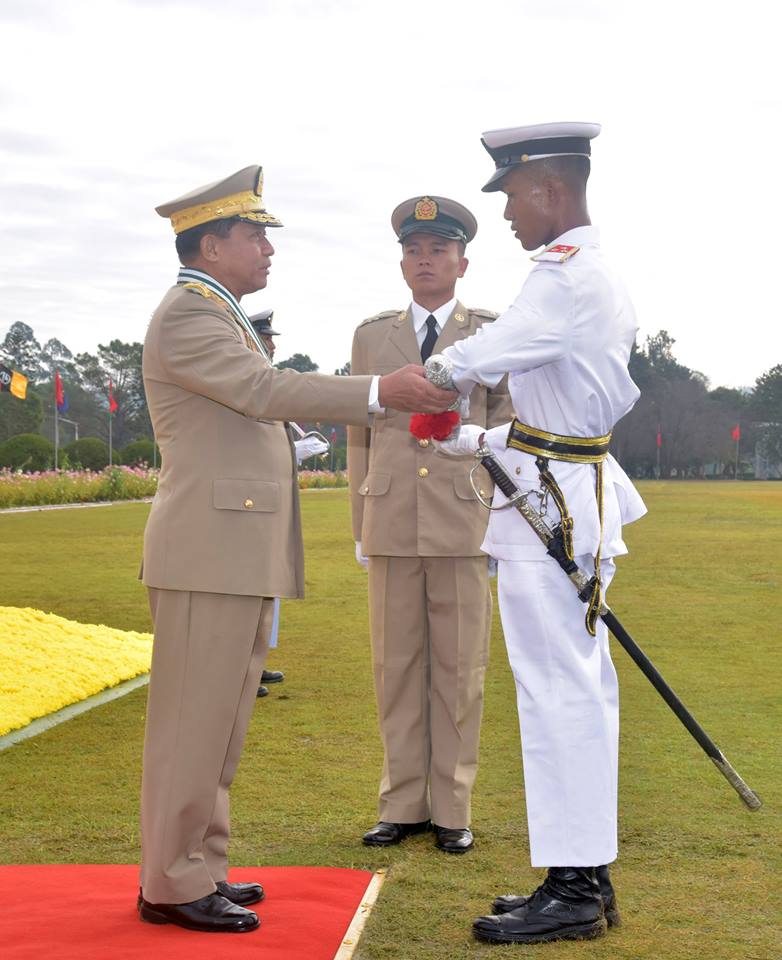 In his speech the Senior General said that in history, our country lost her sovereignty as well as her land, and was colonized as we lacked a modern capable Tatmadaw of the respective times. Our Tatmadaw fought for the independence of our country. In time of all critical changes occurred in Myanmar, Tatmadaw has taken part in saving independence and sovereignty of the state from the lessons learnt in the history of our country, we, in accordance with the current conditions of the state, are building the Tatmadaw as a capable Standard Army. All things considered, like geographical location, circumstantial sectors of present-time warfare and possible future warfare, building a strong modern Tatmadaw becomes an absolute must for Myanmar people and the state so that we can defend home and foreign disturbances. In building strong capable, modern and patriotic Tatmadaw, there are four main tasks to be performed and we are also endeavouring to improve the three capabilities of our regiments.
While building modern Tatmadaw, it is necessary for our Tatmadaw to be strong and capable. To be the capable Tatmadaw, military science, technological development and military revolutions must be learned. In the course of history, principles of war, concept of war, dimensions of war, military strategy and tactics are steadily developing with the collaboration of creative inventions of military weapons and military technology development. In recent years, countries worldwide are encountering many challenges while achieving technological developments in respective fields. Competitions and challenges are emerging continuously as technology is the boundless means of adapting imagination to be practically useful. When technological developments are vigorously advancing with quick flow of information, the gaps between developed nations and those which are undeveloped can affect nations' sovereignty and eventually this may be lost. Therefore, it can be learned that all countries are competitively performing the building of modern Tatmadaw focusing on technology. In the study of building a modernized army of each nation in the world, armies are upgraded and operational principles are changed according to the development of military science and technology. To build a modernized army in accordance with political and economical changes, and military affairs, new ideas, thought, threats and security aspects are learned to alter harmoniously.
Today is a technology era and it is necessary to learn the developing techniques continuously. The important and basic fact to build a modernized army is the high qualifi cation of each and every soldier. Modern education system is used to achieve highly qualififi ed engineers for the purpose of catching up with developing technologies. While observing today's technological education systems, it can be found that the Outcome Based Education System has been replaced. This means that by the end of the course, each candidate must have achieved the goal focusing and organizing what is essential for the candidate, and teaching him to be effi cient in these subjects. The education which DSTA offers is just basic. You all need to learn more continuously about your respective subjects when you are assigned to respective units. Especially to face 21st century modern warfare, a modern Tatmadaw and highly effective weaponry for combat power are required. You know, it is known that highly effective, precise and rapid fi ring modern weapons and equipment can alter the result of a battle. I urge all of you to take a leading role in inventions and research for advanced technologies to be able to apply highly effective modern weapons skillfully and try to invent such weapons with your engineering capabilities.
The philosophy of engineering is an engineering discipline that considers what engineering is, what engineers do, and how their work affects society. Engineering is the application of mathematics and natural science which allows us to gain an understanding of the world and enables this understanding to improve the society and develop the environment. Engineering education is the major driving force to build a modernized nation. Therefore, being engineering scholars, you must carry out your ideas and theories in practice and apply your engineering knowledge to assist in winning at the battlefifi eld. In other words, the engineers commissioned from Defence Services Technological Academy need not only to uplift the defence capabilities but to be reliable technicians for national defence.
You have to follow the formulation based on theory and practise the codes of conduct, rules and regulations and disciplines exactly the tasks in time. There are many examples of deterioration all over the world due to the technical defects. Therefore, I would like to urge you to be able to perform exactly in time with good habits always following the codes of conduct. As military engineers, you are technicians as well as junior military leaders. So, you have to shoulder the duties of national defence and security which is the prime task of Tatmadaw where you are assigned. As military leaders, you need to organize your units unitedly as well as you need to overcome diffifi culties with the cooperative strength.
As a military leader, to fulfifil to be expert in military training, you need to do research and invent up to date military strategies and advanced technology continuously to keep abreast with other countries. It was thought before that leaders have come from instinct, but now the leaders are the competence which can be practised. Therefore, you must try to become ideal leaders who possess the qualities emulated by your subordinates. It is necessary for you to be physically and mentally strong to carry out your duties so as to develop our country as engineer leaders. In this way, you can serve the objectives and responsibilities of Tatmadaw successfully. You have to eat and live hygienically and train yourself to be fit. As a motto goes, "Practice makes perfect, perfect makes belief, belief makes courage, and courage leads to victory," I urge you that you have to lead and train your subordinates and their family members in your appointed units to be skilful and brave, and you also have to accomplish your objectives successfully.
Our Three Main National Causes: Non-disintegration of the Union, Non-disintegration of National Solidarity and Consolidation of National Sovereignty are essential to build a peaceful, modern and developed democratic nation. In the 2008 Constitution, "Each citizen is responsible for keeping Our Three Main National Causes" is prescribed. Our Tatmadaw will never allow to harm Our Three Main National Causes regarding as national duty and will defend this as our top priority. Our Three Main National Causes are a national duty not just for Tatmadaw but for all nationalities living in Myanmar. According to history and current situations, defending Our Three Main Causes is historical duty for our Tatmadaw. If Our Three Main National Causes were offended, unexpected evil consequences would occur. I would like to emphasize that whatever times or whatever political system, all nationalities have to defend and preserve Our Three Main National Causes, which the state and the people need, as a national duty.
In order to take responsibility of national defence duty, our Tatmadaw must have three capabilities such as military capability, organizing capability and administrative capability. Moreover, both internal and external regimental organizing capability must be carried out successfully. We must not only build internal regimental unity but also organize the people effectively to become strong defence force so as to strengthen our Tatmadaw. Without the people, the national defence process could not be accomplished completely, so in these processes, we must strive to get complete support and cooperation of the people. When we are able to build strong, capable, modern and patriotic Tatmadaw, our Tatmadaw will be relied on by the State and the people, and it will be recognized internationally. As the strength and power of our nation is lying inside it, our Tatmadaw needs to safeguard the sovereignty of our nation and encroachment security, standing friendly and unitedly with national brethrens from all regions and also needs to be with people indivisibly. So, I want to urge you, comrades, you need to follow the Code of 60 Ethics which is the essence of the Tatmadaw personnel in communicating with the people when you are in military units from all regions of our country. As the support of the people is the important basic fact for national defence services, all of you need to lead them successfully in the tasks of contribution to the well-being of the people too.
Then, the Senior General took the salute of the cadet battalions and left the parade ground. After the parade, the Senior General met the three outstanding cadets and their parents and gave an honorary speech at the parlour of DSTA.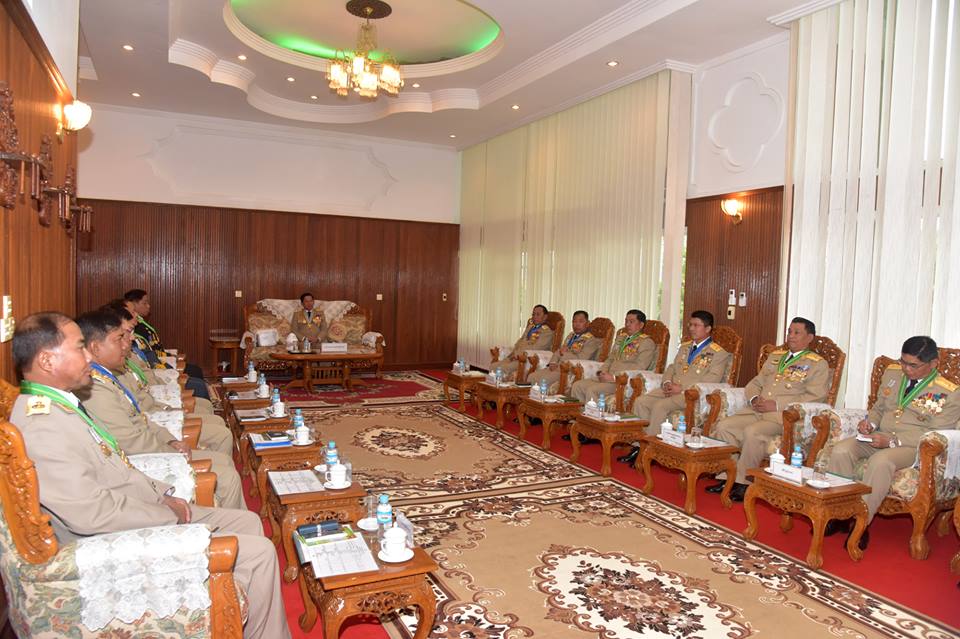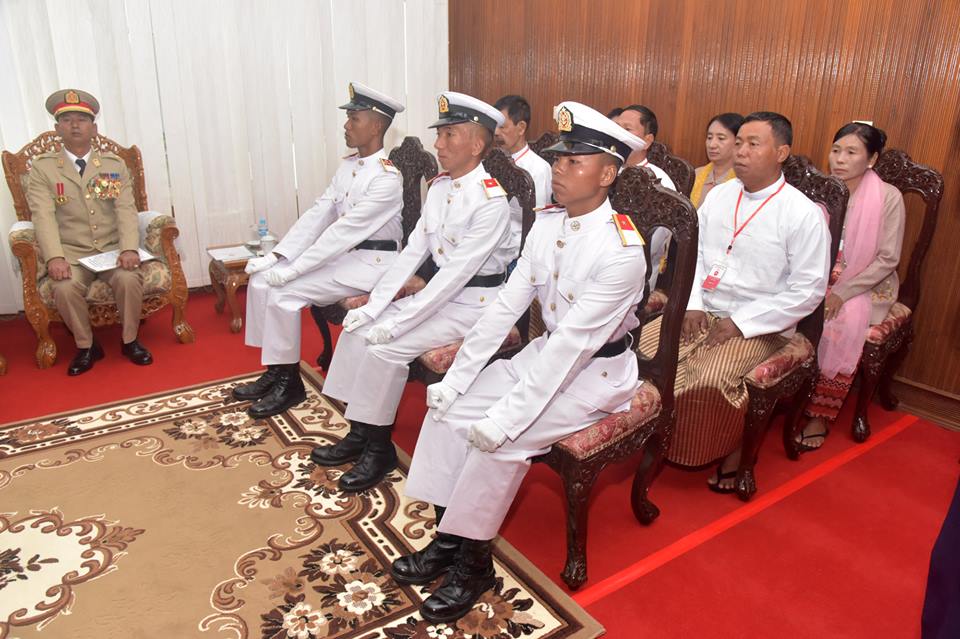 The Senior General said thanks to the six years of hard work, they have won outstanding awards and they need to continue working hard. Their parents have fed and taught them how to live well from the time they were born to the time they joined DSTA. Again, the Tatmadaw has trained them from the time they reached the academy until they completed the course and became junior officers. Therefore, they need to try to become the officers on whom the State and their parents can rely by staying away from self-indulgences, the Senior General urged.