Nay Pyi Taw March 9
Commander-in-Chief of Defence Services Senior General Min Aung Hlaing who attended the 15th ASEAN Chiefs of Defence Forces Informal Meeting (15thACDFIM) held in Singapore visited Marina Barrage this morning. The Senior General was accompanied by senior military officers of the Office of the Commander-in-Chief (Army), Myanmar Ambassador to Singapore U Htay Aung, Myanmar Military Attaché (Army, Navy and Air) Col Hsan Nyunt Oo and other members.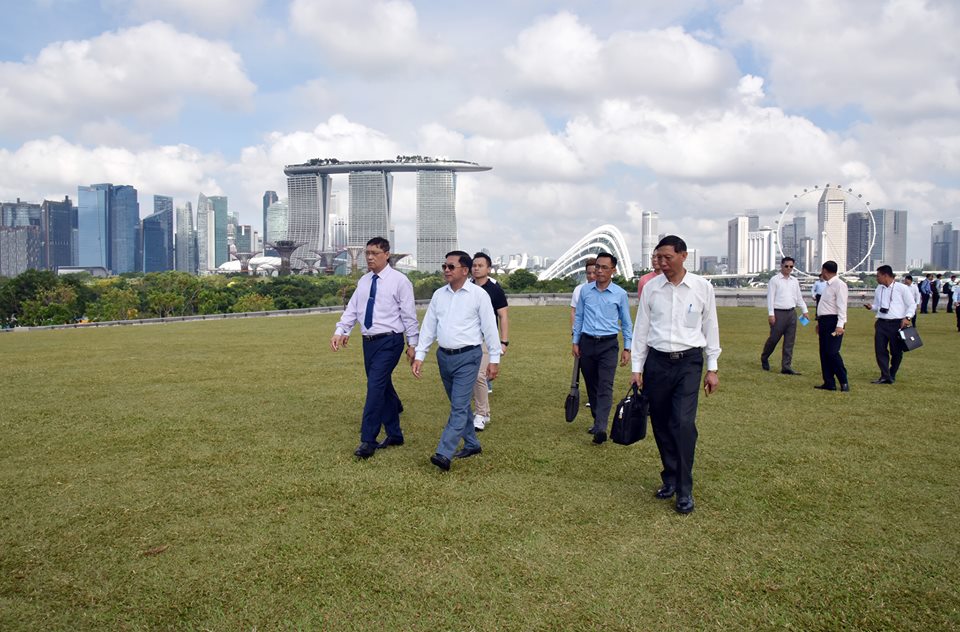 The Senior General and party arrived at Marina Barrage, and an official reported on its structure. The Senior General and party went around it and posed for group photo. Marina Barrage is the 15th portable water dam of Singapore stretching across the mouth of Marina channel. It is the only dam located within the township area.
The dam has an over 10,000 hectares of rain-catching area which is about one-sixth of the area of Singapore. As Singapore with few freshwater resources had to purchase daily needs of water from foreign countries, the fi rst Singaporean Prime Minister Mr. Lee Kuan Yew ordered to build Merina Barrage.
On 31 October 2008, Singaporean Prime Minister Mr. Lee Hsien Loong opened the barrage. It prevents Singapore's waste water, rainwater and water coming from freshwater resources from fl owing into the sea and helps fulfill daily needs of freshwater.
The construction of the 350-metre-long barrage cost S$-226 million. Merina Barrage has museums and the lawns. It also serves as a resort for public recreation.