NAY PYI TAW June 17
The Management Committee of the State Administration Council held its meeting 9/2021 at the meeting hall of State Administration Council Chairman's Office here this morning, with an address delivered by Chairman of the State Administration Council Commander-in-Chief of Defence Ser-vices Senior General Min Aung Hlaing.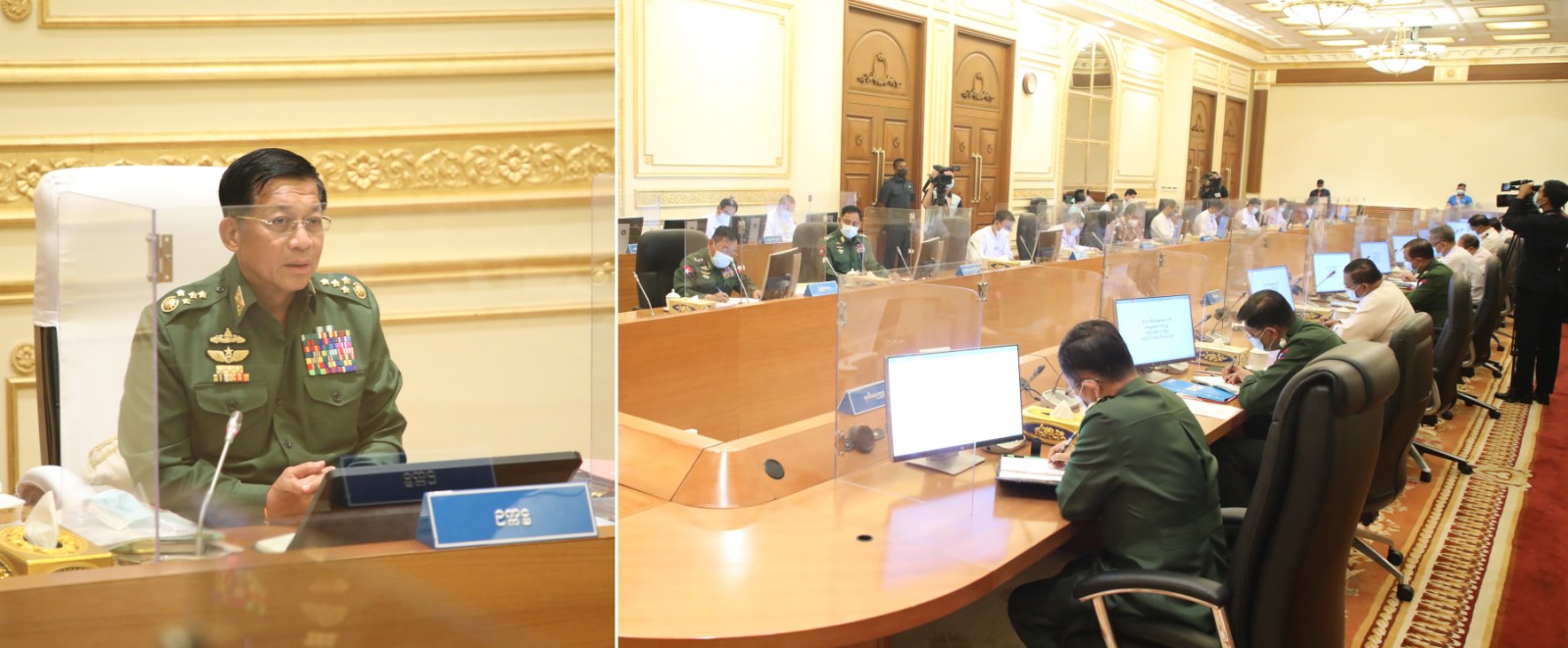 Also present at the meeting were Vice Chairman of SAC Deputy Commander-in-Chief of Defence Services Comman-der-in-Chief (Army) Vice-Senior General Soe Win, Union ministers General Mya Tun Oo, Lt-Gen Soe Htut, U Wunna Maung Lwin, Lt-Gen Yar Pyae, Lt-Gen Tun Tun Naung, U Win Shein, U Aung Naing Oo, U Ko Ko Hlaing, U Chit Naing, U Tin Htut Oo, Admiral Tin Aung San, U Khin Maung Yi, U Aung Than Oo, U Myint Kyaing, Dr Charlie Than, Dr Pwint Hsan, Dr Nyunt Pe, Dr Thet Khaing Win, U Shwe Lay, Dr Thet Thet Khaing, U Maung Maung Ohn and U Saw Tun Aung Myint and Union Attorney-General Dr Daw Thida Oo.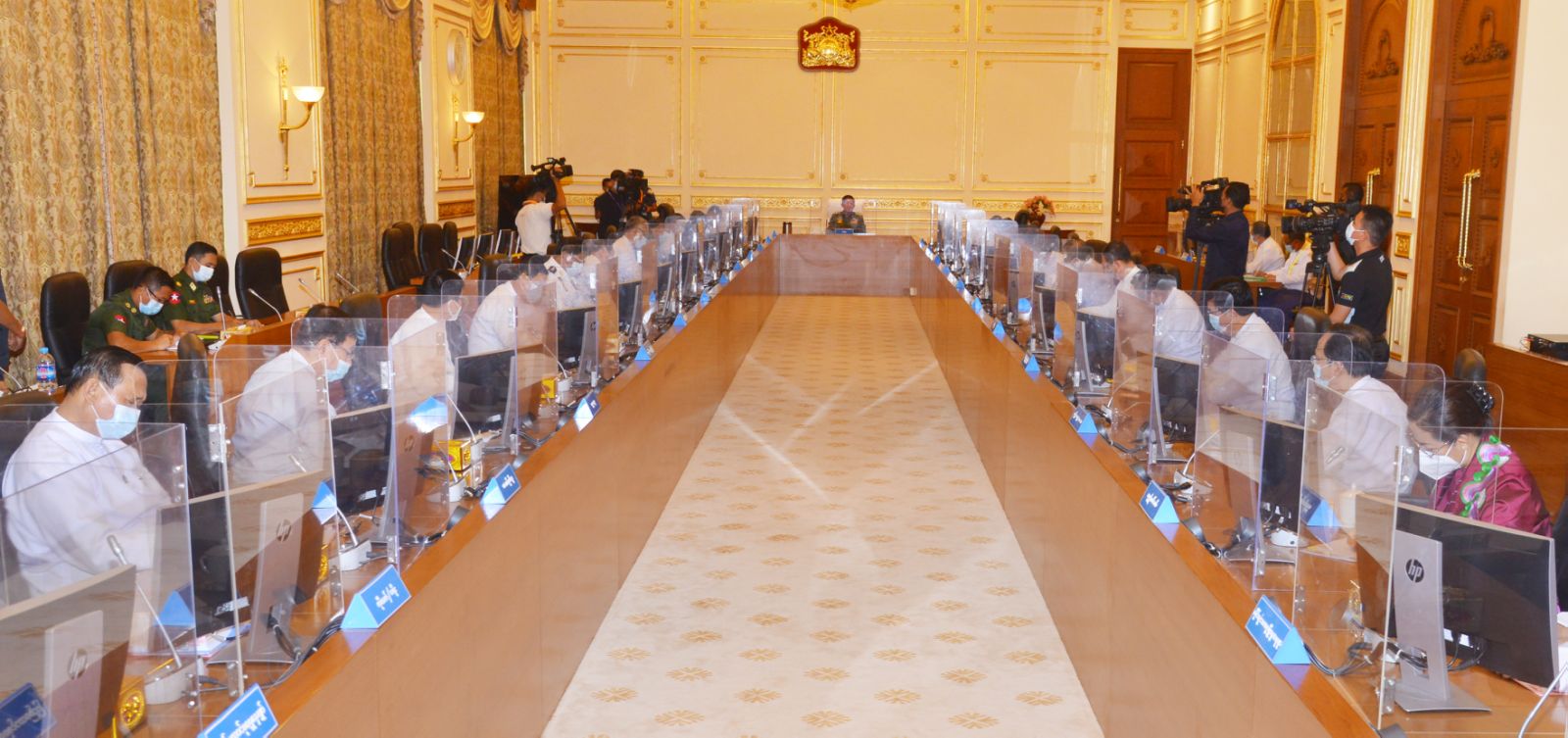 In his opening address, the Senior General said the government of a country has the responsibility to ensure national peace, stability and pro-gress. The rule of law must be enforced to guarantee peace and stability. The improvement of the socio-economic life of the national people is the most important part of development undertakings. The alteration of the financial year was managed during the previous meeting. The country is on the path to multiparty democracy. The State's capital expenditure covers the private sector as well as the government sector to a certain degree. This must be taken into account. Normally, the academic year starts on 1 June and ends in March end. Since the country regained independence, the summer holidays for students and teachers and the time to mark the exam papers have already been fixed. The parliamentary session in March forms the government. Myanmar is an agrobased country and the main cultivation season falls in rainy season. The country's economy is also based on agriculture and rice, the major crop, is cultivated in rainy sea-son. Hence, the country sells its agricultural produce in the open season. So, the designation of the financial year must be suitable for the country.
When the previous government changed the financial year, there occurred a lot of economic hardships. So, as usual, arrangements were made to begin the financial year again on 1 April.
It is necessary to consider relaxation of the people, and tasks of the government and private workplaces regarding the designation of govern-ment holidays. Larger number of government holidays in Myanmar than other countries much harm the private businesses because wage must be increased to operate the private businesses on the government holidays. So, arragements were made to reduce the substitute office holidays in amending the government holidays. The holidays were set during the Myanmar's Maha Thingyan festival period for the people to take relaxation.
In striving for development of economy, Myanmar focuses on agriculture and livestock sectors among various sectors including industrial and ser-vice sectors. But, production of agricultural sector is lesser than other sectors. It is because production declines in agriculture and livestock tasks. GDP of the State comprises 21 percent of agriculture sector, so it is necessary to beef up the agriculture sector. Livestock and fish from livestock sector must be produced as value-added products with the export purpose.
If agricultural products are exported to foreign countries, socio economic life of the people will develop. Although development can be seen in the industrial zone, local factories are weak in production.
Not only State-owned factories but also private run ones are yet to operate manufacturing as usual. It is necessary to encourage export of domestic products and reduce import goods so as to regularly operate factories. The domestic manufacturing sector must be encouraged for prevention of declining production at home. If tasks are undertaken for reduction of rate of electricity bill, setting of suitable labour charge and betterment of transport in railroads and motor roads in order to reduce the production costs, prices of commodities will decline. So, all need to cooperate in implementation of the above mentioned tasks. As electrification plays a key role for development of a country, generation of electricity from renewable energy such as hydropower and solar power. Some people are working abroad due to lesser job opportunities at home. Operating of factories can create employments at home. It is necessary to encourage ruralbased businesses for improvement of life of the rural people.
The agricultural and livestock products are of great importance in supporting the rural economy of the State. As cattle are exported abroad, it is ne-cessary to emphasize no reduction of farming cattle from the agricultural sector while encouraging the mechanized farming sector. Export of cattle needs to be qualified and it is necessary to arrange availability of full prices for cattle. The Senior General stressed the need to export advanced value added livestock products with the use of domestic beef, pork, chicken and marine products which are main products of the State. Likewise, encouragement must be given to breeding of dairy cows to further export natural milk to countries by effectively utilizing the allowed land plots and pasturelands.
For smooth transport, railroads and motor roads must be good. Rail transport is the best of all transport modes. The country still needs to improve its railroads, so repair work will focus on railroads. Improved railroads will benefit the country's economy very much. Measures will be taken for road transport to help develop the rural regions. Efforts will also be made for improve-ment of rural businesses and private cooperative societies with focus on the development of small industry.
Human resource development plays a key role in national development. Education promotion measures must be taken without tail to turn out a lot of educated people. Now, schools have reopened and teachers have to serve amid disturbances caused by CDM participants and opposition groups. Efforts must be made to reopen the remaining schools. Teachers deserve praise for providing education for students to become educated for their improved lives. Various ways are being sought for national education promotion. There should be a proportionate ratio of students to tea-chers at universities, colleges and basic education schools. Plans are being made to app-oint a required number of teachers. Meanwhile, security measures are being taken at schools. Plans are underway to provide cash assistance for teachers. So, effective measures must be taken for development of education sector, said the Senior General.
Then, the Union ministers in attendance discussed their respective sectors and sought approval.
The Senior General stressed the urgent need to stop illegal entry of unlicensed vehicles and motorcycles adding that a lot of them were seized over the past few months. He said security breaks had stemm-ed from those unlicensed vehicles. In connection with tho-se cases, CCTV records show that there were motorcycles without license plates while those with license plates were found to be fake. In Yangon Region, motorbike riding is allowed only outside the muni-cipal areas, not in them.
Regarding traffic rules, the Senior General said, motorcars and motorcycles are being used with fake licenses. License plates of cars in some foreign countries carry type of vehicle and letters represen-ting respective townships in respective regions and states. Thus, Myanmar made such a plan and that will control unlicensed vehicles. When cars apply for new licenses or license renewal, they must be installed with new license plates. Due to the unlicensed cars and motorcycles, the country is losing a large sum of money in revenue and the rule of law being harmed. Therefore, illegal import and export must effectively be prevented, the Senior General added.
It is found that taxes levied on border trade are signifi-cantly low due to tax evasion and smuggling goods from illegal routes. Authorities are required to take measures to receive appropriate amount of taxes and to effectively prevent illegal imports. It is necessary to collect electricity bills fully as billions of kyats have still left to be collected. As a government has to rely on taxes and carry out socio-eco-nomic development tasks of the people, it is important to collect taxes fully.
With regard to foodstuffs, the Tatmadaw is cultivating tissue-cultured bananas of Hpigyan and Thihmway varieties, which are nutritious and beneficial for health, and will distribute the saplings at reasonable prices to ministries to grow bananas in states, regions, districts and townships. Doing so will be of great benefits for the country. The government is required to take measures for food sufficiency and to enable the public to buy and consume foodstuffs at cheaper prices. Relevant depart-ments have been instructed to release fingerlings into rivers and creeks.
In connection with international assistance, relevant ministries are required to implement tasks that will serve the interests of the country while relevant officials are to deal with their counterparts from respective countries to realize sectorwise tasks.
Concerning tax collection, plans are underway to lower taxes in negotiation with relevant departments so that cash circulation will be smooth in the private sector and the government will be able to collect taxes fully. Tax rates for the fiscal period from 1 October to 31 March will be taken into consideration, which requires the review of international tax rates and consequen-ces. In conclusion, the Senior General said emphasis has been placed on finding methods that will be beneficial for local entrepreneurs, the public and the government.